Last year's edition of the Czech festival Basinfirefest fulfilled the promises that the organizer made to the fans in 2019 – a new concept and more foreign bands.
This year, one of the headliners will be Ghost – of the most attractive bands in recent years that is also a Grammy winner. Papa Emeritus and his gang of nameless spirits will infect the crowd with their intoxicating aura and occult mysticism, giving the fans a chance to enjoy a show that media outlets such as "Rolling Stone" and "The Wall Street Journal" have called "an euphoric spectacle."
For its 17 editions, 2023 will be the first year to welcome such titans as Ghost on the grounds of Basinfirefest. A special stage will be built on the territory of Západní Čechy, which in the course of four days will welcome names such as Clawfinger, Riverside, Airborne, Faun, Pain, Paradise Lost, Butcher Babies, Dark Tranquility, Fever 333 and others.
HIM's frontman Ville Valo is also joining the headliner's list. In the history of 21st-century's alternative rock, few artists can do what the Finnish love-metal band HIM managed to create among the admirers of the genre. Several years after HIM ceased to exist as a band, Ville is back with a new album and tour where fans will be able to hear both his new compositions and timeless nostalgic hits – a true rebirth that also takes him to the Basinfire stage this year.
When: 22 – 25 June 2023
Where: Spáleném Poříčí, Czech Republic
Who:
VV, Ghost, Clawfinger, Riverside, Airbourne, Butcher Babies, Catastrofy, Cerebral Extinction, Dance With The Dead, Dark Gamballe, Dark Tranquillity, Driák, Decapitated, Dust Bolt, Faun, Fever 333, Flotsam & Jetsam, Frozen Poppyhead, Gaerea, Godless Truth, Haken, Jungle Rot, Knife, Laid To Waste, Mallephyr, Pain, Paradise Lost, Pestilence, Pro-Pain, Queensrÿche, Riverside, S.D.I., SpiritWorld, Sunset Trail, Tankard, The Fialky, The Raven Age, Urne, Vektor, Vended, Vomitory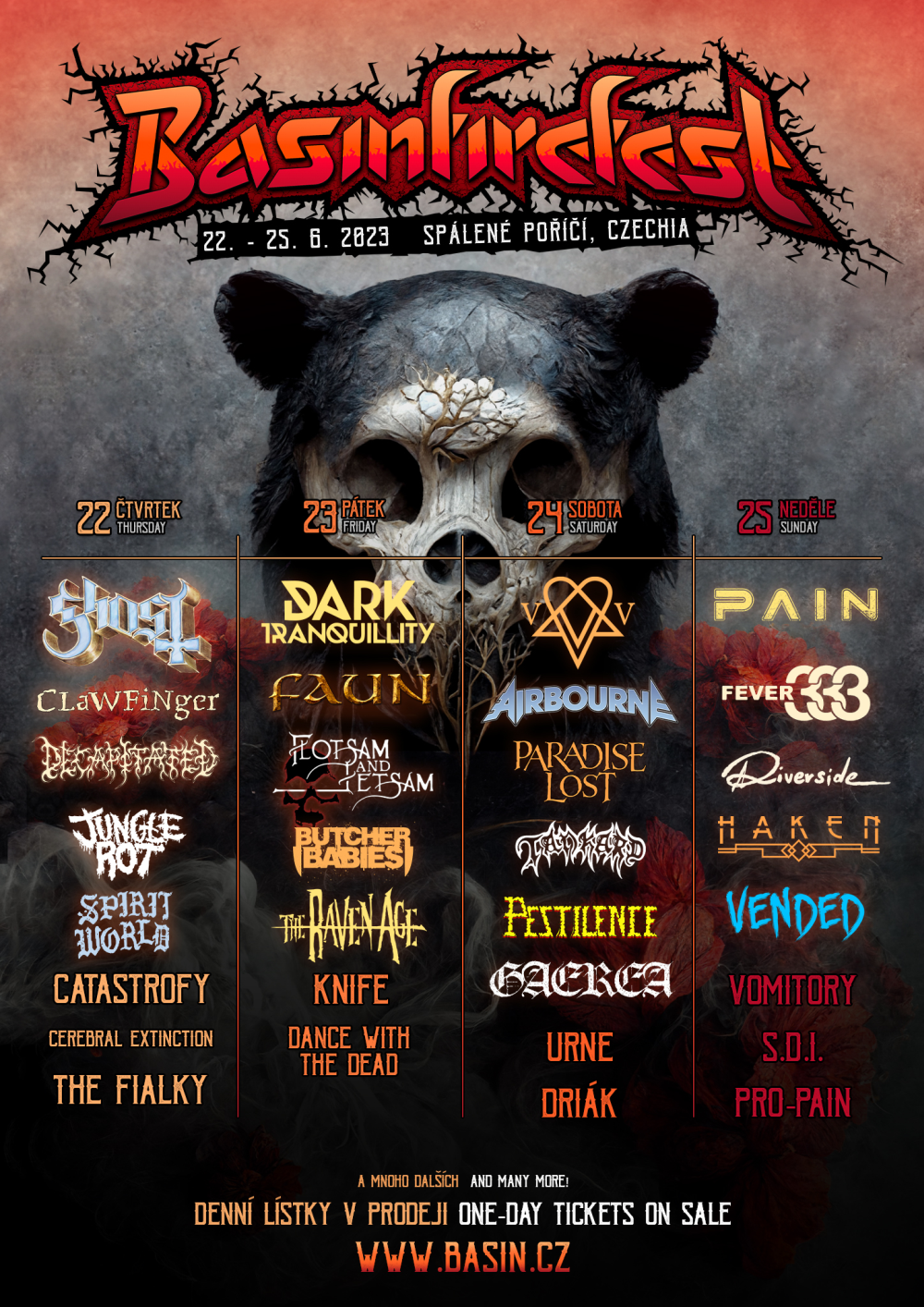 Prices and tickets:
4-day pass  – € 99
One-day pass  – € 56,50
One-day pass (for two) – € 86,99
All additional information can be found here: https://basin.cz/en/tickets