As we are now with full force into the new year, we're resuming our column called "Festival guide" with one of the biggest European rock events, the amazing French festival – Hellfest!
For all the hard rock and metal lovers, the French Hellfest is a must and this 2023 edition is no different. The event creators have shared a huge range of the performers who will rock the world for all the fans in Clisson, France during the weekend on 15-th to 18-th of June 2023.
After they had to cancel the 2020 and 2021 editions, the event creators wanted to return with a boom and they planned a seven day out of this world festival, that was spread during two weekends in 2022. This year, the days are reduced to four but the quality remains untouched with one of the biggest names in rock and metal history. Hellfest is the successor on Fury Fest that was held between 2002 and 2005 in Clisson, Nantes and Le Mans. In 2002 the tickets that were sold were only 400, and those in 2019 – 159 000! On the two main stages you can see mainly hard rock and metal bands, but on the other four smaller ones you can see bands from different, heavier styles – black metal, death metal, punk, alternative, doom metal, stoner and etc.
Among the performers through the years, we see Metallica, Rammstein, Linkin Park, Nine Inch Nails, Aerosmith, Black Sabbath, Guns N' Roses, Slipknot, Faith No More, Iron Maiden, Deep Purple, Avenged Sevenfold, Deftones, ZZ Top, KISS, Slayer, Megadeath, Korn, Dream
Theater, Sepultura, Anthrax, Judas Priest… For their 15-year anniversary in 2022, Hellfest offered not one, but two festival editions.
From 17-th to 19-th of June was the editions that was planned for the summer in 2020 and was sold out within hours, and also from 23-rd to 26-th of June, the second part with an even more mind-blowing line-up. Seven days filled with concerts and more than 350 bands.
Hellfest wrote history in 2022. Those of you, who have been following RockTheNight were also able to become a part of the experience through our galleries.
Here is what we can expect in 2023:
When: 15 – 18 June 2023
Where: Clisson, France
Who is performing?
Thursday, 15-th of June 2023
Mainstage 1: Kiss, Hollywood Vampires, Generation Sex, Coheed and Cambria
Mainstage 2: Parkway Drive, Architects, In Flames, I Prevail, Code Orange
Warzone: Fishbone, Svinkels, Ludwig Von 88, Poesie zero, Voice of Hell Contest
Valley: Amenra, The Soft Moon, Birds in Row, Celeste, Today is the day
Altar: Katatonia, Hypocrisy, Candlemass, Nightfall, Aephanemer,
Temple: Behemoth, Dark Funeral, Harakiri For the Sky, Imperial Triumphant, Blackbraid
Friday, 16-th of June 2023
Mainstage 1: Mötley Crüe, Def Leppard, Alter Bridge, Skid Row, Elegant Weapons, British Lion, The Quireboys, P-Trolls
Mainstage 2: Sum 41, Machine Gun Kelly, Papa Roach, Motionless in white, ETHS, Nothing More, Mod Sun, Escape The Fate, Vended
Warzone: Rancid, Flogging Molly, Gogol Bordello, Less Than Jake, Cockney Rejects, The Chats, Komintern Sect, Peter Pan Speedrock, Syndrome 81
Valley: The Cult, Greg Puciato, Primitive Man, Weedeater, Helms Alee, Bongripper, LLNN, My Diligence
Altar: As I Lay Dying, Suffocation, Bloodbath, Aborted, Uneath, Full of Hell, Nostromo, Candy, Venefixion
Temple: Venom Inc., Gorgoroth, 1349, Vreid, Der Weg Einer Freiheit, 1914, Acod, Belends, Hetroertzen
Saturday, 17-th of June 2023
Mainstage 1: Iron Maiden, Porcupine Tree, Carpenter Brut, Puscifer, Beast in Black, Riverside, Evergrey, Scarlean
Mainstage 2: Within Temptation, Powerwolf, Arch Enemy, Seether, Asking Alexandria, Fever 333, Bloodywood, Cobra the Impaler
Warzone: Black Flag, Municipal Waste, Stray for the Path, Pro-Pain, Soul GLO, Mindforce, Spiritworld, Zulu, Hard Mind
Valley: Clutch, Monster Magnet, Earthless, The Obsessed, Stoned Jesus, Crowbar, King Buffalo, Spirit Adrift, Decasia
Altar: Meshuggah, Voivod, Lorna Shore, Born of Osiris, Gorod, Loathe, Ten56, The Dali Thundering Concept, Pestifer
Temple: The Hu, Faun, Finntroll, Myrath, Saor, Svalbard, Kalandra, White Ward, Nature Morte
Sunday, 18-th of June 2023
Mainstage 1: Slipknot, Pantera, Amon Amarth, Hatebreed, Hollywood Undead, Ho99o9, Florence Black, Do or Die
Mainstage 2: Tenacious D, Incubus, Electric Callboy, Halestorm, The Distillers, Thundermother, Skynd
Warzone: The Ghost Inside, Rise of the Northstar, The Amity Affliction, Cane Hill, Paleface, End, Resolve, Beyond the Styx
Valley: Melvins, Dance with the Dead, Legion of Doom, Mutoid Man, Empire State Bastard, Wolvennest, Doodseskader
Altar: Testament, Dark Angel, Exodus, Holy Moses, Vektor, Evil Invaders, Schizophrenia, Aleister
Temple: Fields of the Nephilim, Paradise Lost, Lord of the Lost, She Past Away, Treponem Pal, The Old Dead Tree, Strigoi, Blod.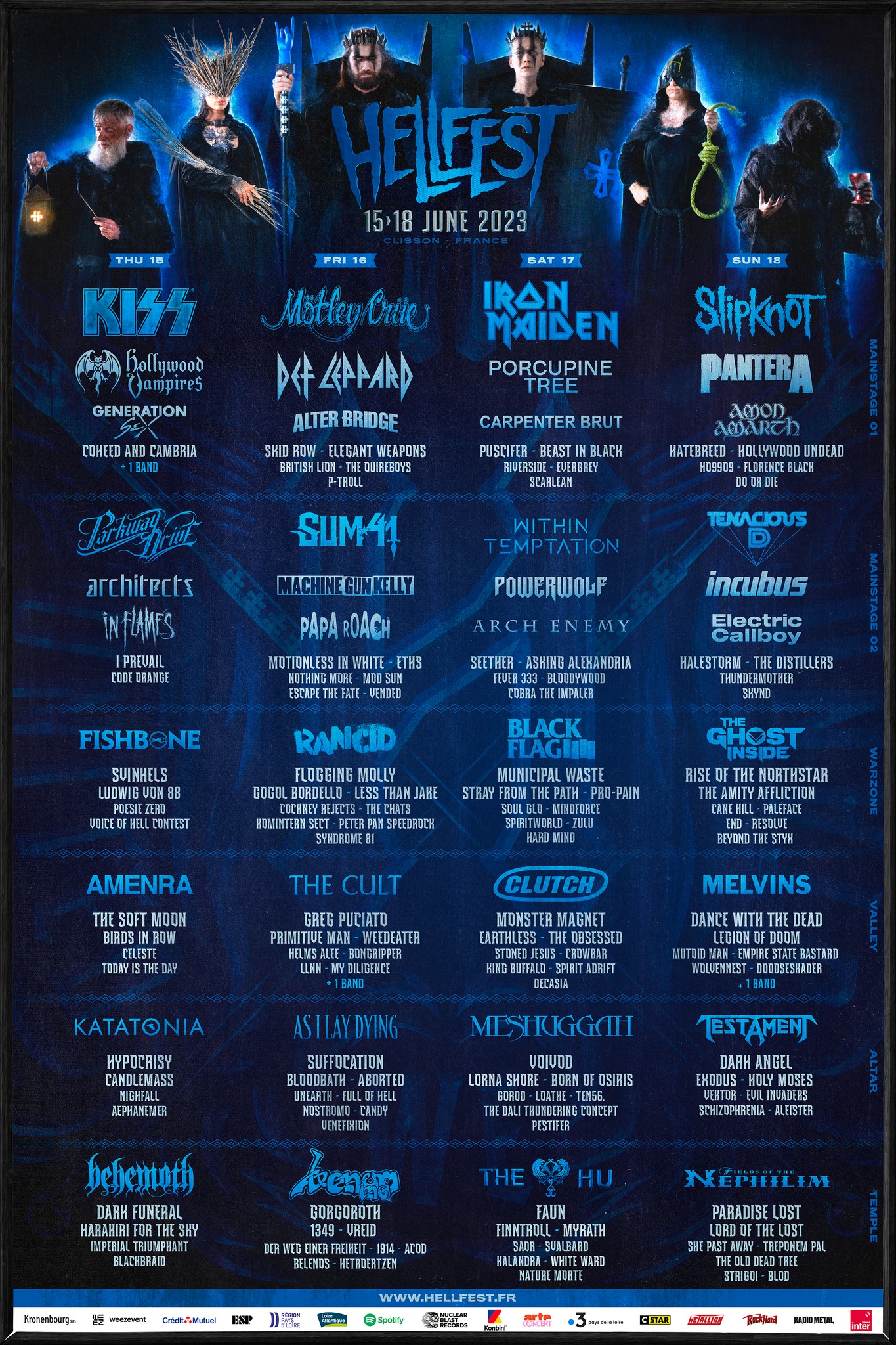 Price: The four-day tickets were sold out immediately after their release in 2022, same for the one-day tickets, that were released in the beginning of 2023 but have been snatched just as fast.
Links: http://www.hellfest.fr/en/, https://www.facebook.com/hellfest