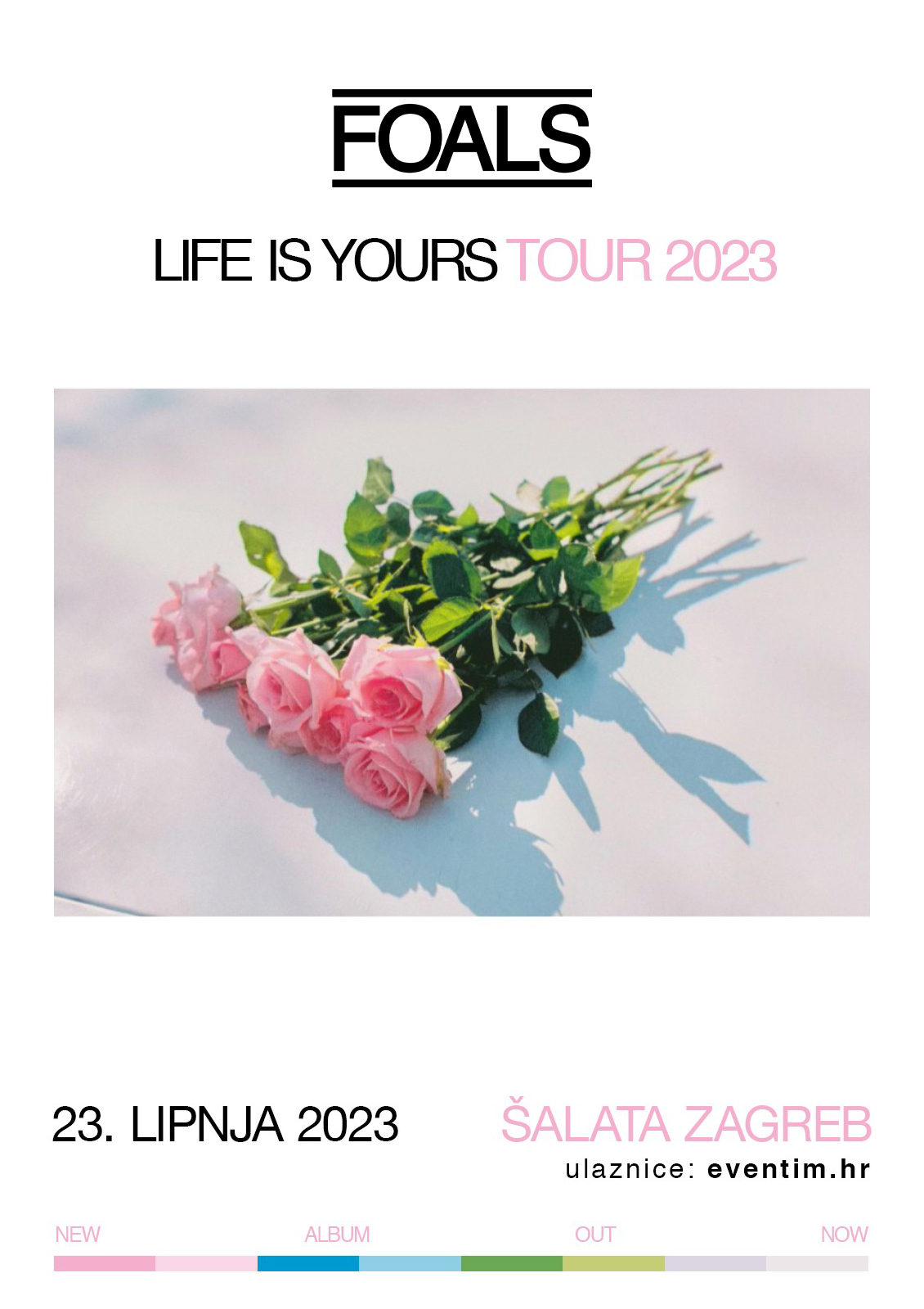 Foals – 23 June 2023 – Šalata, Zagreb (HR)
The first solo concert in Croatia by the band Foals at the Šalata stadium on June 23, 2023 as part of the world tour Life Is Yours Tour
February 21, 2023 – Foals – one of the world's best indie rock bands of their generation will hold their first independent concert in Croatia on June 23, 2023, at the Šalata stadium in Zagreb. Foals are one of the UK's best live bands, incredibly energetic and danceable, they will be the perfect band to kick off the summer of 2023.
Foals are coming to Croatia as part of the Life Is Yours Tour, where they are promoting the seventh studio album of the same name, released in the summer of 2022. "Life is Yours" is the follow-up to the hugely successful double release "Everything Not Saved Will Be Lost", which was defined by purity and ambition, while evolving into a completely different, euphoric experience.
Although the songs for the album "Life is Yours" were created in the lockdown of 2020, in a small windowless room in South London, the album radiates summer ardor, life's optimism and a newfound desire for life. Dance hits such as "2 AM", "Wake Me Up" and "Wild Green", which the band consider their most pop work to date, reflect on the very beginnings of Foals, when they were a house party band in their native Oxford positive chaos at every performance.
Already with their first album "Antidotes" in 2008, Foals experienced commercial success and became critical fans. At the time, they were one of the few British indie rock bands to gain world attention. But now, after five consecutive Top 10 albums, a string of awards and nominations, they seem to be one of the few who have maintained continued popularity and success. Their reputation and fan base grows with each new record, and great recognition came in 2020 when they were named the best British band at the BRIT AWARDS.
They strengthened their reputation as an excellent live band with several awards for the best live band of the year; Q Awards 2013 and NME Award 2020, and with performances at the world's biggest festivals such as Glastonbury, Reading & Leeds, Rock am Ring, Bestival… The latest album is also the first on which Foals appear as a trio (Yannis Philippakis, Jack Bevan and Jimmy Smith), and significant because Foals collaborated for the first time with multiple producers on the release – John Hill (Cage The Elephant, Florence + The Machine), Dan Carey (Tame Impala, Fontaines D.C.) and Miles James and A. K. Paul.
The ticket price for the ground floor is EUR 42 and for the stands EUR 47.
===
Prvi samostalni koncert u Hrvatskoj benda Foals na stadionu Šalata 23. lipnja 2023. u sklopu svjetske turneje Life Is Yours Tour
21. veljače 2023. – Foals – jedan od najboljih svjetskih indie rock bendova svoje generacije održat će 23. lipnja 2023., na stadionu Šalata u Zagrebu, svoj prvi samostalni koncert u Hrvatskoj. Foals su jedan od najboljih live bendova Velike Britanije, nevjerojatno energični i plesni, bit će savršen bend za početak ljeta 2023.
Foals stižu u Hrvatsku u sklopu svjetske turneje Life Is Yours Tour na kojoj promoviraju istoimeni, sedmi studijski album, objavljen u ljeto 2022. godine. "Life is Yours" nastavak je iznimno uspješnog dvostrukog izdanja "Everything Not Saved Will Be Lost", kojeg je definirala čistoća i ambicija, uz evoluiranje u jedno sasvim drugačije iskustvo koje potiče euforiju.
Iako su pjesme za album "Life is Yours" nastale u lockdownu 2020., u maloj sobici bez prozora u južnom Londonu, album zrači ljetnim žarom, životnim optimizmom i novootkrivenom željom za životom. Plesni hitovi kao što su "2 AM", "Wake Me Up" i "Wild Green" koje i bend smatra njihovim naj-pop uradcima do sada, reflektiraju se na same početke Foalsa, kada su kao bend za kućne tulume u rodnom Oxfordu izazivali pozitivan kaos na svakom svom nastupu.
Već s prvim albumom "Antidotes" iz 2008. Foals su doživjeli komercijalni uspjeh i postali ljubitelji kritike. U to vrijeme bili su jedan od nekoliko britanskih indie rock bendova koji su izazvali pažnju svijeta. Ali sada, nakon uzastopnih pet albuma na Top 10 ljestvicama, nizom nagrada i nominacija, čini se da su jedni od rijetkih koji su zadržali kontinuiranu popularnost i uspjeh. Njihov ugled i fan baza raste sa svakom novom pločom, a veliko priznanje stiglo je i 2020. kada su proglašeni najboljim britanskim bendom na BRIT AWARDS.
Reputaciju odličnog live benda učvrstili su i s nekoliko nagrada i za najbolji live bend godine; Q Awards 2013. i NME nagrada 2020., te s nastupima na najvećim svjetskim festivalima kao što su Glastonbury, Reading & Leeds, Rock am Ring, Bestival… Zadnji album ujedno je i prvi na kojem se Foals pojavljuju kao trojac (Yannis Philippakis, Jack Bevan i Jimmy Smith), a značajan jer su Foals po prvi puta surađivali s više producenata na izdanju – John Hill (Cage The Elephant, Florence + The Machine), Dan Carey (Tame Impala, Fontaines D.C.) te Miles James i A. K. Paul.
Cijena ulaznice za parter 42 EUR te za tribine 47 EUR.
Next Event
Date

окт. 05 2023

Time

20:00 - 23:00