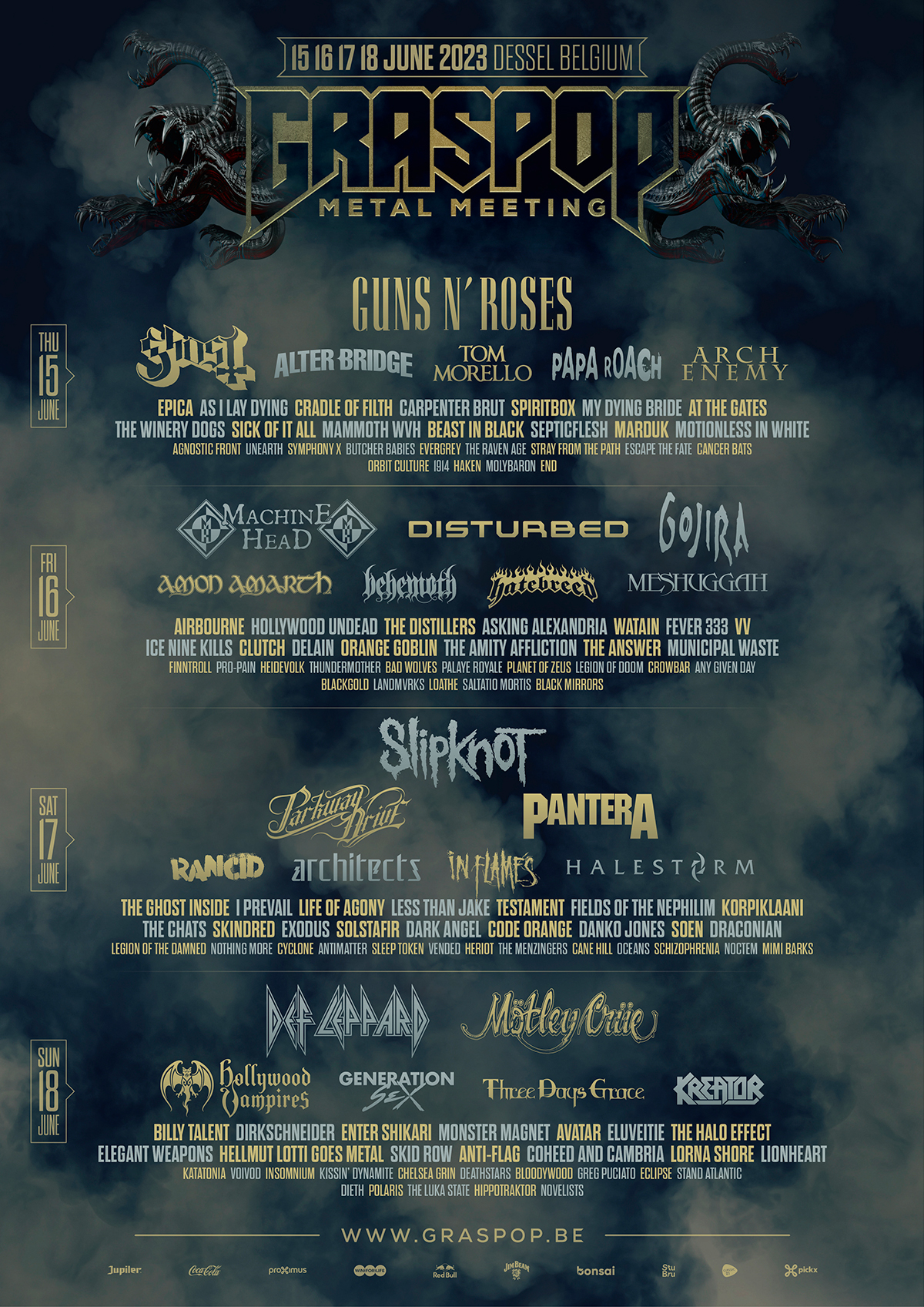 Graspop Metal Meeting – 15-18 June 2023 – Dessel (BE)
Join us from 15-18 June 2023 for a no-holds-barred celebration of metal at #GMM23. Tens of thousands of metalheads from across the globe united as one at the most versatile hard rock & metal festival in the Benelux. From heavy to black, from metalcore to hard rock, from punk to classic rock and lots more. #GMM23, the high mass of armour-piercing, spine-ripping, pit-smashing mayhem no metalhead wants to miss out on. The countdown has started!
Let's Get Rocked and Shout at the Devil!
In the wake of a phenomenal anniversary edition we are pleased to finally announce the first headliners for the 26th edition of Graspop Metal Meeting. On Sunday 18 June 2023 Def Leppard will close proceedings on the South Stage with Motley Crue doing the honours on the North Stage.
Rock 'n' roll will never die and Def Leppard is one of those bands that embodies that creed. They formed in 1976 as part of the NWBHM movement. The quintet forced a breakthrough in the 80s with 'High 'n' Dry' and the subsequent albums 'Pyromania' (1983), 'Hysteria' (1987) and 'Adrenalize' (1992) catapulted them into absolute stardom as one of the most successful hard rock bands ever. With a unique combination of classic metal and poppy melodies, catchy hooks and vocal harmonies – dubbed glam metal by some – they not only racked up 100 million in album sales but also inspired scores of other bands. Hits like 'Animal' and 'Pour Some Sugar on Me' are etched in our collective memories. In terms of new albums it's been quality over quantity in the new millennium and they recently put out an excellent new record with 'Diamond Star Halos' (2022). Their co-headlining tour in the summer of 2022 with Mötley Crüe, 'The Stadium Tour', sold over 1 million tickets and in 2023 both bands are teaming up again for 'The World Tour'. With their fantastic show at our 2019 edition still fresh in our minds we can't wait to welcome their Rock of Ages one more time. Gunter glieben glauten globen! #GMM23
31 December 2015. After a tumultuous but very lucrative career the guys in Mötley Crüe decide to pack it in. These pioneers of the glam rock genre emerged in the epicentre of the nascent glam rock scene: Sunset Boulevard, LA. The band name was a perfect fit for this motley crew. They certainly lived the life and their maiden album 'Too Fast for Love' was the beginning of an outrageously successful career. 'Shout at the Devil' turned hordes of new fans on to the band and on follow-up 'Theatre of Pain' they rode the initial wave of glam metal. Blues rock influences made their way onto their 1987 hit album 'Girls, Girls, Girls' that sold several million copies and two years later 'Dr. Feelgood' took their popularity to new heights. They had arrived and their lives and reputation revolved around sex, drugs and rock 'n' roll. In addition to sex symbols, Nikki Sixx, Vince Neil, Mick Mars and Tommy Lee also became brand names. Book deals, sex tapes, insane merchandise… the sky was the limit. In 2014 they announced their retirement, even signing a Cessation of Touring Agreement. Still, in 2019 they made a U-turn due to the unbelievable success of the Netflix biopic 'The Dirt', for which they also recorded and released four new tracks. In the summer of 2022 they embarked on 'The Stadium Tour' that took them to stadiums all over the US with partners in crime Def Leppard and Poison. The tour had been postponed for two years due to Covid but now the European Crüeheads obviously want a piece of the action as well and their idols heeded the call. Fourteen years after their first stint in our prison yard the Crüe are back in the slammer. Brace yourself for a slew of hits and a dazzling show! #GMM23
Over the years some acts have grown alongside our festival. The nine-headed hydra called Slipknot made their first appearance here in 2004. At the time they had already established a solid live reputation and it was obvious they were destined for greatness. The following year they headlined the main stage for the first time. A whirlwind of talent of emotion is an excellent way to describe the troupe from Des Moines, Iowa. Musically the band kept growing but in between his full roster for Slipknot, frontman Corey Taylor nevertheless found the time to set up a successful side project with Stone Sour. Slipknot are a household name and welcome guests at GMM. Together with their music, their live show has developed into an entertainment event of the highest order. Their new album 'The End, So Far' has provided them with fresh ammunition to once again lay waste to the world's biggest stages and leave the metal masses clamouring for more. Once labelled as the future of metal and the flagbearers of metalcore, Slipknot have meanwhile become the mouthpiece of an entire generation – several generations, in fact. Variation is one of the hallmarks of their discography: from the melodic 'Wait and Bleed' to the fragile 'Snuff' across the ripping 'Before I Regret' to the more recent 'The Dying Song (Time to Sing)'. And when it's 'time to set the record straight' you all know what to do: jump the fuck up! #GMM23
Tickets for GMM2023 will go on sale later this year. Keep an eye on our socials for updates.
RSVP: Graspop Metal Meeting 2023
Thu 15 June 2023
1914 / Agnostic Front / Arch Enemy / As I Lay Dying / At The Gates / Beast In Black / Butcher Babies / Carpenter Brut / Cradle Of Filth / End / Epica / Escape The Fate / Evergrey / Ghost / Guns N' Roses / Marduk / Molybaron / Motionless In White / Orbit Culture / Papa Roach / Septicflesh / Sick Of It All / Spiritbox / Stray From The Path / The Raven Age / The Winery Dogs / Unearth
Fri 16 June 2023
Amon Amarth / Any Given Day / Asking Alexandria / Behemoth / Black Mirrors / Clutch / Crowbar / Delain / Disturbed / Fever 333 / Finntroll / Gojira / Hatebreed / Heidevolk / Hollywood Undead / Landmvrks / Loathe / Meshuggah / Orange Goblin / Seether / The Amity Affliction / The Answer / Thundermother / Watain
Sat 17 June 2023
Antimatter / Architects / Cane Hill / Cyclone / Danko Jones / Dark Angel / Draconian / Exodus / Fields of the Nephilim / Halestorm / I Prevail / In Flames / Korpiklaani / Legion Of The Damned / Less Than Jake / Life of Agony / Oceans / Pantera / Parkway Drive / Rancid / Russkaja / Skindred / Sleep Token / Slipknot / Soen / Sólstafir / Testament / The Chats / The Ghost Inside / The Menzingers / Vicious Rumours
Sun 18 June 2023
Anti-Flag / Avatar / Billy Talent / Bloodywood / Deathstars / Def Leppard / Dieth / Dirkschneider / Eluveitie / Enter Shikari / Greg Puciato / Hippotraktor / Hollywood Vampires / Insomnium / Katatonia / Kissin' Dynamite / Kreator / Lionheart / Lorna Shore / Monster Magnet / Mötley Crüe / Novelists / Polaris / Stand Atlantic / The Halo Effect / The Luka State / Three Days Grace / Voivod
Next Event
Date

сеп. 24 2023

Time

19:00 - 22:00