Igorrr (FR) – 3 ноември 2017 – Mixtape 5, Sofia
03/11/2017 @ 21:00

-

23:59

EET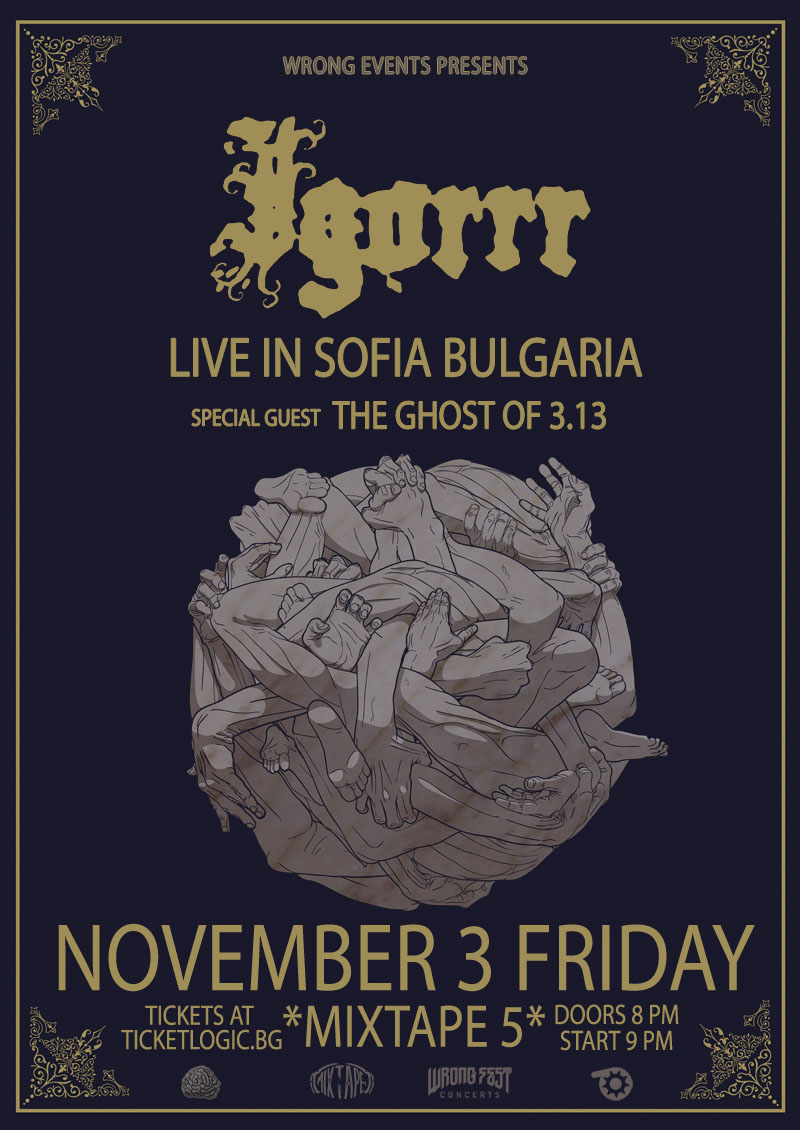 Igorrr live in Sofia, Bulgaria
IGORRR – France
Breakcore / Baroque / Electronic / Death Metal
►http://www.igorrr.com/
►https://www.youtube.com/fghdfghdgfhsh
►https://igorrr.bandcamp.com/
Early Birds are SOLD OUT!
Presale: 30 лв (€15)
Билети ще могат да бъдат намерени от петък 28.07 в The Wrong Bar, както и на следните места: http://wrongevents.ticketlogic.bg/
http://www.bilet.bg/каси/
You thought Aphex Twin and venetian snares were the most spaced out and bizarre electronic acts out there? Let's talk about Gautier Serre, the brilliant mind behind IGORRR enigma.
IGORRR is a Frankenstein creature brought to life in 2006 and sadistically mixing many opposite styles of music in its albums, including electronic music, breakcore, baroque music, death metal, and trip hop among many others. Gautier Serre is continuously pushing boundaries, making mind split a philosophy: inviting both lyrical singers and Mayhem's guitarist on his album 2012's "Hallelujah", entrusting chickens to write songs while making baroque music gracefully shine, working with Morbid Angel and playing prestigious Berghain… For ten year now the French musician and producer is frantically crafting a dazzling, mysterious and brain crushing piece of work.
With a third album "Savage Sinusoid" yet to come in june 2017 on Metal Blade Records, IGORRR is once again hitting the road all over Europe in a full band configuration including two singers and one drummer.
THE GHOST OF 3.13 – Romania
Breakcore / Ambient / Electronic
► http://theghostof313.bandcamp.com
► http://facebook.com/theghostof3.13
► http://soundcloud.com/the-ghost-of-3-13
The Ghost of 3.13 е псевдонимът на румънеца Михай Костеа. Вероятно е познат на някои от Вас с участието си на Artmospheric Festival през 2014. Музиката му е повлияна от артисти като The Flashbulb, Ben Frost, Aphex Twin, Deaf Center и venetian snares, когато и прави първите си стъпки в композирането на музика още през 2004г. Звукът му може да се опише като смесица от ембиънт, класическа музика, IDM-glitch и breakcore. Досега е издал 3 албума за българският Mozyk.net, след редица участия за лейбъли като Sociopath, Kaometry, Abstract Reflections и др. Наскоро излезе негов ремикс на българския проект The Science, издаден за Methlab заедно с Hecq, Lockjaw и Trifonic.
18+
Related Events