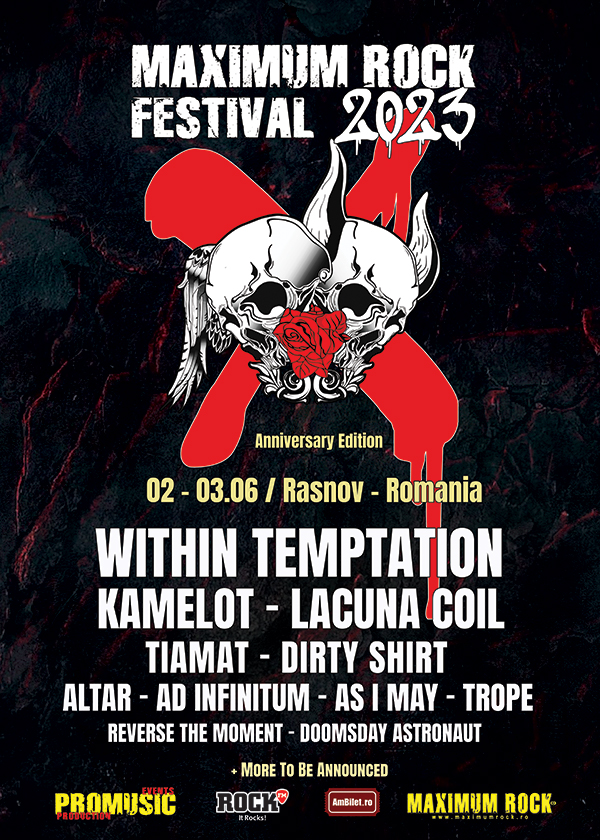 [POSTPONED] Maximum Rock Festival (Within Temptation, Kamelot, etc.) – 2-3 June 2023 – Rasnov (RO)
Maximum Rock Festival is a festival grown with a lot of work and it was desired to not compromise when it comes to the audience experience. Arising logistical problems lately, which could not be solved in a very short time, the event in Râ ultimanov is postponed for a date that will be communicated shortly. Although we wanted a magnificent landscape, mountains and fresh air, we have to return to Bucharest, where we can, in all aspects, offer the public the best conditions for this event.
The new date will be announced the full lineup and the new location in Bucharest, where this edition of the festival will take place.
Subscriptions and tickets already purchased remain valid for the new date, which will be announced as soon as possible! Returns are possible, upon request, by email (sent from the address where the original order was made) to contact@ambilet.ro
Maximum Rock Festival este un festival crescut cu multă muncă și la care s-a dorit să nu se facă compromisuri când vine vorba de experiența publicului. Apărând problemele logistice în ultima perioadă, care nu au putut fi rezolvate într-un timp foarte scurt, evenimentul de la Râșnov se amână pentru o dată care va fi comunicată în foarte scurt timp. Deși ne-am dorit un peisaj mirific, munte și aer curat, suntem nevoiți să ne întoarcem la București, unde putem, din toate punctele de vedere, să oferim publicului cele mai bune condiții, pentru acest eveniment.
Cu noua dată se va anunța lineup-ul complet și noua locație din București, unde va avea loc această ediție a festivalului.
Abonamentele și biletele deja achiziționate rămân valabile pentru noua dată, ce va fi comunicată în cel mai scurt timp posibil! Returul este posibil, la cerere, printr-un email (trimis de pe adresa de unde s-a făcut comanda inițială) la contact@ambilet.ro.
===
The year 2023 marks the 10th edition of the Maximum Rock Festival, so the anniversary will be celebrated with a special event, in a special location, 17 km from Brașov, 4 km from Râșnov and 13 km from Bran , in the heart of the mountain . Maximum Rock Festival 2023 will take place between June 2-3, and the first bands announced by the organizers Promusic Events and Maximum Rock are Within Temptation, Kamelot, Lacuna Coil, Tiamat, Dirty Shirt, As I May, Trope and Ad Infinitum .
It will be a special edition, which will have two stages, on which 18 bands will perform, in a span of two days of fun and good cheer. The venue will benefit from a camping area equipped with all utilities, located right next to the festival area. There will be bars, an extensive area dedicated to gastronomic delights and a merch area. Also, festival guests can venture to Râșnov Citadel, Bran Castle, Râșnoavei Gorge, Șigănești Glacier Circus, Valea Cetății Cave, Râșnoavei Cave, Dinopark, Zărneştiului Cliffs, Rucăr-Bran Corridor and many others.
The public present at the event will have regular rides from Brașov available throughout the festival. This anniversary edition will be attended by bands that have appeared on the festival stage in previous editions and created a strong impression, as well as premiere bands, benchmarks on the world rock and metal scene. Of course, the Romanian underground scene will not be neglected.
Bands that have participated in previous editions and created an incendiary atmosphere include: WASP, My Dying Bride, Therion, Dark Tranquility, Moonspell, Moonsorrow, Haggard, Sodom, Epica, Eluveitie, Septicflesh, Annihilator, UDO and many more.
Event recommended by Rock FM .
Prices and details of ticket categories:
360 lei– 279 lei – Subscription / Earlybird (the first pieces) – Sold Out!
360 lei– 299 lei – Subscription / Presale 1 (500 pcs)
360 lei– 329 lei – Subscription / Presale 2
360 lei – Subscription (available during the event)
30 lei – Camping subscription 1 pers. (250 subscriptions) *
*All prices include local taxes and do not include processing fee.
**The processing fee is non-refundable.
* The organizers do not provide tents for the participants
* Children up to 7 years of age have free access – with a companion holding a valid ticket/subscription.
* Children over 7 years old and up to 16 years old need a full price ticket and a companion.
* Children up to 16 years of age have free access to the camping area – with a companion (parent or legal guardian) holding a valid ticket/subscription. It is mandatory for minors to present a document certifying their age and relationship with the companion, as applicable.
* We recommend that parents or chaperones provide their children with protective helmets.
All details regarding the access regulations will be communicated in the days near the event. Ticket buyers are advised to consult the website www.AmBilet.ro , as well as partner websites, before participating in the event.