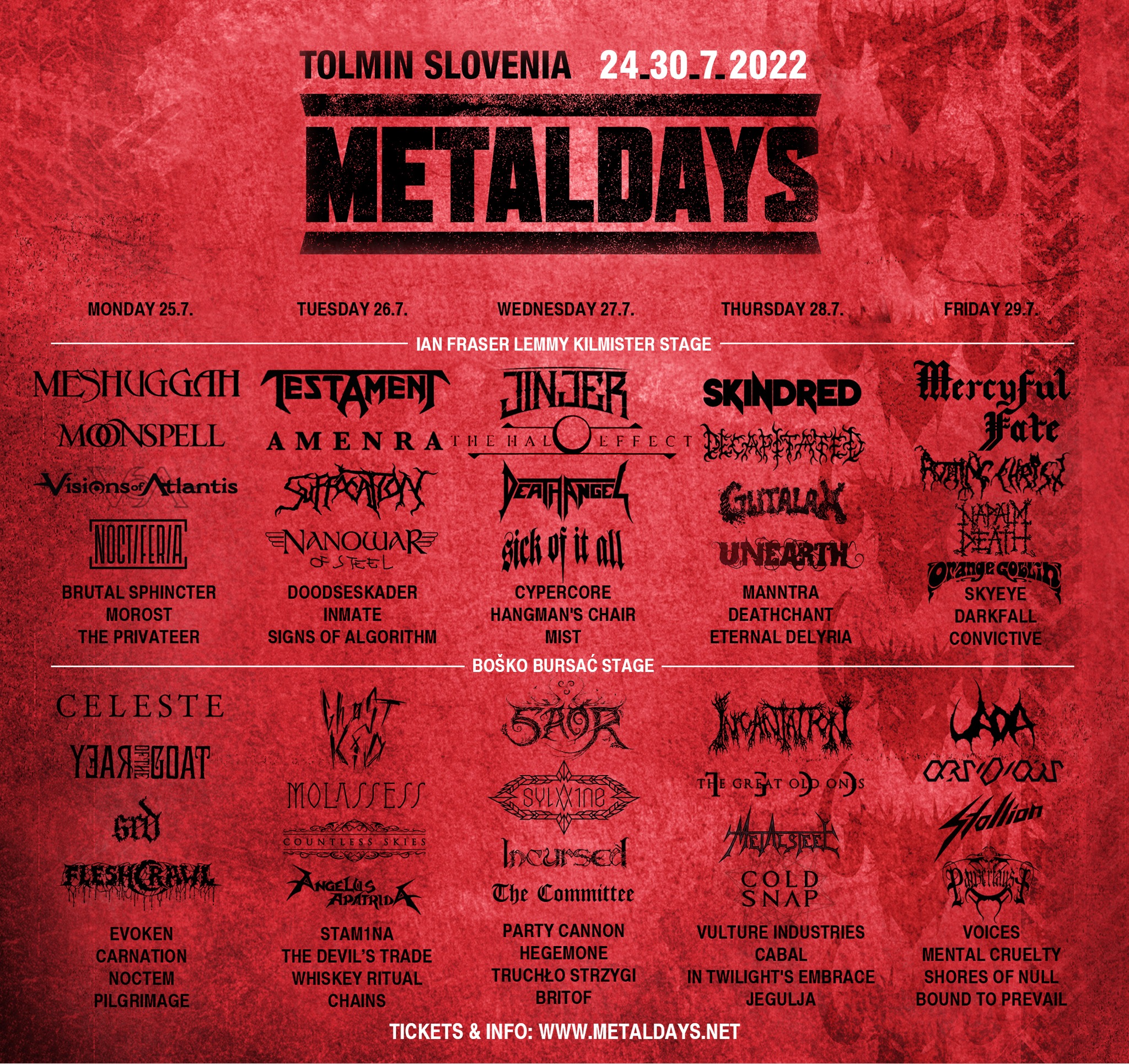 MetalDays – 24-30 July 2022 – Tolmin (SLO)
Running Order:
Friday, 29.07.22:

Thursday, 28.07.22:
Wednesday, 27.07.22:
Tuesday, 26.07.22:
Monday, 25.07.22:
===
Музиката на живо се завръща и е време да бъде обявен дългоочаквания лайнъп на MetalDays 2022.
"Сигурни сме, че броите дните до следващото фестивално лято, както и ние правим. Затова сме щастливи да ви представим новите банди в афиша – 30 фантастични групи, водени от могъщите Meshuggah! Ще се видим в пита!"
MetalDays 2022 е почти изцяло съставен от групи, според вашите желания. Техните концерти на MetalDays 2022 ще ви накарат да забравите за миг последните две години без музика на живо. Това, което отличава лайнъпа на MetalDays 2022, е фактът, че вие, нашите любими посетители, сте избрали тези групи! Обещахме да разгледаме всяко ваше предложение и го направихме.
Всички участници по азбучен ред:
Amenra, Angelus Apatrida, Bound To Prevail, Britof, Brutal Sphincter, Cabal, Carnation, Celeste, Chains, Cold Snap, Convictive, Countless Skies, Cypecore, Darkfall, Deathchant, Death Angel, Decapitated, Doodseskader, Eternal Delyria, Evoken, Fleshcrawl, Ghøstkid, Gutalax, Hangman's Chair, Hegemone, Incantation, Incursed, Inmate, In Twilight's Embrace, Jegulja, Jinjer, Manntra, Mental Cruelty, Mercyful Fate, Meshuggah, Metalsteel, Mist, Molassess, Moonspell, Morost, Nanowar Of Steel,
 Napalm Death, Noctem, Noctiferia, Obsidious, Orange Goblin, Panzerfaust, Party Cannon, Pilgrimage, Rotting Christ, Saor, Shores Of Null, Signs Of Algorithm, Sick Of It All, Skindred, Skyeye, Srd, Stallion, Stam1na, Suffocation, Sylvaine, Testament, The Committee, The Devil's Trade, The Great Old Ones, The Halo Effect, The Privateer, Truchło Strzygi, Uada, Unearth, Visions Of Atlantis, Voices, Vulture Industries, Whiskey Ritual, Year Of The Goat
Билети може да намерите на адрес: https://shop.metaldays.net/kategorien/metaldays-tickets
А нов мърч – тук: https://www.onlymetal.shop/metaldays
===
Without debate, Mercyful Fate was the most sought-after band in all the lineup discussions, and that's why we're more than happy to be able to share this news with you today.
Mercyful Fate was formed in early 1981 in Copenhagen, Denmark, by vocalist King Diamond and guitar player Hank Shermann.
The band was soon in heavy rotation around the core metal radio stations, starting a new breed in Heavy Metal with their unique sound.
Mercyful Fate is widely considered as one of the most important bands for the creation of modern Metal.
Having such an influential band, for the main headliner at MetalDays 2022 is something that makes us very proud.
On the same occasion, we would like to inform you that 300 tickets for MetalDays 2022 have been put back on sale.
In addition, we are working diligently on the confirmation of other bands, and we expect to announce the rest of the lineup soon.
See you all at MetalDays 2022, you don't want to miss this edition !!!
===
The schedule of bands by days for MetalDays 2022 has been revealed!
Lineup led by headliners Mercyful Fate, Meshuggah, Testament, Skindred and Jinjer, and rounded off with Death Angel, Rotting Christ, Amenra, Decapitated, Moonspell, Evoken, Gutalax, Incantation, Nanowar of Steel, Obsidious, Orange Goblin Panzerfaust, Party Cannon, Saor, Sick of it All, Suffocation, Uada, Unearth, Visions of Atlantis, Year of the Goat and a bunch of other fantastic bands is part of the unforgettable package that only MetalDays can offer.
Tickets are still on sale, and if you haven't secured yours yet, hurry up because there aren't many available.
In the meantime, we are preparing additional information regarding camping, new rules imposed by the pandemic, transportation … to name just a few.
Stay tuned and check out our official site for new information.
Next Event
Date

сеп. 24 2023

Time

19:00 - 22:00