MetalDays – 26 july-1 august 2020 – Tolmin, SLO
26 July @ 10:00

-

1 August @ 23:59

EEST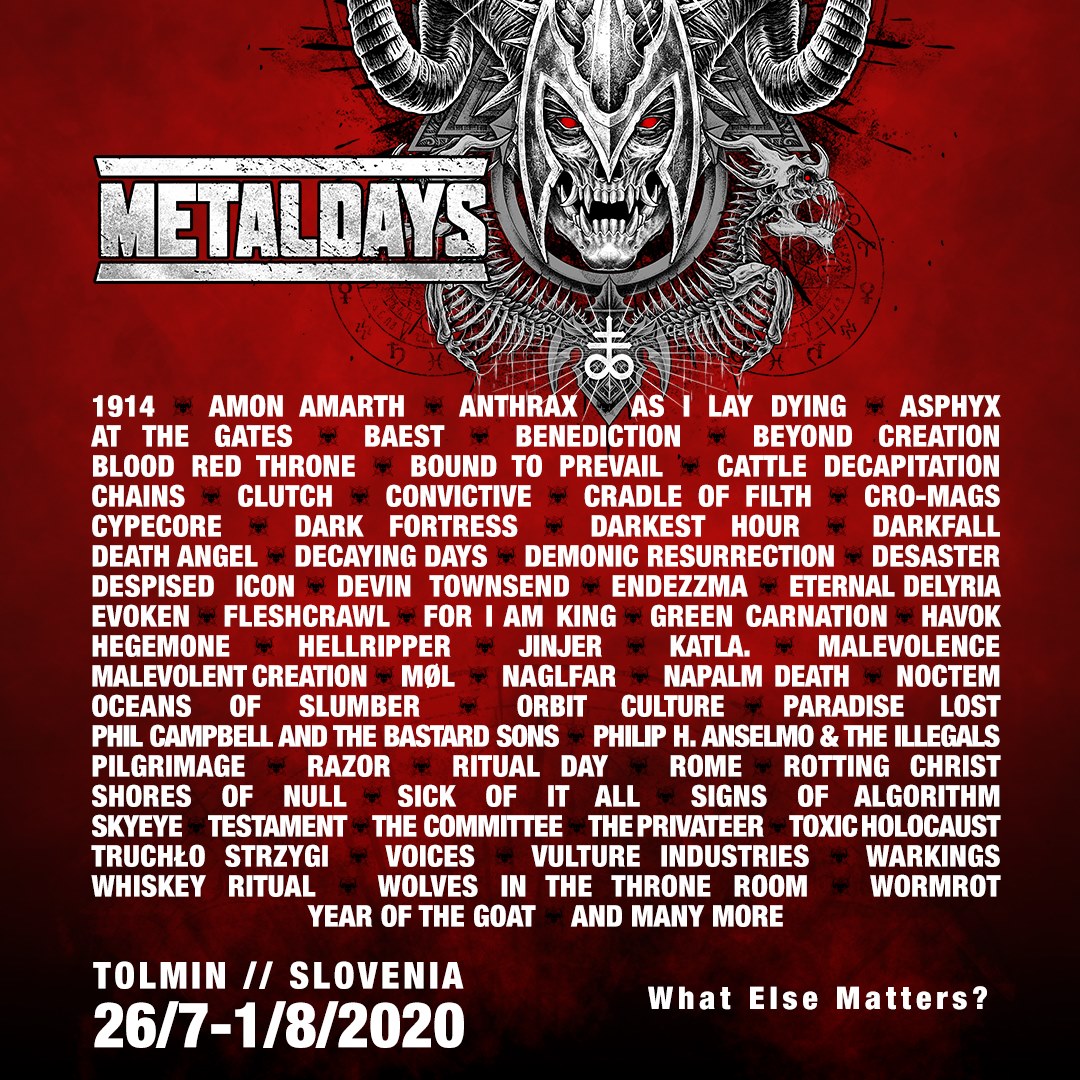 First bands for MetalDays 2020 are announced!
👉 More than 7000 tickets are sold already. Thank you so much!
Tickets, transport and accommodation: https://giggome.com/gigshow/500-metaldays-festival-2020
Festival info: www.metaldays.net
🎵Lineup A-Z:
1914
Amon Amarth
Anthrax
As I Lay Dying
Asphyx
At The Gates
Benediction
Beyond Creation
Cattle Decapitation
Clutch
Convictive
Dark Fortress
Decaying Days
Desaster
Despised Icon
Eternal Delyria
Havok
Jinjer
Katla.
Malevolent Creation
Napalm Death
Orbit Culture
Paradise Lost
Philip H. Anselmo & The Illegals
Razor
Rome
Rotting Christ
Signs of Algorithm
Testament
The Privateer
Voices
Vulture Industries
Warkings
Wormrot
Wolves in the Throne Room
Year of the Goat
… and many more to be announced …
Early Bird tickets are available at the official merch stand at the festival.
Price is the same as the previous year; 125€ for the full festival ticket.
Services included in the ticket price are: Early Bird t-shirt, 5days of music, 7days of camping, additional activities, DJ parties at the beach, warm showers, free drinking water, mobile phone charging, luggage transfer and safe deposit box.
‼️This is the value for money that can't be argued.
Online sale starts on 27.07. at www.giggome.com
Special "4tickets" offer will be on sale until further notice. It depends on the major line up announcement date.
‼️With this offer, if you purchase package of 4 tickets, ticket price is 150€ + commission.
Services included are the same as mentioned above, but without the T-Shirt.
‼️Regular ticket price is the same as this year, 175€ + commission.
ATTENTION! There will be no Real Marjan tickets anymore. New Metal Festival is now MetalDays early arrival.
Tickets for the New Metal Festival will go on sale as soon as we will have the line up sorted.
The price will be 25€ + commission for both days, and 15€ + commission for the single day.
More about the New Metal Festival here: https://www.newmetalfestival.com/
See you all at the MetalDays 2020!
As I Lay Dying to headline MetalDays 2020! Yes, you've read that well! As I Lay Dying is back and they are coming to Tolmin to fire up the atmosphere to the max. Definitely one of the names we have been waiting for quite a while.
Clutch: what is a metal festival without a proper Stoner Rock band?! Well … that's why we are bringing Clutch, a top-notch name in the business.
Jinjer: a band that made a big name for themselves in the past few years. Heavy, progressive, brutal, beautiful – we welcome them again to MetalDays!
Orbit Culture: rooted in Swedish school of death metal, but not being afraid to go beyond it and to explore new horizons – sounds promising!
Rome (Jerome Reuter): genuinely unique, both in the musical and lyrical sense. Not a band that will make you wanna jump around, but it will definitely leave a strong impression on you.
Voices: a band that describes their music as "a whirlwind of psychedelic melancholia and psychotic blast" and consists mainly of Akercocke members is definitely a band worth your attention!
Rotting Christ: Many believe that their show at MetalDays 2019 was one of the best shows MetalDays ever witnessed.
It was so impressive that we were sorry for booking them only as co-headliners.
We needed to fix that somehow, so the next logical step was to book them as headliners for 2020. Ladies and gentlemen, we give you … Rotting Christ…
Philip H. Anselmo & the Illegals performing a Vulgar Display of Pantera:
Phil is keeping his promise after the cancellation in 2019 and
will melt your faces with a set of legendary songs by one of the greatest metal bands of all time, Pantera! We can't wait to hear "Walk",
"Mouth for War", "I'm broken" and other timeless classics blasting away from our stage!
Despised Icon: Often called the pioneers of deathcore, Canadian beasts "Despised Icon" are back on the scene with their new album coming out this November.
We are stoked to host them on MetalDays for the first time ever and we are sure their show is not going to leave anyone indifferent!
Wormrot: Coming all the way from Singapore, Wormrot is a well known name to anyone who loves a bit more extreme metal music.
These guys are taking very seriously what they are doing and they are considered to be one of the best grindcore bands out there. Don't miss your chance to see them live!
Wolves In The Throne Room: This band is anything but an ordinary black metal band. By combining long ambient passages, melodic riffs, intense synths and heavy drum beats, this trio from Olympia, USA, wants to take the listener on a journey through the landscape of their homeland. Words won't do any justice here, you simply need to experience their performance yourself!
At The Gates – pioneers of Gothenburg melodic death metal are coming back to Tolmin! In the mid-90s, they released an album called "Slaughter of the Souls" which is, without any doubt, one of the most influential albums of extreme metal music ever released! They are going to play it in its entirety on MetalDays 2020! Be there!
Benediction – It's a great honour for us to sound the alert for another very special cult-act! An ultimate classical killer, none less than the UK death-worshipers – BENEDICTION! What a treat for old-school fanatics and what an invitation to party hard till the bitter end!
Cattle Decapitation – a top requested name by our visitors. The band enriches their progressive and partially catchy Death Metal with Grindcore elements to create a haunting, gloomy but always thrilling sound. This works as the basis for their socio-critical, misanthropic lyrics and gives a special substance to them. Warm up your necks and let your heads roll!
Dark Fortress – an eclectic and unique name on black metal scene. Over the years they have changed their sound from aggressive death/black to more complex and challenging dark/black metal and back to classical melodic black metal sound. Shortly, a must-see for black metal fans and enthusiasts of dark, progressive music!
Vulture Industries – Are you interested in thinking outside of the box and experiencing new, different music forms? Then this band is for you. Avant-garde, progressive, ludicrous and ready to blow away your mind. We are just as curious as you are – let's check them out together at MetalDays!
Amon Amarth to headline MetalDays 2020! No current band embodies the spirit of metal's immersive culture with more fervour and might than Amon Amarth: Sweden's celebrated Viking overlords and undisputed modern masters of epic heavy metal! Throughout the years, they grew together with our festival and they became almost like our House band without which we cannot imagine a proper Holiday in Tolmin!
1914 – The Poetry of War! 1914 are a Ukrainian band formed in 2014, at the 100th anniversary of the First World War. They are neither political nor warmongers – like scholars or historians, 1914 tell the tales of war, injustice, tear, hopelessness and endless death around us… Their unique and powerful mix of black metal, sludge and old school death metal is one of a kind, and they are ready to shock us with their music and live performance.
Beyond Creation – Ten years ago they released their first demo, a year after that their debut full-length "The Aura", which is still one of the highlights of the genre. Since then, Beyond Creation has been known as the progressive, innovative and exciting new metal sound of their homeland, Quebec. Join us in wishing them a warm welcome for their first appearance at MetalDays!
Warkings – a Roman tribune, a savage Nordic warrior, a determined Crusader and a lethal Spartan met in Valhalla. Secretly listening to their stories, the Allfather decided that all living human beings on Earth should know about these true stories of war and heroism… and so the Warkings were born. They are coming to Tolmin to forge some steel and play the heavy metal songs of their glorious battles!
Katla. – a pretty new name on the scene, Katla. was formed by Einar Thorberg Guðmundsson and Guðmundur Óli Pálmason in late 2015 when the latter needed a new outlet for his musical creations. They took the well known Icelandic post metal/rock sound, added their own touch to it – and it sounds great! Katla is also one of Iceland's biggest volcanos. The volcano has not erupted violently since 1918. Hm…
Tickets, transport and accommodation: https://giggome.com/gigshow/500-metaldays-festival-2020
Festival info. www.metaldays.net
See you all in Tolmin!
Details
Start:

26 July @ 10:00

End:

1 August @ 23:59

Event Category:

Event Tags:

1914, Amon Amarth, Anthrax, As I Lay Dying, Asphyx, At The Gates, Benediction, Beyond Creation, Cattle Decapitation, Clutch, Convictive, Dark Fortress, Decaying Days, Desaster, Despised Icon, Eternal Delyria, Havok, Jinjer, Katla, Malevolent Creation, MetalDays Festival, Napalm Death, Orbit Culture, Paradise Lost, Philip H Anselmo and The Illegals, Philip H. Anselmo & The Illegals, Razor, Rome, Rotting Christ, Signs of Algorithm, Testament, The Privateer, Voices, Vulture Industries, Warkings, Wolves In The Throne Room, Wormrot, Year of the Goat

Website:
Organizer
Related Events
16 May @ 19:00

-

23:30

EEST

3 June @ 12:00

-

6 June @ 23:59

EEST