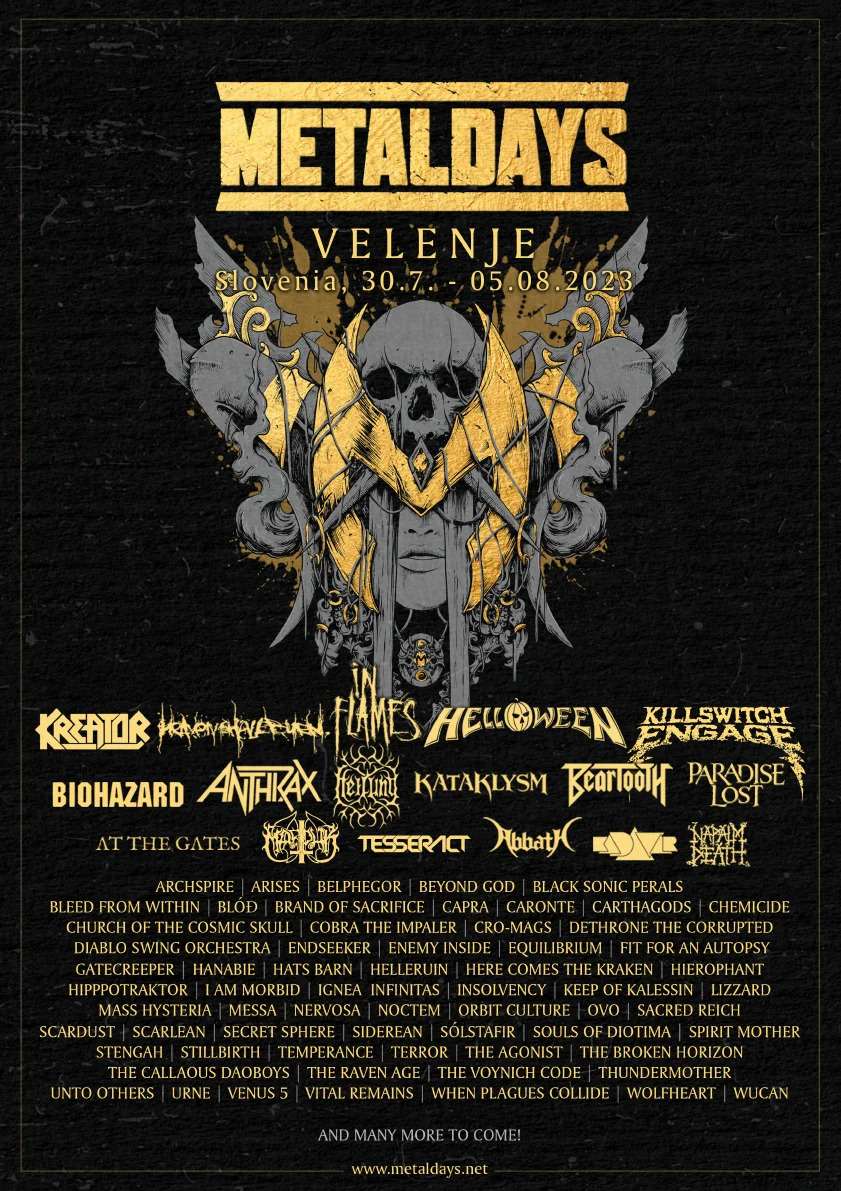 MetalDays – 30 July – 5 August 2023 – Velenje, SLO
MetalDays 2023 – The Restart edition?!
Welcome to the MetalDays 2023 lineup:
Abbath / Anthrax / Arises / Archspire  / At The Gates / Beartooth / Belphegor / Beyond God / Biohazard /Black Sonic Pearls / Blackoutt / Bleed From Within / Blóđ / Brand Of Sacrifice /  Bullet For My Valentine / Capra / Caronte  Carthagods / Chemicide / Church Of The Cosmic Skull / Cobra The Impaler / Cold Snap / Cro-Mags / Cryposis / Dead Corcoras / Decline The Fall / Destruction / Dethrone The Corrupted / Diablo Swing Orchestra / Diamond Dust / Dislocated / Element / Endseeker / Enemy Inside / Equilibrium / Extreme Smoke 57 / Fit For An Autopsy / Flesh  / Gatecreeper / Goragorja / Graphic Nature / Guattari  / Hanabie / Hats Barn / Heaven Shall Burn / Hei'an / Heilung / Helleruin / Helloween / Here Comes The Kraken / Hideous Divinity  Hierophant /  Hipppotraktor / I Am Morbid / Ignea / In Flames / In Heaven / Infinitas /  Inmate  / Insolvency / Kadavar / Kaoz / Kataklysm / Keep Of Kalessin / Killswitch Engage / Kreator / Lizzard / Marduk / Mass Hysteria / Messa / Napalm Death / Nervosa / Noctem / Obituary / Orbit Culture / Ovo / Paradise Lost / Razvalina / Sacred Reich / Sakrabolt / Scardust / Scarlean / Secret Sphere / Siderean / Skyeye / Snøgg / Sólstafir / Souls Of Diotima / Spirit Mother / Spirits Of Stygia / Stengah / Stillbirth / Temperance / Terror / Tesseract / The Agonist / The Broken Horizon / The Callous Daoboys / The Raven Age / The Voynich Code / Throattwister / Thundermother / Unto Others Urne / Venus 5 /  Vital Remains / When Plagues Collide / Wolfheart / Wucan
We've just started, and we can't wait to announce all the confirmed bands and all the ones we're currently in talks with.
Tickets: https://shop.metaldays.net/kategorien/metaldays-tickets
Info: www.metaldays.net
Aftermovie 2022: https://youtu.be/JLOHJgRUYjg
===
Welcome to Metaldays 2023!
Killswitch Engage, headliner 03.08.2023, Brand Of Sacrifice, Cro-Mags, Urne, Church Of The Cosmic Skull, Helleruin, Blóđ, Lizzard, Messa, Ovo, Caronte, Stillbirth, Temperance, Hierophant, Carthagods, Chemicide, Souls Of Diotima, and bands that were supposed to perform at the New Metal Festival that didn't materialize; Hats Barn, When Plagues Collide, Dethrone The Corrupted, Beyond God, Scardust, Arises, Infinitas, Black Sonic Pearls, Scarlean, Insolvency, Siderean.
===
The legendary Biohazard returns in its classic line-up. Don't miss the opportunity to enjoy a mosh pit after so many years with hits such as Punishment, Tales From The Hard Side, Urban Discipline and Shades of Grey.
For fans of Hard-Core music, we bring another fantastic band. Terror will certainly shake you up with their energetic performance.
Keep Of Kalessin return with their most epic work to date!
The pioneers of Epic Extreme Metal have crafted an album that will hit both hard and direct as well as challenge the listeners with its rich detail and enormous atmosphere. Can't wait to hear new songs live at Metaldays 2023.
Finnish frontrunners Wolfheart have proven themselves to be one of metal's most captivating acts of northern heritage and one of the fastest rising bands in the international melodic death metal scene.
Their show should not be missed.
We first noticed Mass Hysteria from France at EMFA (European Metal Festival Alliance), and we immediately wanted to bring them to Slovenia.
Hanabie is a metal band from Tokyo formed in 2015. Girls describe themselves as an angel with the voice of a devil. Listen to them, you will be surprised!!!
We close the package of new bands with two young bands Stengah and The Callous Daoboys.
===
It's official; Velenje is the new home of MetalDays festival!
After many years of searching for a location that would be worthy of a unique event like MetalDays, the search has come to an end and we are officially moving to Vista on Lake Velenje.
We have closely followed the Vista construction project from the first days, we can only say that we are amazed at how well the project was planned and implemented into reality.
Velenje with its infrastructure offers indescribably good possibilities for MetalDays to develop and become an even stronger and more attractive destination for all metalheads from all over the world, and at the same time it will satisfy even the most discerning guest with its offer and hospitality.
A city with such a history, where mining plays an inevitable role in the creation and development of the city, is without a doubt the most-metal city you can get.
And what a lake!!!! We cannot imagine MetalDays without water, the beach and everything that goes with it. If you were delighted with what we have offered so far, you have to believe that it was nothing compared to what awaits you in 2023 at the MetalDays beach in Velenje.
Share this announcement and join us for an unforgettable spectacle in Velenje on 31st of July – 5th of August, 2023.
===
There's no better way to start the day than to announce the new bands for MetalDays 2023.
After countless attempts, which failed due to festival dates, we are proud to announce that Heilung is one of the headliners of MetalDays 2023.
Music and shows that leave you breathless make Heilung one of the most sought-after bands by our visitors. Don't miss them on Friday 04.08.2023.
Kadavar are coming back to MetalDays, this time as headliners on Main Stage B. The Berlin rockers will surely shake you up.
Sacred Reich are legends in their own sense, and we can't wait to see them in Velenje.
The package of new bands is rounded off by Wucan, Capra, Enemy Inside, The Broken Horizon and Spirit Mother.
===
The announcement of the location goes hand in hand with the package of excellent bands.
After a canceled performance last year, Napalm Death are finally returning to MetalDays. We will not waste words on them, the boys are stronger than ever!
Teamed up with American Death Metal Legends Vital Remains, Swedish Orbit Culture, Heavy Gothic Rockers from USA Unto Others and Portuguese The Voynich Code, they make a perfect addition to the MetalDays lineup.
===
Dates.
You must have noticed the date change.
This date has always been our wish, but it was not possible due to the timing of other festivals that take place in Tolmin before and after MetalDays.
Regarding booking bands, the festival can benefit greatly from the new dates, because it is close to other metal festivals that coincide with MetalDays in 2023, or take place immediately before and after our festival. Until now, MetalDays was the first in the series, and most bands decided to start the tour one week later, for logistical and financial reasons.
Changing the date is good for band booking but also for all of you who want to visit another festival combined with MetalDays. It's a win-win situation.
Early arrival.
As you may have seen, Early Arrival lasts for 3 days again, and the tickets are cheaper than before, costing only €10 for a one-day stay in the festival camp.
The price will not change for the 2023 edition. Beach and swimming.
Yes, the new location has a beautiful beach and the possibility of swimming for all of you.
We like it very much, and we believe you will like it too. Accommodation, shops, and restaurants.
In the immediate vicinity of the festival location, as well as in the broader area, there is a large number of accommodation in hotels, apartments, and camps with glamping offers.
There are many larger shops in the immediate vicinity of the festival location, as well as many restaurants.
The place and region are rich in culture, which will provide additional entertainment outside the festival events.
Parking.
The parking ticket category in 2023 will be divided into motorbikes, cars, and mobile sleeping units (campers, caravans, and cars with trailers and tents on the roof).
Accordingly, different prices for parking will be set, with a price for motorbikes of €20, €35 for cars, and €45 for mobile sleeping units.
As you can see, these prices are partially lower than before, and will not change in 2023.
Parking tickets will be available for purchase on 08.12.2022 in our shop and are valid for early Arrival as well.
Why only then? Because then we will announce the location of the festival, and all the information about additional accommodations outside the festival area. We believe that some of you will want accommodation outside the festival camp, and in that case, there is no need to buy a parking space at the festival.
Camp.
In 2023, the camp will again be divided into a few zones; there will be a zone for camping only (Camping Only zone), a zone for camping next to your own car (Camping & Parking zone), a Silent Camp zone, Group Camping zone, camping zone for those who travel alone, and don't feel safe and probably some more, but this is what we can say at the moment.
The use of all zones is included in the ticket price (parking for vehicles is not included in the ticket price).
Announcement of location 08.12.2022.
Why not sooner? Such was the wish of the municipality at the production meeting with all representatives.
Lineup 2023.
Most of the lineup will be announced on 08.12.2022, and until then we will try to give you a few more bands.
Tickets.
Early Birds are already on sale and cost €199.
They are limited to only 2000 tickets. After that, the price will rise.
Early Birds are available until sold out or until 08.12.2022.
Ticket link: https://shop.metaldays.net
Follow us on the official channels for all additional information that we will publish in due course.
Enjoy the summer!
Next Event
Date

юли 28 - 30 2023

Time

18:00 - 23:55