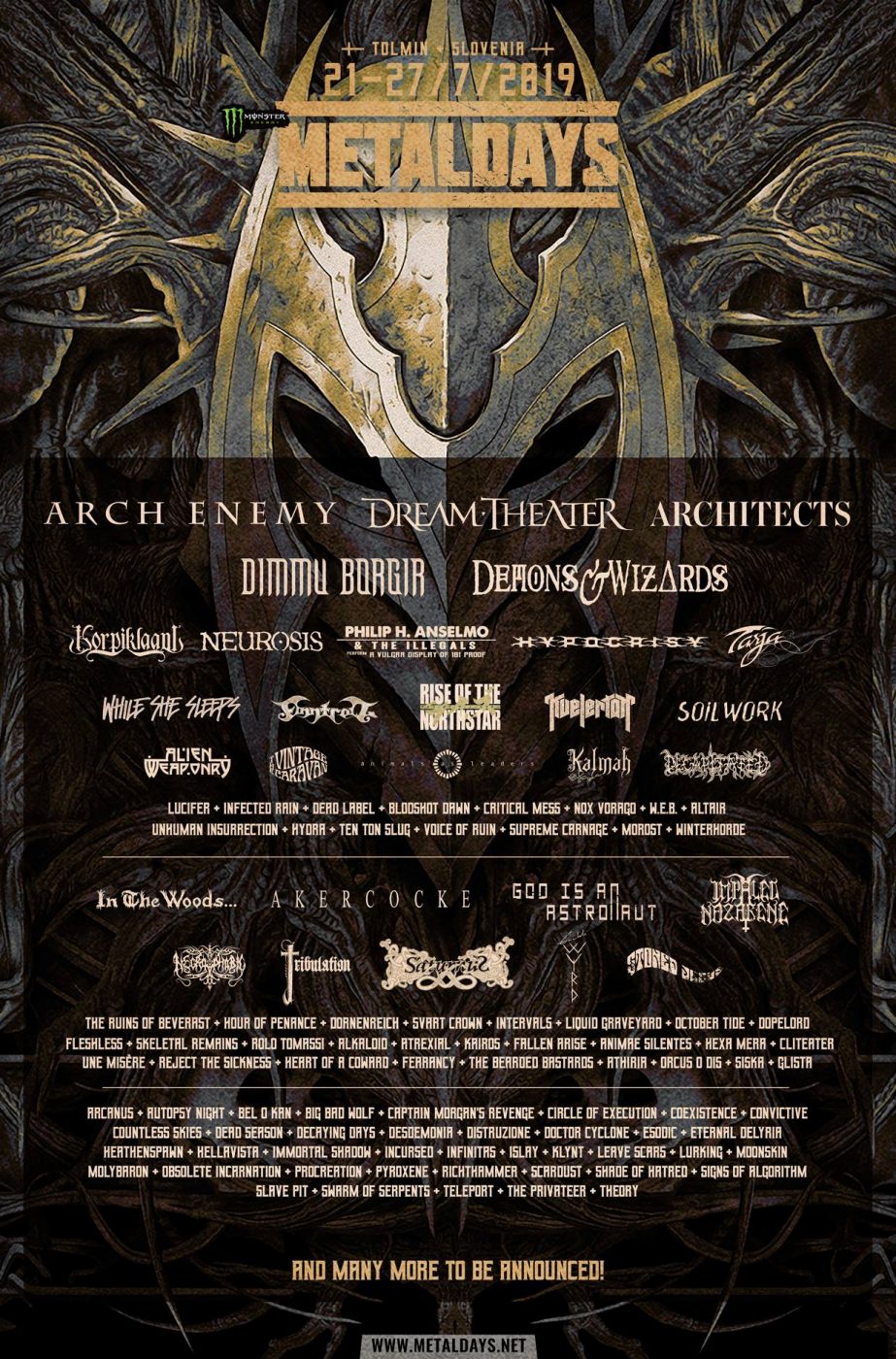 MetalDays Festival – 21-27 july 2019 – Tolmin, SLO
MetalDays 2019!
🎵Line up A-Z:
Akercocke, Alien Weaponry, Alkaloid, Altair, Animals as Leaders, Animae Silentes, Arcanus, Arch Enemy, Architects, Atrexial Autopsy by Night, Bel O Kan, Big Bad Wolf, Bloodshot Dawn, Captain Morgan´s Revenge, Circle of Execution, Cliteater, Coexsistence, Convictive, Countless Skies, Critical Mess, Dead Label, Dead Season, Decapitated, Decaying Days, Demons & Wizzards, Desdemonia, Dimmu Borgir, Distruzione, Doctor Cyclone, Dopelord, Dornenreich, Dream Theater, Esodic,, Eternal Delyria, Fallen Arise, Fintroll, Gaahls Wyrd, God is an Astronaut, Heart of A Coward, Heathenspawn, Hellavista, Hour of Penance, Hydra, Hypocrisy, Immortal Shadow, Impaled Nazarene, In the Woods, Incursed, Infected Rain, Infinitas, Intervals, Islay, Kairos, Kalmah, Klynt, Korpiklaani, Kvelertak, Leave Scars, Liquid Graveyard, Lucifer, Lurking., Moonskin, Necrophobic, Nox Vorago, Obsolete Incarnation, October Tide, Philip H Anselmo and The Illegals, Procreation, Pyroxene, Richthammer, Rise of the Northstar, Rolo Tomassi, Saturnus, Scaredust, Shade of Hatred, Signs of Algorithm, Skeletal Remains, Slave Pit, Soilwork, Stoned Jesus, Svart Crown, Swarm of Serpents, Tarja, Teleport, The Privateer, The Ruins of Beverast, The Vintage Caravan, Theory, Tribulation, Une Misere, Unhuman Insurrection, W.E.B., While She Sleeps, Winterhorde.
…and many more to be announced!
🗓️Official Event:
https://www.facebook.com/events/1149599001844843/
🛒Tickets: https://www.mhshop-online.com/c381/metaldays-2019
📢Festival info & Running order: www.metaldays.net
MetalDays Festival will present you a friendly and absolutely relaxed atmosphere, perfect for you to just forget about all the worries and enjoy your most likely best holiday ever! Over the years, MetalDays festival has become a synonym for real music festival holidays.
Every year a small city of Tolmin, located only approx. 65 kilometers off the coast of the Mediterranean Sea in the heart of the Slovenian Alps, becomes a paradise for over 12.000 metal music fans from all over the world. Amazing music program with over 100 renowned artists playing on 3 festival stages, 2 festival beaches, plenty of freshly made food of all varieties, wide selection of drinks, including the finest cocktails and spirits and everything else in order to make our visitors comfortable and to enjoy themselves.
MetalDays festival is absolutely unique, you will never regret being here.
Welcome to your ultimate summer music holidays in Slovenia.
Program:
Saturday 20.07. 2019 (Subject to Early Arrival fee) NEW FORCES STAGE
Sunday 21.07.2019 (Arrival day) NEW FROCES STAGE
Mon-Fri, 22.07.-26.07. FULL PROGRAM ON ALL THREE STAGES
Saturday 27.07. (Departure day) NO PROGRAM
Please pay attention on Early Bird Tickets offer in our MH Shop and save some bucks!
➡ EARLIEST BIRD is already SOLD OUT!
Price was 125€
➡ EARLY BIRD will be available until 30.09.
Price is 150€ + 10% shop commission
➡ REAL MARJAN Early Bird Packages will be available until 30.09.
Price is 200€ + 10% shop commission
➡ Regular sale starts on 01.10.2018
Price is 175€ + 10% shop commission
➡ Regular REAL MARJAN Package will be available from 01.10.
Price is 225€ + 10% shop commission
More info at: www.metaldays.net
Next Event
Date

юни 02 - 03 2023

Time

17:00 - 23:55