(SOLD OUT) Metallica WorldWired Tour – 14 august 2019 – Bucharest, RO
14 August @ 20:00

-

23:59

EEST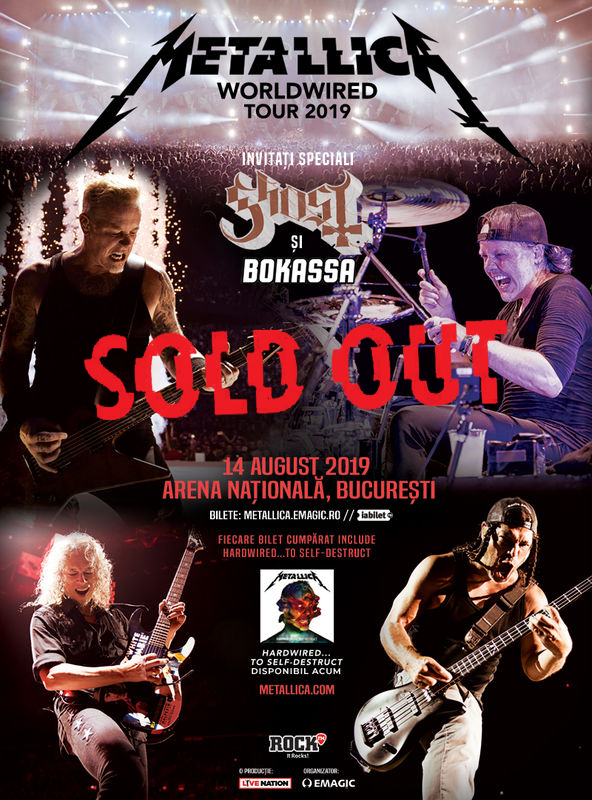 Metallica returning to Bucharest, WorldWired Tour
August 14th 2019, National Arena
Tickets go on sale September 28th, 10:00am on http://metallica.emagic.ro, www.eventim.ro/en/ and www.iabilet.ro.GHOST & BOKASSA to support.
Access on showday starts at 16:30, opening acts followed by Metallica which will start after 19:30.
For the Bucharest show, fans will have the possibility to purchase VIP packages for the ultimate Metallica experience. The three VIP packages include premium tickets and other benefits like priority access, experience the 'Memory Remains' touring exhibit and even meeting the band. Complete details will be available on September 28th.
General sale starts on September 28th, 10 am on http://metallica.emagic.ro, www.eventim.ro/en/ and www.iabilet.ro, members of the Metallica fanclub will be able to access the presale starting Tuesday September 25th, more details available on www.metallica.com.
Minors: it's recommended for children not to attend the concert due to the loud sound. If the parents chose to bring the little ones they will do it on their own account. Accompanying children will require their own tickets. Access inside the concert venue can be done only with a valid ticket regardless of age. We still recommend parents to ensure sound protection for the children. Minors need to be accompanied by adults.
Main Media Partner: Rock FM
Media Partners: InfoMusic, Zile si Nopti Bucuresti, Sunete, Adevărul, Catavencii, iConcert.ro, BestMusic
RO
Metallica revine la București în turneul WorldWired
14 august 2019, Arena Națională
Biletele se pun în vânzare pe 28 septembrie, ora 10:00am pe http://metallica.emagic.ro, www.eventim.ro și www.iabilet.ro. În deschidere vor cânta trupele Ghost și Bokassa.
Accesul se va face începand cu ora 16:30, vor urma trupele din deschidere și apoi concertul Metallica, ce va începe după ora 19:30.
Pentru concertul de pe 14 august, fanii vor avea posibilitatea să achiziționeze Pachete VIP pentru o experiență Metallica mult mai intensă. Cele trei pachete VIP includ bilete în zone premium și alte beneficii, printre care acces cu prioritate, tur prin muzeul itinerant "Memory Remains" și chiar întâlnire cu trupa. Detalii complete vor fi disponibile pe 28 septembrie.
Vânzarea generală începe vineri, 28 septembrie, de la ora 10:00 pe http://metallica.emagic.ro, www.eventim.ro și www.iabilet.ro.
Prietenii EMAGIC au acces în presale, înscrierile se pot face pe http://emagic.ro/friends-of-emagic/.
Membrii fanclubului Metallica vor putea achiziționa bilete începând de marți, 25 septembrie, mai multe informații fiind disponibile pe www.metallica.com.
Acces minori: Accesul copiilor mici la concert nu este recomandat din cauza sunetului foarte puternic. Însă dacă părinții aleg să vină însoțiți de cei mici, o vor face pe propria răspundere, achiziționând bilete de acces și pentru aceștia. Accesul în zona de concert se va face doar în baza unui bilet valid, indiferent de vârstă. Totodată, recomandăm parinților să le asigure copiilor căști de protecție. Minorii trebuie să fie însoțiți de un adult.
Partener media principal: Rock FM
Parteneri media: InfoMusic, Zile si Nopti Bucuresti, Sunete, Adevărul, Catavencii, iConcert.ro, BestMusic
Venue
Bulevardul Basarabia, Nr. 37-39




Bucharest

,

030351

Romania
Related Events
18 July @ 20:00

-

22:00

EEST

18 July @ 20:00

-

23:00

EEST

19 July @ 20:00

-

23:59

EEST