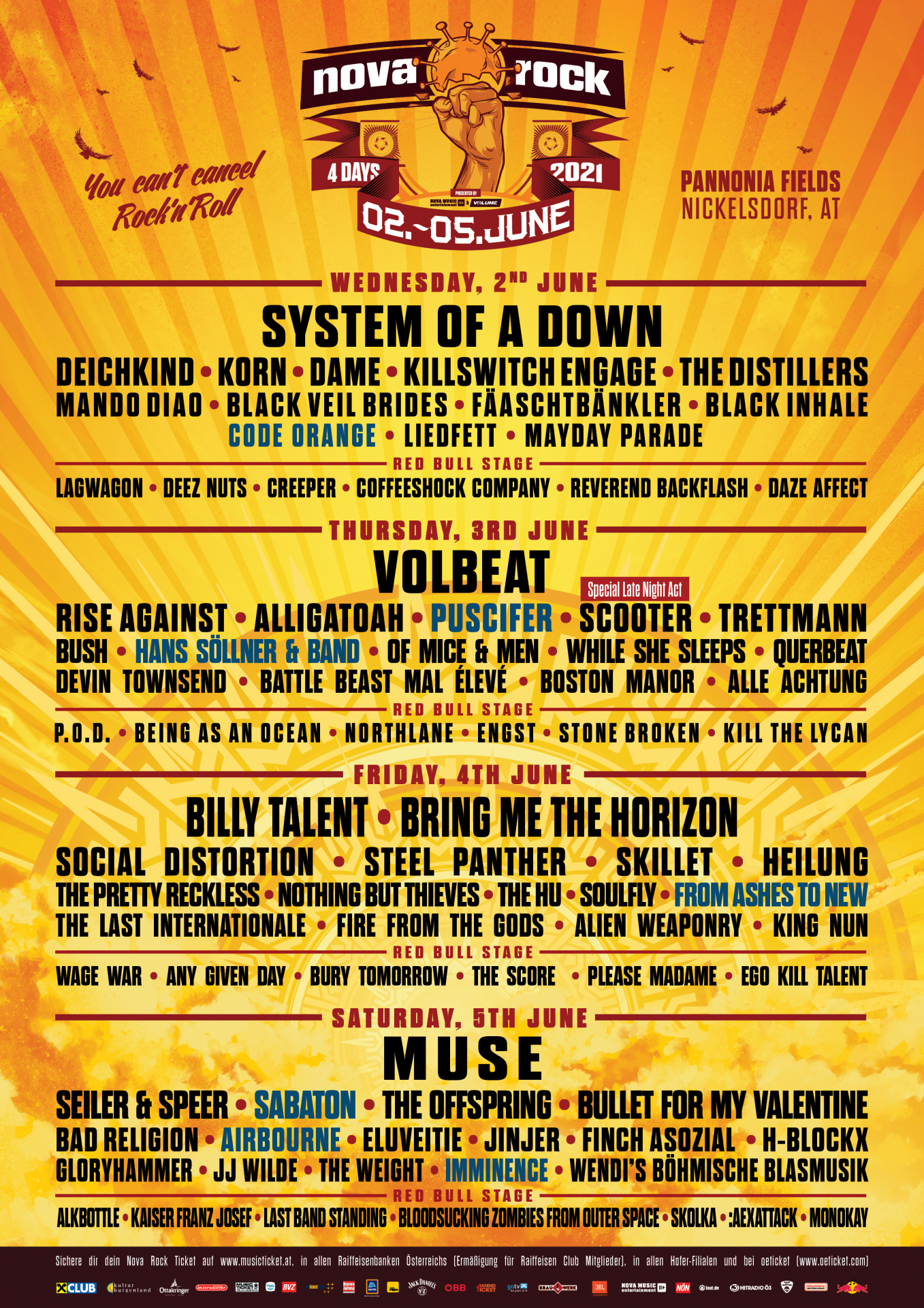 (CANCELLED) Nova Rock Festival – 2-5 june 2021 – Pannonia Fields II, Nickelsdorf (AU)
Just today we are experiencing another one of these days, which brings us all absolutely no joy.
For weeks and months we have been waiting for or We demand decisions by the Austrian federal government to tell us whether festivals and major events can take place in June 2021 or not. Because on the one hand, it would be the government's job to make these decisions, but on the other hand, the presumption is that you'd rather leave such job messages to someone else, namely us.
Our requests and requests have so far been totally ignored. A testimony of poverty that reduces any further comment. One can really be very curious if and when we will receive announcements regarding all July and August events, because countries like England, Netherlands and Switzerland already have current positive outlook.
Unfortunately, it is up to us to make this decision with a heavy heart. We therefore have to inform you that the Nova Rock Festival 2021 cannot take place either. We would have liked nothing more for you than to finally be able to rock back on Pannonia Fields and finally forget the stresses and restrictions on the excesses of the pandemic for a few days.
We'll get back to you as soon as possible with more information regarding planning and further action regarding your tickets.
NEW DATE: June 9.-12., 2022
Thank you very much for your understanding, trust and patience.
Ewald Tatar and the Nova Rock Festival Team
Please stay healthy everyone!
===
🔥 NOVA ROCK Festival 2021 🔥 presented by Nova Music Entertainment &
VOLUME.at
02.-05.06.2021 / Pannonia Fields / Nickelsdorf / Austria 4 Days (Wed. – Sat.) / June 3rd is a holiday
#NR21
Line-Up Phase 1 –
Local Artists
"Since all locals are particularly important to us, the NR21 Line Up Phase 1 is the symbol of the local bands that should have played with us in a month.
Confirmed for
Nova Rock Festival 2021
are:
Seiler und Speer
,
Dame
,
Alkbottle
,
Black Inhale
,
The Weight
,
Kaiser Franz Josef
,
Bloodsucking Zombies from Outer Space
,
Skolka
,
Last Band Standing
,
Please Madame
, Coffeeshock Company,
:aexattack
,
Reverend Backflash
,
Kill The Lycan
,
Daze Affect
& of course
Wendi's Böhmische Blasmusik
!
System Of A Down, Volbeat, Billy Talent, Korn, Bring Me The Horizon, The Offspring, Bad Religion, Steel Panther, Skillet, The Pretty Reckless, Bush, Of Mice & Men, Mando Diao, Black Veil Brides
Please welcome: Rise Against , Bullet for My Valentine, Trettmann, Killswitch Engage, The Distillers , Nothing But Thieves, While She Sleeps, H-Blockx, Soulfly, Fäaschtbänkler, Zlle Achtung , Mal Élevé, Northlane, The Score & Monokay!
#NR21
Headliner announcement:
Muse
!
#NR21
Line-Up Phase 4: Code Orange, Puscifer, Hans Söllner & Band, From Ashes To New, Sabaton, Airbourne, Imminence
"We don't give a fvck, the Nova ticket stays in the bag!" Unlock
#NR20
tickets with just a few clicks for the new year or. Sweat of arms ☛
bit.ly/NRticketswap
  bit.ly/NR21Tickets. More info coming soon… Homepage https://www.novarock.at/ LIKE IT: www.facebook.com/novarock www.instagram.com/novarockfestival www.youtube.com/novarockfestival Official Hashtag: #NR21 YOU CAN'T CANCEL ROCK 'N' ROLL!
Next Event
Date

окт. 05 2023

Time

20:00 - 23:00