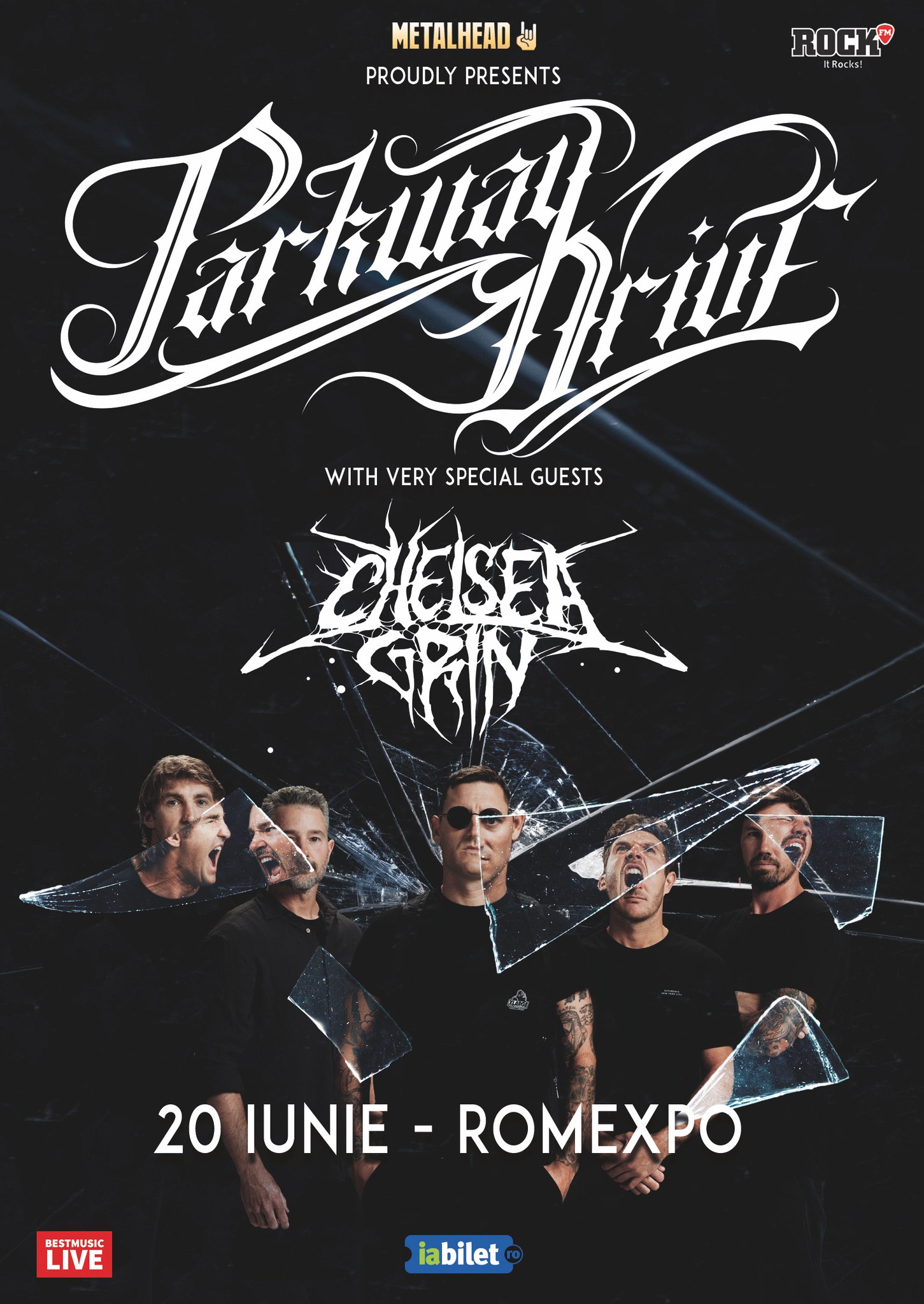 Parkway Drive – 20 June 2023 – Romexpo, Bucharest (RO)
Parkway Drive performs in Romania on June 20 at Romexpo in the open air. The guests are the Americans from  Chelsea Grin .
The first 200 tickets in each category have an earlybird price and go on sale on Friday, February 24 at 1:00 p.m., but METALHEAD fans will receive a code on Wednesday, February 22 at 1:00 p.m. on the METALHEAD Instagram page with which they have  access to another 200 tickets, before everyone else.
Parkway Drive come from Australia and have been singing for 20 years, being one of the most popular metal bands in the world. The band's name comes from the name of the street where the artists rehearsed.Influenced by big names of the international scene, such as Slayer, Iron Maiden or Rage Against the Machine, the Australians have left their own mark on music proving this by releasing seven studio materials that reached the charts all over the world.The most recent album entitled 'Darker Still' was offered to fans last year on September 9, being well received by both the public and critics. The band's tours are always sold out around the world.
Parkway Drive continues under the same formula since 2006, when bassist Jia 'Pie' O'Connor joined the band. The other members are the same since the beginning of the activity in 2003.
Chelsea Grin come from the United States, from Salt Lake City and have been active since 2007, during which they released six studio materials. Although it is one of the most famous deathcore bands, Chealse Grin's music can also be identified with doom or black metal influences and even symphonic in some places. Among the bands that influenced him are Slayer, A Perfect Circle, Whitechapel or Emmure.A new discography material is coming, entitled Suffer in Heaven, which will be released on March 17 this year. The album will be the continuation of the previous one, 'Suffer in Hell', the two discs being actually a double album.Tickets are on sale on iabilet.ro  at the following prices:
– WILD EYES (A) – no seat in front of the stage – 299 lei earlybird (first 200) tickets, 329 lei at the press and 350 lei at the entrance – VICE GRIP (B) – no seat, behind category A –
259 earlybird lei (first 200 tickets), 279 lei at the ticket office and 300 lei at the entrance
– THE VOID (C) – no seat, behind category B – 179 lei earlybird (first 200 tickets), 199 lei at the ticket office and 250 lei at the entrance
– PREMIUM – 499 lei – On the platform near the stage, with bar and separate access.
PREMIUM ticket holders have access to all ticket categories. 
Children under 7 have free access accompanied by an adult with a ticket.
9,500 tickets are for sale – 3,000 of each category and 500 in the Premium category. The ticketing agency's ticketing commission is added to the price of all tickets.
A METALHEAD event powered by ROCK FM
Next Event
Date

окт. 05 2023

Time

20:00 - 23:00