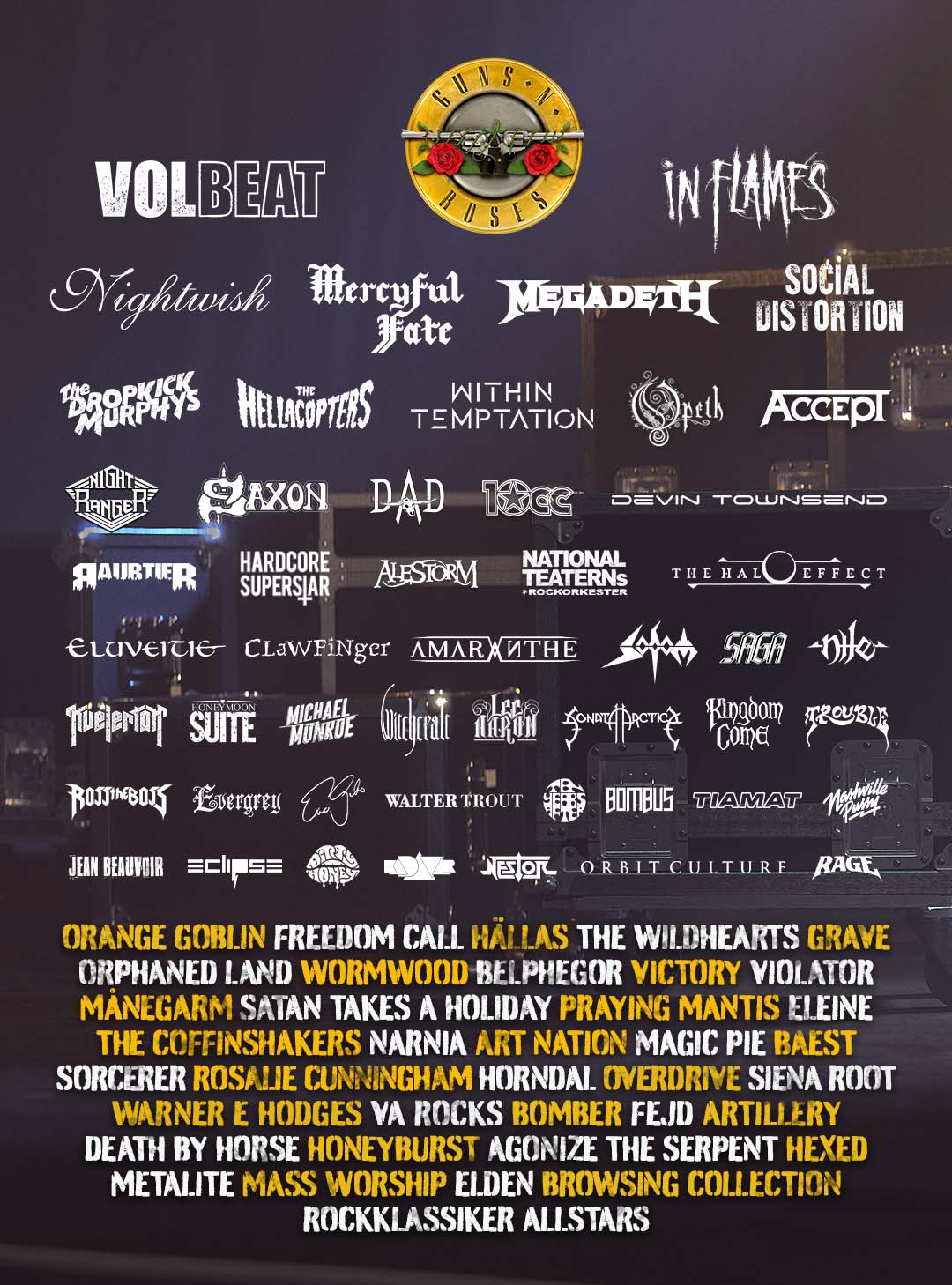 Sweden Rock Festival – 8-11 june 2022 – Sölvesborg, Sweden
Today we complete the 2022 line-up, by confirming Saxon, Nationalteaterns Rockorkester, Eric Gales, Dirty Honey, Bomber and Rockklassiker Allastars for Sweden Rock Festival!
WEDNESDAY – JUNE 8
Megadeth
Raubtier
Kvelertak
Witchcraft
Evergrey
Jean Beauvoir
Orbit Culture
Freedom Call
The Wildhearts
Grave
Victory
Narnia
Art Nation
Overdrive
Siena Root
Warner E Hodges
VA Rocks
THURSDAY JUNE 9
 Volbeat
Nightwish
Dropkick Murphys
Accept
10cc
Devin Townsend
Alestorm
Eluveitie
Sodom
Saga
Lee Aaron
Trouble
Ten Years After
Eclipse
Dirty Honey
Kadavar
Orphaned Land
Wormwood
[NEMIS] Death By horse
[NEMIS] Honeyburst
[NEMIS] Agonize the serpent
[NEMIS] Hexed
[NEMIS] Metalite
[NEMIS] Mass Worship
[NEMIS] Elden
[NEMIS] Browsing Collection
FRIDAY JUNE 10
In Flames
Mercyful Fate
The Hellacopters
Opeth
Saxon
D-A-D
Nationalteaterns Rockorkester
Amaranthe
Sonata Arctica
Kingdom Come
Ross The Boss
Eric Gales
Bombus
Nashville Pussy
Orange Goblin
Hällas
Belphegor
Violator
Praying Mantis
The Coffinshakers
Baest
Horndal
Fejd
Rockklassiker Allstars
SATURDAY JUNE 11
Guns N' Roses
Social Distortion
Within Temptation
Night Ranger
Hardcore Superstar
The Halo Effect
Clawfinger
Nile
Honeymoon Suite
Michael Monroe
Walter Trout
Tiamat
Nestor
Rage
Månegarm
Satan takes a holiday
Eleine
Magic Pie
Sorcerer
Rosalie Cunningham
Bomber
Artillery
Today we have the pleasure of letting you know that American thrash-metal icons Megadeth are reconfirmed for Sweden Rock Festival 2022
For next year's festival, the first day (Wed June 8th) becomes an almost-full day, as we open the gates at 1:00 pm. That same night, Megadeth will greet the Sweden Rock audience, for the third time around. This is something we know that many of you are looking forward to!
After today's announcement, another 12 bands remain to be announced for 2022.
Read more about the confirmed acts on our website.
Tickets: https://www.ticketmaster.se/feature/swedenrock/
Two weeks ago, we could reveal that Guns N´ Roses are coming to Sweden Rock Festival 2022. Today we are happy to announce another 75 confirmed bands, e.g. Volbeat, In Flames, Nightwish and Mercyful Fate.
After today's announcement, the list of confirmed bands for 2022 looks like this:
Guns N' Roses (previously announced), Volbeat, In Flames, Nightwish, Mercyful Fate, Social Distortion, The Hellacopters, Within Temptation, Accept, Opeth, Night Ranger, D-A-D, 10cc, Devin Townsend, Raubtier, Alestorm, Eluveitie Clawfinger, Sodom, Amaranthe, Saga, Nile, Kvelertak, Honeymoon Suite, Michael Monroe, Witchcraft, Lee Aaron, Sonata Arctica, Kingdom Come, Trouble, Ross The Boss, Evergrey, Ten Years After, Walter Trout, Bombus, Tiamat, Nashville Pussy, Jean Beauvoir, Eclipse, Kadavar, Rage, Orange Goblin, Freedom Call, Hällas (new!), The Wildhearts, Grave, Orphaned Land, Victory, Violator, Månegarm, Satan takes a holiday, Praying Mantis, Eleine, The Coffinshakers, Narnia, Art Nation, Magic Pie, Horisont, Baest, Sorcerer, Rosalie Cunningham, Overdrive, Siena Root, Warner E Hodges, VA Rocks, Wormwood, Fejd, Artillery, Death By horse, Honeyburst, Agonize the serpent, Hexed, Metalite, Mass Worship, Elden and Browsing Collection
Read more about all of the bands HERE
RETURNED TICKETS ON SALE
Due to popular demand, the returned 3- and 4-day tickets from 2020 and 2021 will go on sale this Thursday May 6th at 11:00 am Swedish time. More information about this in our channels tomorrow, stay tuned!
Next Event
Date

юни 02 - 03 2023

Time

17:00 - 23:55