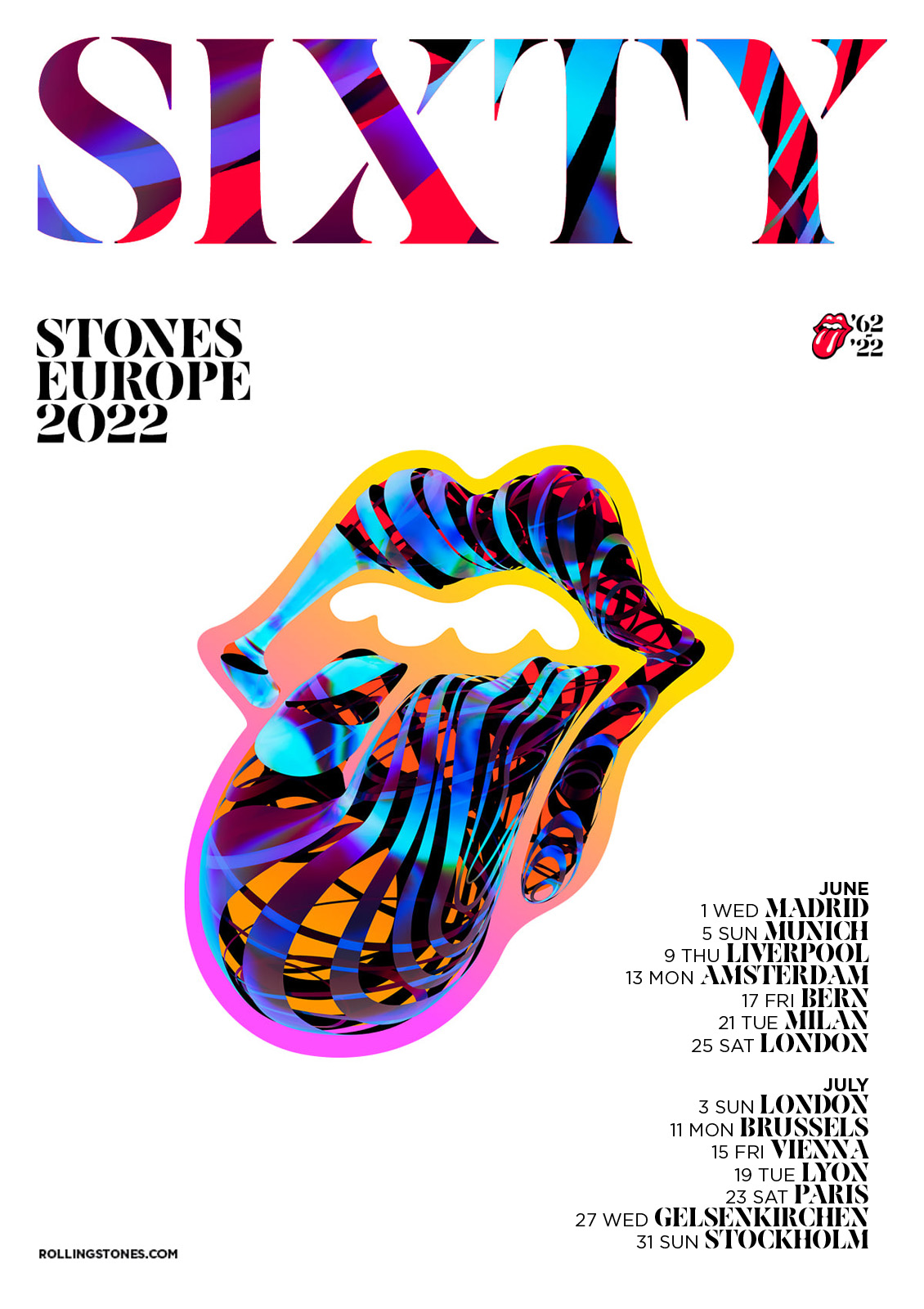 The Rolling Stones – 21 June 2022 – San Siro Stadium, Milan (IT)
The Rolling Stones: in concert in Milan for Sixty Stones Europe 2022
Let them introduce themselves: they are rich and tasteful men and have been around for 60 long years. We hope you guessed their name: The Rolling Stones will celebrate 60 years of career in concert at the Scala of Rock music, the San Siro Stadium in Milan. If you like these devils, register now on Ticketmaster.it to buy official tickets for the Rolling Stones concert in Milan on Friday 18 March at 10 am.
You know, the devil makes the pots but not the lids and in the pot of the Rolling Stones something big was boiling for some time, impossible to keep hidden for long from their attentive fans, from good devils, to details and anniversaries. At the end of the No filter tour in the United States, the first tour without the historic drummer Charlie Watts, Mick Jagger shared a relaxing moment in Jamaica "before things get busy" on Instagram. A tongue also appeared on our boot in the video revelation released last Friday by the official Rolling Stones accounts.
Don't you hear the Stones knocking on the doors of Milan? Trouble is on the way because Mick Jagger, Keith Richards and Ronnie Wood, who have been missing in Europe since 2018 and in Italy since the last No Filter Tour concert at Lucca Summer Festival 2017, will celebrate sixty years of career at the San Siro Stadium in Milan for the only Italian stage of Sixty Stones Europe 2022. Just on 12 July 1962 Mick Jagger (vocals), Keith Richards (guitar), Brian Jones (guitars), Dick Taylor (bass) and Ian Stewart (piano), Rollin 'Stones held their first in concert at London's Marquee.
July 16, 1962: the first Rolling Stones concert
In his eagerness to transcribe the matrix numbers of Chuck Berry and Muddy Waters records, a student of the academy of fine arts is about to forget to get off at Sidcup stop in 1961. At the Dartford train station, a boy approached him. he had known since elementary school and held Rockin 'at the Hops and The Best of Muddy Waters under his arm. An instant understanding between Keith Richards and Mick Jagger which gives rise to an invitation from the latter to rehearse with his band specializing in the Buddy Holly repertoire.
In the period marked by the diatribes between mods and bikers, between blues and jazz, Keith spends the two years that would have been destined for military service, abolished the year before the fateful meeting in the carriage, going to the heart of the blues. When not looking for new LPs to listen to thanks to Mick's connections in London, the two 18-year-olds learn to play together by dissecting their favorite records. Moving to Sidcup, the Dartford guitarist joins the fellow countryman's company of bassist Dick Taylor and amp guitarist Bob Beckwith.
Among the rows of the Ealing Jazz Club in London, a meeting place and exchange of records and ideas among rhythm and blues enthusiasts, Little Boy Blue and the Blue Boys flocked to see Alex Korner's Blues Incorporated meet Ian Stewart (Stu ) on piano and Brian Jones (Elmo Lewis) on slide guitar. The latter, looking for musicians for an R&B band, notice Mick at rehearsals, who only agrees to the call if Keith is there too. This is the backbone of the Rolling Stones, which lack muscle: Charlie Watts' drums.
Brian telephones the Jazz News editorial team to advertise that Rollin 'Stones will perform a concert in place of their father's group of the London blues scene. "What's your name?" Once again it is the blues legend who rushes to their rescue: the original name of the nascent formation is, in fact, the first track of Muddy Waters' Best of. With Mick Avory on drums and Dick Taylor on bass, the Rolling Stones first took the stage on 12 July 1962 at the Marquee at 165 Oxford Street, London.
Sixty Stones Europe 2022: how to get the official Rolling Stones concert tickets in Milan before everyone else
The official tickets for the Rolling Stones concert in Milan will go on sale at 10am on Friday 18 March 2022 on Ticketmaster.it.
Official Rolling Stones tickets are in high demand. You Can't Always Get What You Want, but if you follow our Master tips you will get what you want, without wasting time selling the Rolling Stones:
===
The Rolling Stones: in concerto a Milano per Sixty Stones Europe 2022
Permettete loro di presentarsi: sono uomini ricchi e con gusto e sono in circolazione da 60 lunghi anni. Speriamo che abbiate indovinato il loro nome: The Rolling Stones festeggeranno 60 anni di carriera in concerto alla Scala della musica Rock, lo Stadio San Siro di Milano. Se hai simpatia per questi diavoli, registrati ora su Ticketmaster.it per acquistare i biglietti ufficiali del concerto dei Rolling Stones a Milano venerdì 18 marzo alle 10.
Si sa, il diavolo fa le pentole ma non i coperchi e nel pentolone dei Rolling Stones stava bollendo da qualche tempo qualcosa di grosso, impossibile da tenere nascosto a lungo ai loro fan attenti, da buoni diavoli, ai dettagli e agli anniversari. A conclusione del No filter tour negli Stati Uniti, la prima tournée senza lo storico batterista Charlie Watts, Mick Jagger ha condiviso su Instagram un momento di relax in Giamaica "before things get busy". Una linguaccia è comparsa anche sul nostro stivale nel video rivelazione diffuso venerdì scorso dagli account ufficiali dei Rolling Stones.
Non sentite bussare gli Stones alle porte di Milano? I guai sono in arrivo perché Mick Jagger, Keith Richards e Ronnie Wood, che mancavano in Europa dal 2018 e in Italia dall'ultimo concerto No Filter Tour al Lucca Summer Festival 2017, festeggeranno sessant'anni di carriera allo Stadio San Siro di Milano per l'unica tappa italiana del Sixty Stones Europe 2022. Proprio il 12 luglio 1962 Mick Jagger (voce), Keith Richards (chitarra), Brian Jones (chitarre), Dick Taylor (basso) e Ian Stewart (piano), Rollin' Stones tenevano il loro primo in concerto al Marquee di Londra.
16 luglio 1962: il primo concerto dei Rolling Stones
Nella foga di trascrivere i numeri di matrice dei dischi di Chuck Berry e Muddy Waters, uno studente dell'accademia delle belle arti sta per dimenticarsi di scendere alla fermata di Sidcup nel 1961. Alla stazione dei treni di Dartford gli si era avvicinato un ragazzo che conosceva sin dalle elementari e che teneva sottobraccio Rockin' at the Hops e The Best of Muddy Waters. Un'intesa istantanea quella tra Keith Richards e Mick Jagger da cui scaturisce un invito di quest'ultimo a provare con la sua band specializzata nel repertorio di Buddy Holly.
Nel periodo segnato dalle diatribe tra mod e biker, tra blues e jazz, Keith trascorre i due anni che sarebbe stati destinati alla leva militare, abolita l'anno precedente al fatidico incontro nella carrozza, andando al cuore del blues. Quando non cercano nuovi LP da ascoltare grazie agli agganci di Mick a Londra, i due diciottenni imparano a suonare insieme dissezionando i loro dischi preferiti. Trasferitosi a Sidcup, il chitarrista di Dartford si unisce alla compagnia del compaesano composta dal bassista Dick Taylor e dal chitarrista munito di amplificatore Bob Beckwith.
Tra le file dell'Ealing Jazz Club a Londra, luogo di ritrovo e scambio di dischi e idee tra gli appassionati del rhythm and blues, i Little Boy Blue and the Blue Boys accorsi per vedere i Blues Incorporated di Alex Korner incontrano Ian Stewart (Stu) al piano e Brian Jones (Elmo Lewis) alla chitarra slide. Quest'ultimi, alla ricerca di musicisti per una band R&B, notano alle prove Mick, che acconsente alla convocazione solo se ci sta anche Keith. È questa l'ossatura dei Rolling Stones, a cui manca la muscolatura: la batteria di Charlie Watts.
Brian telefona la redazione di Jazz News per pubblicizzare che i Rollin' Stone terranno un concerto al posto del gruppo del padre della scena blues londinese. "Come vi chiamate?" Ancora una volta è la leggenda del blues a correre loro in soccorso: il nome originale della formazione nascente è, infatti, la prima traccia del Best of di Muddy Waters. Con Mick Avory alla batteria e Dick Taylor al basso, i Rolling Stones salgono per la prima volta sul palco il 12 luglio 1962 al Marquee al 165 di Oxford Street, Londra.
Sixty Stones Europe 2022: come ottenere i biglietti ufficiali del concerto dei Rolling Stones a Milano prima di tutti
I biglietti ufficiali per il concerto dei Rolling Stones a Milano andranno in vendita alle 10 di venerdì 18 marzo 2022 su Ticketmaster.it.
I biglietti ufficiali dei Rolling Stones sono molto richiesti. You Can't Always Get What You Want, ma se segui i nostri consigli Master otterrai ciò che desideri, senza perdere tempo durante la vendita dei Rolling Stones:
Next Event
Date

юни 02 - 03 2023

Time

17:00 - 23:55