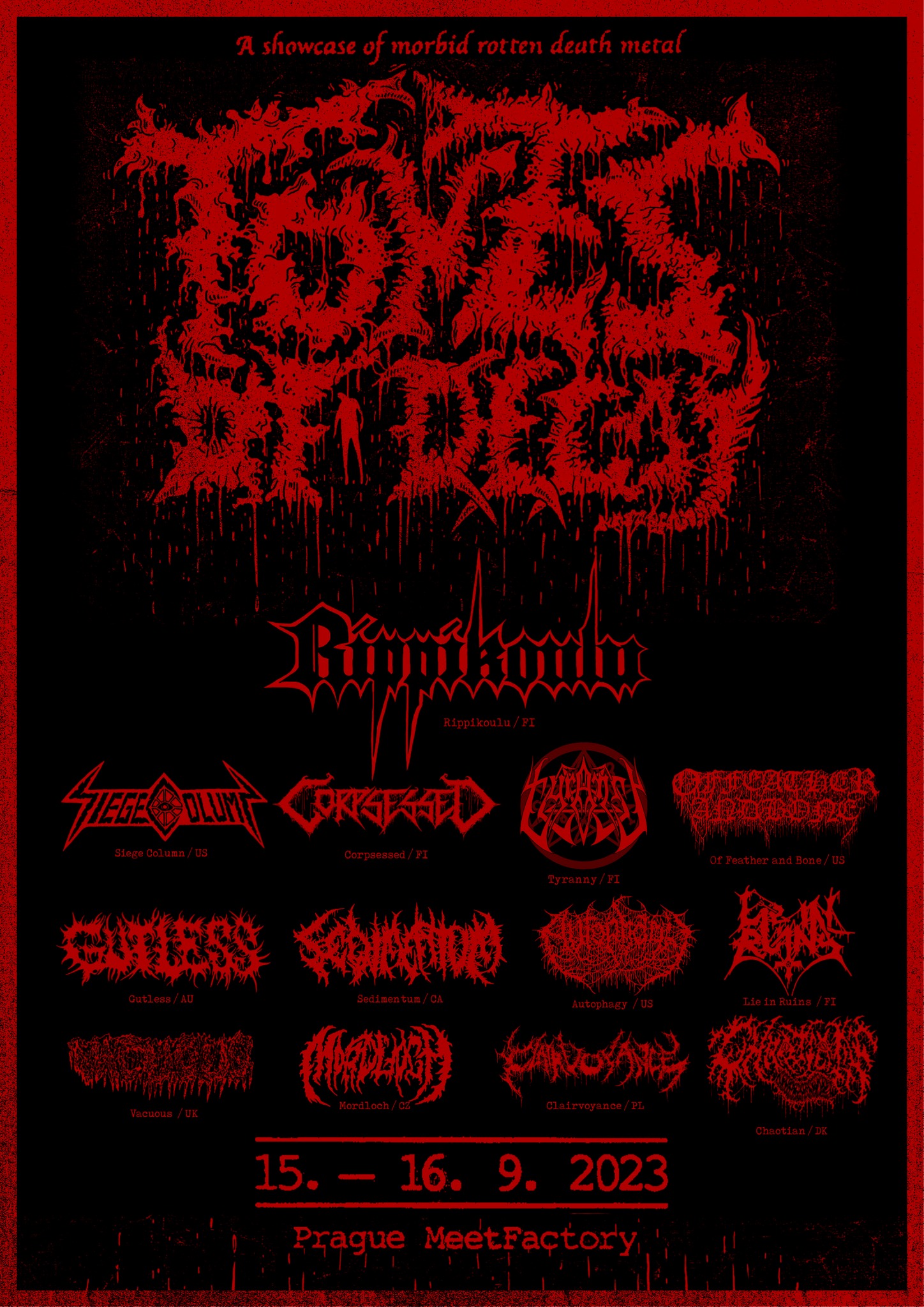 Tones Of Decay Festival – 15-16 September 2023 – MeetFactory, Prague (CZ)
Two-day celebration of death metal Tones Of Decay
The Tones Of Decay underground festival had a successful premiere last year. This year, the line-up has grown from nine bands last year to thirteen, so the festival hosting artists not only from Europe, but also from the USA, Canada and Australia, will be spread over two days.
Thirteen devastating bands from seven countries will play their shows at the festival, which takes place in mid-September. Some of them will fly to Prague via the ocean, some of them will come together exclusively for the second Tones Of Decay. This is the case of Finnish funeral doommetallers Tyranny. However, Siege Column from New Jersey will also play an exclusive show here with their prehistoric destruction metal, and this will be their first ever appearance in Europe.
All thirteen acts, whether they play violent war/death metal (Siege Column), rotten doom death from beyond (pioneers of the Rippikoulu genre) or in their enthusiasm for extreme art we can find grindcore elements (Of Feather And Bone) or other genres, are united by their love for tradition and roots. But their devotion to primal essence and old school includes much more than reminiscing about the past and adoration of the early 90s.
In fact, all thirteen selected groups are among the best students in this sick rotten field. Therefore, they are not just starting up where the age-old icons can no longer fully continue, but by developing ideas that are essential to the genre while keeping 'the original', they are creating a new way of an old genre and, moreover, getting everything in front of a new audience.
In the bowels of Prague's MeetFactory (CZE), stale melodies celebrating decay, bone-crushing rhythms and inhuman grunts will flow. Above all, it will be two days of celebrating Death Metal. Primarily of the wild and pure, the original. Bring your jeans!
The capacity of the festival is 500 tickets, the date of the festival is 15-16 September 2023.
Tickets: https://tonesofdecay.bigcartel.com/product/two-days-ticket
Event: https://fb.me/e/30F13ooGX


Line-up:
 Rippikoulu

 Siege Column – exclusive show, for the 1st time in Europe

 Corpsessed

 Tyranny – reunion show exclusively for the Tones of Decay

 Of Feather And Bone

 Sedimentum

 Gutless

 Lie In Ruins

 Autophagy

 Strychnos

 Chaotian

 Clairvoyance

 Mordloch
Tones of Decay
https://facebook.com/Tonesofdecayprague
https://instagram.com/tones_of_decay
https://tonesofdecay.com