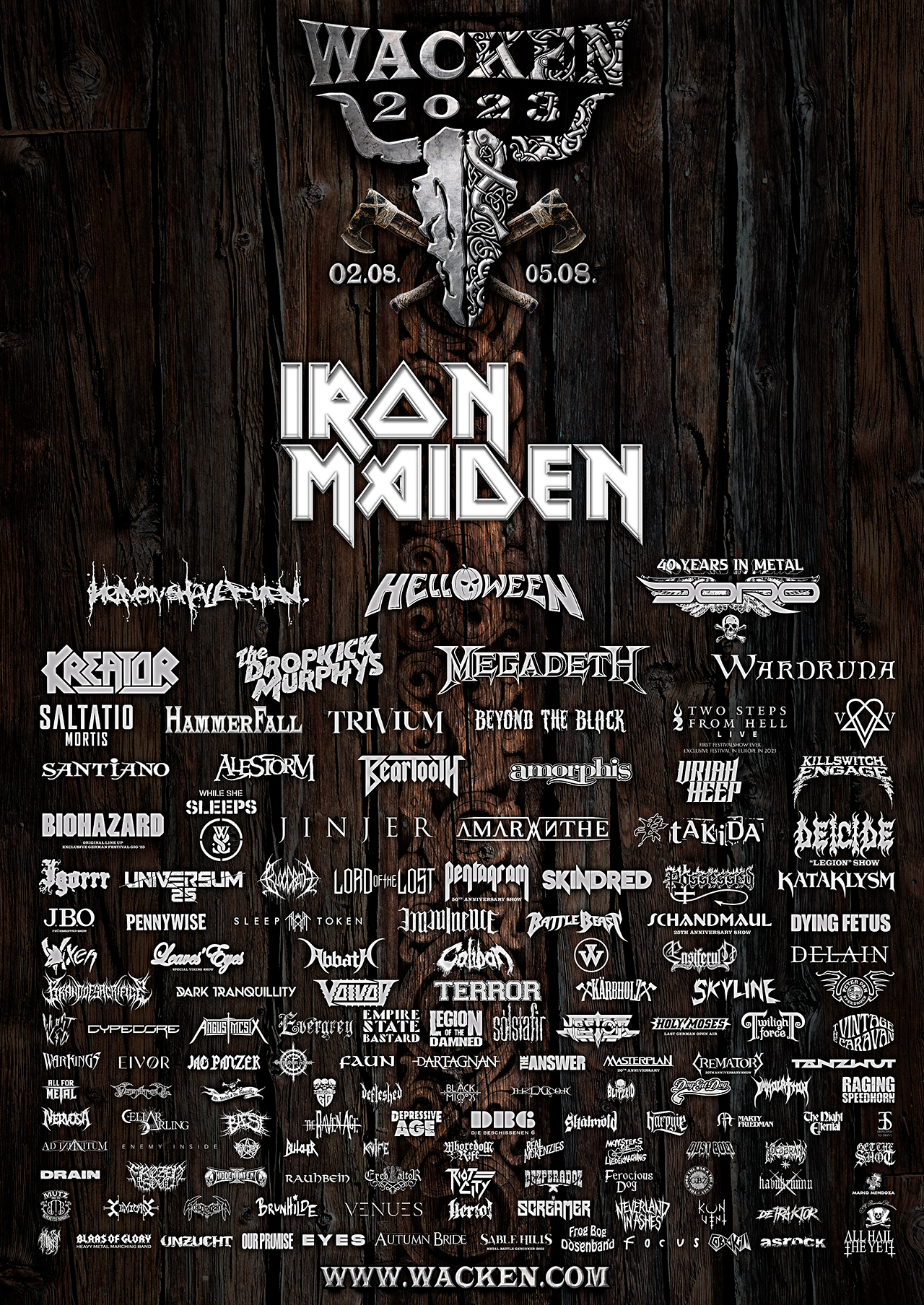 Wacken Open Air – 2-5 August 2023 – Wacken (DE)
Metalheads!
Today we unleash another massive band wave! This includes many well-known faces with cult status like Voivod and Dark Tranquility as well as brand new sensations like Sleep Token or Black Mirrors, which stirred up quite a bit of dust in the scene!
Here are the bands (in alphabetical order):
All For Metal
Robin and Batman? Thor and Loki? Asterix and Obelix? Move over! Here are Antonio and Tetzel. The metal world has a new front man duo, heading in the brand-new band project All For Metal. Epic songs, goose bumps and a look and feel that Boris Vallejo would be proud of, are the themes here. A feast für the ears and eyes!
Black Mirrors
Fluttering between genres from Hardrock to Doom & Stoner via straight in your face 90s Heavy are Belgians not-so-secret-anymore female fronted Black Mirrors. With powerhouse Marcella singing her heart out and the rest of the gang delivering the full package, we are sure you will fall in love with them like we did.
Blitzkid
Never say never! In 2020 Horror-Punk fans all over the word rejoiced, because genre-leaders Blitzkid's founding members Argyle Goolsby and TB Monstrosity announced that it is time for "The Kid" to get it's sh… together again. Originally founded in 1997 they may have been influenced by the Misfits – but now they for sure are an inspiration for many others.
Cellar Darling
Switzerland is famous for its beautiful mountains, delicious cheese and the maybe not so pretty split of Anna, Ivo and Merlin from Folk Metal giants Eluveitie. But as they say: Every ending is also a new beginning; the trio founded Cellar Darling and channeled their already long trained teamspirits into the magic of the new project.
Cemican
Doing some time travelling will take you to a Mexiko, that had not been invaded by Columbus and offered a colorful bouquet of rituals, customs and tribal activities. Some of them have faded like your favorite Wacken shirt but fear no more Cemican are here to stay and to keep the Aztec-traditions alive. With theatric assets, some lyrics in Nahuatl and even the use of traditional instruments like rattles and pipes they will surely hover you into another dimension.
dArtagnan
One for all and all for one! You will surely remember where this quote stems from and probably already sense which band we are talking about: dArtagnan. These German musical musketeers are no stranger to catchy melodies and thus continue to raise not only the Folk Metal bar but also their chart positions. If you are new to the "Tier" check out their collaboration with Candice Night on the revamp of the drinking-song "Song ar christr" on their last album and we are sure you will raise your glass to them as well!
Dark Tranquility
Mikael Stanne: A name that should ring a couple of bells in every metal-head! And while we were lucky enough to present the debut of his new project "The Halo Effect" in 22, we are happy to welcome him back this year with his long-term-band and Swedish Melodic Death spearheads Dark Tranquility. With a new line up and their latest album Moment in their suitcase they are on their way to the Holy Ground.
Der W
Former enfant terrible but also THE polarizing personality of German rock: It certainly wasn't always easy to be THE W. All the more reason to take us on his personal journey that brought him to his solo band project years ago. And it does not get more personal than here. A lot becomes clear, some things are burned in forever and the conclusion remains: Wherever Der W is, Rock resides. And that's the most important thing.
Finntroll
What would be a proper Nordic theme without a couple of mythological creatures? While we strongly rely on you to bring the pink unicorns, we will open the stage for some of the fiercest Finns Metal has to offer: Finntroll! Prepare for a wild gathering from the underworld and don't forget your pointy ears.
Marty Friedman
When you recite Metal's most skilled guitarists-list you will have to name Marty Friedman very quickly. Probably most famous for his 10 years in Megadeth, Marty is an absolut 6-string-icon and it is not surprising that his talent not only is an essential guide to everyone learning the guitar, but also a solid staple in TV-shows dealing with talent and music in his expat-homecountry Japan!
Monsters of Liedermaching
Whether it's about salamander foreskin diets or door fetishists, stories about superheroes or eternal losers, licking lanterns or kissing muses. There are no limits in the monster cosmos. It can be pogged, swayed and wallowed. Sometimes funny, sometimes serious. The incompatibility of delicate ballads and bizarre sing-along evergreens is eliminated and the monster magic can unfold.
Morast
If the name Morast does not ring a bell YET, we will forgive you but urge you to keep an eye out for the German Doom-Sludgers that have their firm roots in other bands, namely the legendary Hammerhead and the underground-icons Serpent Eater. In English Morast means swampy grounds and that is exactly where their brutal punch will take you and drown your intestines during their debut at the WOA.
Mutz & The Blackeyed Banditz
If you are a fan of Wacken and an avid visitor there is no way you have not met Mutz before. As longtime collaborator, friend, inner circle-musician and even stage manager, he is one of the WOA-faces you should remember. In his project with The Blackeyed Banditz he aims a bit away from his metal-roots and makes fans of (Made in Germany)-Americana and Southern Rock happy.
Possessed
Not all heroes wear capes – some wear spikes and founded Death Metal. The story of Possessed and their leadsinger Jeff Becerra is one of getting back in the ring, never being defeated against the odds and most of all delivering pure brain-grinding Metal. Already from their beginning in 1983 the Bay Area band became synonymous with being the first band using the term Death Metal, putting out the first groundbreaking album of the genre. But Possessed's first coming was short lived and came to a halt, when Jeff tragically and accidentally was hurt in a shooting that left him paralyzed. He withdrew from music until the late 90s and more importantly until the reunion of Possessed in 2007 which was crowned with a spectacular gig on our Holy Ground. Wacken has been a steady anchor for the band to return to and we are psyched to welcome them back!
Skindred
If it would not be for Skindred I am pretty sure we would have never thought that mixing Reggae, Funk and Metal can sound so dope! Being veterans of the art of putting together a bloody, twangy cocktail already with the band Dub Step, Skindred have been gracing the stages since the late 90s. Hailing from the lesser as Rock'n'Roll capital known, beautiful Wales, their exceptional status probably had been predestined. That it would last over years and years is surely thanks due the capacities of charismatic and spellbinding front man Benji Webbe.
Sleep Token
Do believe the hype! Even though Sleep Token have been together since over 6 years, the buzz that has been around this band in the last months has been phenomenal. As are the speculations who hides behind those masks and is responsible for the highly complicated, enchanting Post-Metal that again sounds so different and fresh and distinguishes them from their genre colleagues. Legend has it Sleep Token worship the cult of a higher being called Sleep, which is interesting, cause sleeping is definitely the last thing you want to do, while listening to them.
The Answer
Over 300,000 sold records, six studio albums and worldwide tours, among others with bands like AC/DC. It's no wonder that The Answer hold the title of "pioneers of the new wave of Classic Rock". After seven long years, the band returns with a new album. "Sundowners" is the name of their new masterpiece. An album that captures the soul of a band that not only wants to rekindle the spark but burn even brighter than ever before.
The Night Eternal
The Night Eternal impresses on record as well as live on stage with their virtuous, precise but forceful performance across all ¬ve musicians. Fans of In Solitude, Tribulation, The Devil's Blood or Judas Priest will buzz about the exceptional riffs and catchy melodies which conate to a band that honors, but never imitates their 80s paragons.
The Raven Age
It might be a blessing and a curse to be the son of the bandleader and bass player from one of the biggest Metal bands in the world, Iron Maiden. Undisputedly the talents runs in the family though, and who would not use it to form a band! As did George Harris and Dan Wright by 2009 and by 2013, the Raven Age was a fully formed quintet, with Matt Cox joining on bass and backing vocals, Michael Burrough on lead vocals, and Jai Patel on drums. The name of the band is inspired by the mythology surrounding the ravens that reside in the Tower of London. Legend has it that if the ravens ever leave, the tower and the monarchy will fall.
Voivod
Another band that needs no further introduction and can be easily named in one sentence with the likes of Kreator and Venom is Voivod. The Canadian Noise-Metal-Cyberpunk continues to deliver and scratch the boundaries, that might have kept them from becoming as huge as their stage-sharers, but also cement them as indestructible force majeure of the underground.

But that's not all! More bands will follow in the next weeks so stay tuned!

yours
W:O:A team
===
It's Christmas Eve and what might be lying under the Christmas tree?
We have a series of unique anniversary and farewell shows, one of the most famous German metalcore bands, the finest thrash and death and other exquisite gems. But see for yourself!
Beyond The Black
Shooting Stars? Germany's new Frauleinwunder revelation? In only seven years Beyond The Black stripped off all labels and became one of the hottest acts around the globe. Metal-Princess Jennifer Haben enchanted the fans worldwide and album by album the band climbed the stairway to the heaven – to be not a follower but now one third of the holy trinity of Female fronted Symphonic Metal. Let's welcome them back on our stages and celebrate with them the release of their newest self-titled oeuvre out in January!
Doro "40th Anniversary"
If you never stood in a crowd and raised a flaming lighter towards the stage while the lyrics to "Für Immer" touched your heart and soul – have you even lived?! No other female singer has shaped metal music like Doro. And that is not only for her smash hit, that became our soundtrack if we missed home or a loved one but for her bite, her good vibes, her uniqueness, her neverending output of high energy music that has accompanied some of us for all our musical journeys. Incredible 40 years on stage feel like an electric rush and to witness Doro and band presenting her career in a once in a lifetime headliner show will probably be one of THE most memorable shows of W:O:A 23. All hail the Queen!
Dust Bolt
Thrash Metal from Bavaria might not be where you usually place it, but if you never heard of Dust Bolt you clearly lived under a rock the last 10 years. Being the young teenage dirtbags they were, they won our Metal Battle 2011 and then set out to conquer the world. Amongst their crusades were US and Canada tours with legends Obituary and Exodus. This year they are working on becoming legends themselves: New bandmember, new songs, new beginnings! Best place to present the whole package: Wacken 2023!
Dying Fetus
"Doesn't matter what you say, we are against it" – This could be a motto Dying Fetus are grounding their brutal death-metal on since their birth in the early nineties. Cancerous they have been fiercely creating a counter-culture soundtrack that bites through various styles but remains merciless. This year they finally decided to dangle a carrot in front of the hungry crowd in form of a new track, after staying in their womb for five years. We are excited to hear the new album that is supposed to drop in 2023.
Heaven Shall Burn
Thuringia in Germany is known for its dark forests and the old word jugglers Goethe and Schiller. Maybe that is the perfect soil for one of the most prolific Metalcore bands to sprout into the world like jack's beanstalk. Heaven Shall Burn's message remains authentic and highly political. Their lyrics are more important than ever, their sound versatile, highly intelligent without losing that round-house kick directly in the face. We are proud that Wacken and HSB has become such a strong union during their journey and are more than excited to see them now grace one of the top spots of our billing list!
Holy Moses "Last German Open Air"
Heavy, heavier, Sabina Classen! If you are a true metalhead your path had to cross this dark queen and her army. Many times we welcomed Holy Moses on our stages and every show has been a unique and memorable experience. I guess you can say that Holy Moses and Wacken have become quite a dream team and it is with more than a black tear in our eyes to announce that this will be their last German Open Air show ever. Expect the unexpected! If you know Sabina, you can be sure of that!
Kreator
Mille Petrozza ist ohne Zweifel einer der interessantesten Frontmänner im Metal: Er ist seit 40 Jahren Frontröhre von Deutschlands größtem Thrash-Export Kreator, taucht seine Zehen gehne mal in eine Reihe genreübergreifender künstlerischer Unternehmungen, ist seinen Wurzeln in seiner Heimatstadt mehr als treu geblieben und nimmt auch kein Blatt vor den Mund, lieber mal eine Yogamatte und ein gutes Buch der wilden Aftershow-Party vorzuziehen (oder am Ende eben beides zu machen 😉 ). Kreator sind "Kult" und festigen mit jedem neuen Album ihren Status als solcher. Sie haben gerade "Hate über alles" veröffentlicht und wir hoffen, dass sie akzeptieren, wenn wir im Gegenzug "Love über alles für Kreator" antworten.
Masterplan "20th Anniversary"
There once was rumble in Deutschland and one of the biggest metal bands smashed like a pumpkin on the wall to pieces and "Bam!" just like that Roland Grapow and Uli Kusch left Helloween and formed Masterplan. No surprise that nothing bad could come out of these genes and Masterplan became a steady pillar on the seas between melodic and power metal. After 20 years Masterplan are still going strong and will salute us with new and old material and Swedish powerhouse Rick Altzi on vocals. You all know what that means!
Universum 25
I guess you could call this a true supergroup: Robert Rhein (In Extremo), Rupert Keplinger (Eisbrecher), Pat Prziwara (Fiddler's Green), Gunnar Schroeder (Dritte Wahl) und Alex Schwers (Slime). Powering rock guitars, atmospheric electronica and "Frei Schnauze" lyrics in the style of protest-songs that need to be sung and heard again: This is Universum 25.
VV
Here comes the return of the dark prince! Five years after a a flood of tears marked the split of Finnish Dark Rock Superstars HIM, we welcome Ville Valo, who modestly just calls himself VV now, back on the scene to fill the black infinite hole he himself created. Noone has ever managed to come close to the distinct Gothic Rock and even though we already know that his solo-return is going to be nothing like a HIM revival, we will hold the heartagrams on our wrists proud in the air!
===
And before you can say Hellyeah four times, it's fourth Advent-Sunday already! How did that happen?!
Maybe it is because the next ten bands are so eager to jump out of Santa's bag! (HoHoHo!)
With this announcement you going to get a Triple A pass, a couple of pretty crazy dogs and on top some pretty scary characters.
Alestorm
Scottish pirates who like to layer the 8-bit sound over their wild drinking songs or conquer a giant rubber duck instead of a sea monster? WHY NOT! Alestorm are up for any prank and don't have a problem with missing the mark. The fans love them anyway or because of that! So raise your horns!
Amorphis
Anyone who claims that bands can no longer develop at some point has never dealt with Amorphis. They are like fine wine and they just keep getting better. Who, if not head-piper Tomi Joutsen, manages to roar so elegantly through the pitches and vocal styles? Time to check out their latest oeuvre "Halo"!
Angus McSix
Angus McSix is one of the most shiny personalities in the metal circus. As the lead singer of Hammerfall, he swung the hammer there for a good five years, until it literally knocked him down. As a golden stand-up man and with a six instead of a five at the end, his return is now all the more brilliant.
Enemy Inside
Enemy Inside from the tranquil south of Germany just received a metal accolade. They were allowed to tour with Lordi. It's not surprising that the Finns chose the still young band: Enemy Inside already shot out two albums that both were highly appraised. They bring their symphonic dark metal to Wacken for the first time. All in white!
Evergrey
Gothenburg's finest dark export takes the stage with his latest work, A Heartless Portrait. Here they will once again take us on an overwhelming journey through progressive melancholy. Even after 25 years, this is far from boring, but rather opens up a few previously unknown brain convolutions in the listener.
Dog Eat Dog
30 years and a little wiser? No thank you, Mam. Some things never change: Butter belongs under the Nutella, you have a beer before setting your tent up and Dog Eat Dog's No Fronts has you jumping around like a 12-year-old teenager. That is just the way it is.
Ferocious Dog
Ferocious Dog are a real institution. Since 1988 they have been creaking their way through the folk punk genre and have thus earned a permanent place alongside bands such as New Model Army and the Levellers. At their shows, they also go crazy, so they even got one of the biggest audiences at Glastonbury! If you can't wait until Wacken and rather watch the whole thing in proper style in a sweaty club, check out the tour dates here!
Legion Of The Damned
Also meathackers Legion Of The Damned are on their way from the Netherlands and have a new album (tba) as well as a new guitarist on board. Enough reason for you to catch a front row seat watching this solid institution of Black & Death Metal.
Pennywise
Pennywise. Periodt. (We don't really need to say more, do we?) Spearhead of the California hardcore bands, represented in every good household on the record shelf since 1988 and probably longer together in the original line-up than your longest relationship.
Rauhbein
Who is this "Rauhbein" (German for roughneck)? And why does the German boy sound so Irish?
After a stroke of fate, Rauhbein jumps on his motorcycle and embarks on a journey to Ireland. In the streets of Dublin, he struggles through as a singer-songwriter in pubs and bars and gets to know the country and its people: other roughnecks with a heart. Fits well to Wacken we think.
===
The eleventh door opens and who is hiding behind it? Our second December band announcement, you guessed it! Whether traditionalist, moshpit fan or sing-along maniac: everyone should be picked up here.
So throw your favorite band announced today into the speaker, light the third candle and enjoy your Sunday!
Amaranthe
At the latest when a third voice enriches the track, you can be sure: You have entered the house of Amaranthe. The Swedish-Danish co-production has long been at the forefront of the new wave of melodic death metal, which also likes to flirt with electronic hooks. Here hip shakers unite with headbangers singing along loudly in the front row!
Uriah Heep
Two words: Uriah Heep – that's all you really need to announce these superstars. That's why we can also take responsibility for welcoming them back on stage after their demolition in 2019. Anyone who was there knows: Every performance is a gift and with his 54 (!) years of stage experience, Mick Box is a guarantee to deliver stronger as a rock!
Bloodbath
Opeth, Katatonia, Hypocrisy and Paradise Lost? You can hardly do more name dropping on the casting couch of a band. And even though Mikael Åkerfeldt finally gave up the microphone to the no less prominent Nick Holmes, Bloodbath consistently kept their promise to destroy the humble stages in the name of darkness. To underline this, a new album was finally released this year, which they will present to us live.
Caliban
Germany – the land of poets, thinkers and metalcore! Caliban have been one of our favorite heavy metal exports for the past 25 years and do justice to us as mosh pit initiators worldwide. But even if the pioneer status of the Dörner and Co. team cannot be denied, they also would like to show us that they grew their branches firmly in other genres and styles. The current album Dystopia underlines this again with a thick, dark black line.
Drain
Summer, sun, mosh pit. As direct heirs to legendary Californian bands like Black Flag, Circle Jerks or Fear, Drain will make hair and feet fly at WOA 23. This import from Hardcore Beach Santa Cruz was founded in 2016 and is currently the absolute "hot shit". With a pinch of thrash on top, they should even warm the blackest true-metal-heart!
Faun
The band Faun, which is legendary in the truest sense of the word, is actually more of a union of seven magical musicians who conjure up the spirit of bygone, fairytale or mythological times with a multitude of different instruments. Their last album Pagan led them and us into pagan worlds and therefore they should feel very comfortable with the WOA Vikings!
JBO
Is this still art? JBO are not for everyone – but in order to please everyone, the two main characters G.Laber and Vita C. did not lay the foundation for the terribly beautiful musical project in 1989, which wildly covers and charmingly poaches. Since then, eyebrows have been raised from time to time, be it from moral guardians or other music colleagues, which, however, rightly earned them a kind of cult status. Nowadays you can say that JBO are something like the forefathers of fun metal and their show is definitely not to be missed -best enjoyed with a "Beer for breakfast" as they will be doing a special morning show.
Jag Panzer
Jag Panzer have been doing their thing as hard as a tank and saying "Eff the Haters" for 43 years. This gave them a cult status set in stone, which they regularly cemented with solid albums until the Colorado team took a small creative hiatus in the early 2000s. You don't know exactly what happened there, but since 2017 they've been back on stage stronger than ever. With a new album out on Nuclear Blast in their luggage, they'll take over our stages in a storm again.
Battle Beast
Hot sauna, vodka and the happiest people in the world. Battle Beast also seem to have the same cornerstones as their home country: Here people sweat, celebrate and laugh, it's not for nothing that singer Noora describes the steam engine sound of her band as Party Power Metal. With the winning laurels from our in-house talent factory "Metal Battle", Battle Beast are now at home on the big stages. We are glad that they still remember us.
While She Sleeps
Irgendwann passierte es, dass nicht mehr nur die Kollegen über den großen Teich uns ihren satten Metalcore um die Ohren schlugen, sondern auch die braven Briten sich verstärkt auf das Genre einschossen und Hammer-Bands in die Umlaufbahn schossen. Eine dieser Bands ist While She Sleeps. Hier wird durchaus auch mal die politische Keule rausgeholt und via Sänger Loz Lawrence eisernere Röhre den Leuten um die Ohren gehauen. Stark!
And for sure there is another amazing prize today! Behind door No. 11 hides sich another branded W:O:A branded guitar with signatures of the band Oomph!
===
You patiently waited over a month for our next band announcement, and you shall not be disappointed! We give you 1/4 th of the "Big Four", more Vikings and legends to match the theme and much MORE!
Anthrax – 40th Anniversary Show!
They are part of The Big Four and they got the most iconic beard in the scene on guitar – New York Thrash legends Anthrax need no further introduction. That little thing called Covid ruined their 40th birthday party celebrations all over the globe so we are even more happy to be cheering with them for their 42nd. If you ain't getting "caught in a mosh" here, then we don't know what to tell you!
Killswitch Engage
Everybody loves a comeback story! Killswitch Engage, probably one of the biggest Metalcore bands on the globe did not let a change in lead vocals stop them – quite the opposite. When the band saw Howard Jones in 2012 leave due to personal reasons, they welcomed back founding member Jesse Roach. Lucky Wacken Fans: you all get to experience the band after a fantastic show 2008 with Jones now with Roach! Who is your favourite KsE Frontman?
Employed to Serve
Wild, young, eager, brutal are some of the adjectives that come to mind when you experience Employed To Serve for the first time. We are not sure who they are "serving" but their harsh grinding vocals and riffs are very much to our liking. And apparently also metal gods Gojira share this opinion, as Employed To Serve is an often invited guest on their tours.
Be'Lakor
The name Be'Lakor is not only that of a demon from the Warhammer universe, but also a melodic death metal band from Melbourne, Australia, which has been a hot insider tip for years. The band has released 5 albums since their founding in 2004. The latest album Coherence has seen the light of day in 2021 and next year the Australians will play at W:O:A for the first time!
Kärbholz
There was a time when the little town Ruppichteroth was a quiet, romantic location that invites you to go hike the German Eifel. That must have been before Kärbholz were born, because we can only guess that them practicing their "In-Your-Face" Rock'n'Roll must have woken up the last sleepy soul in a mile radius. 20 years down the road and with some chartbreaking records under their belt, it is even harder to sleep on them. Three times is a charm, let's welcome them back accordingly!
Schandmaul – 25th Anniversary Show!
Germany is the undisputed champion of medieval rock – why? We just like to be reminded of times where beer was drunken out of horns, and it was socially accepted to not bathe for 1 week. Or maybe it is because we have fantastic exemplums like Schandmaul, who for 25 years bring folky joy into the world. What could be a better place for the anniversary show then the Wacken stage?
Skalmöld
If you are waiting impatiently for more Vikings to enter our stages: here, you go! Straight from Viking country these musicians with sounding names like Ragnarsson and Sigurðsson gathered under the black flag of the ship that is called Skalmöd. In 2023 they are sailing again to Wacken to tell us old Islandic tales from brave warriors, terrifying beasts and old legends.
Real McKenzies
Professional Scotsman and Kiltwearer Paul McKenzie almost needs no introduction. For 30 years and counting him and his ferocious bunch are taking their Celtic Punk all over the globe. One might even argue that it was the Real McKenzies who invented it. Guess that will be something to discuss over a Guiness backstage with the Dropkick Murphys.
Heriot
Many people already see Heriot as the new revelation in Metalcore. And there may be some truth about that, as Heriot are widening the horizons of the genre. Where the guitars and drums are raining nails upon the listener, it is the spheric voice of Debbie Gough that catches them and wraps them in silver linen. It will be amazing to see what this young band can do on stage.
Warkings
What happens when you put four warkings together on one stage? A. They burn each other to ashes B. We will all go to Valhalla C. They form a band and become a most spectacular Powermetal concert experience. Answer is C. and the aptly named band Warkings will be bringing their godly but unholy shenanigans back on our stage 2023. Powered (sic) by their latest album Morgana we surely hope they are magically support again by our favourite voice-witch Morgana Le Faye!
That's not all! Today at the X-Mas Calendar there is also another amazing prize! Today you have the chance to win a Epiphione W:O:A Guitar, which was signed at one of the past W:O:A's by Ensiferum and Soilwork! In Addition you can also win another Wacken-Annual-Lot from the Deutschen Fernsehlotterie!
===
After Wacken is before Wacken! Of course, our band announcements for 2023 must continue as brilliantly as we started! In our second wave we build the bridges from Symphonic to Death, from Hardcore even to AOR. Enjoy!
Trivium
Matt Heafy, roaring vocalist from Trivium sings a note and you just know. With this band, terrific epic moments happen in every track and their unique crisp sound is the perfect foam crown on the beer of every festival! So it's no wonder that the Florida foursome is a returning guest to our big stages guaranteeing all you metalheads high performance material . Next year it's that time again!
Lord of the Lost
Last summer they competed with Eddie on the stages of Europe as the opening act for the almighty Maiden. Next year Lord of the Lost will provide dark entertainment on the Wacken stage that is quite controversial in the best sense and pushes visual and stylistic boundaries. These freethinkers from St.Paulis are there to leave an impact on your ears and eyes.
Kataklysm
The Canadian Death Metaller Kataklysm have been on the go for over 30 years, but due to a fairly active turnover carousel, it never got boring in the house of the self-proclaimed natural disaster. Their Northern Hyperblast grinds mercilessly into the brain and will continue to achieve the desired effect in the Holy Wacken-Land 2023.
Delain
If you are a Symphonic Metalfan there is a pretty big chance you poured your heart out before to one of Delain's songs. 2021 almost saw the story of the band also at an emotional halt. In 2022 the brainchild of Martijn Westerholt returns stronger than ever with new vocalist Diana Leah ready to write a new chapter in their 20-year history. Makes sense to bring this debut to the Wacken stage!
Sólstafir
Our motto is Vikings and this band got the memo! Rugged, magical Iceland was the first home of the Vikings, and to this day, the tradition is more alive than anywhere in the world. These traditions are also practiced by Sólstafir, who navigate mystically and brutely between epic sounds of the gods and gloomy Valhalla. Among other things, they will present their melancholy masterpiece from 2020 "Endless Twilight of Codependent Love".
Depressive Age
Nomen is NOT always an omen! In this case, we are more than happy that founding-members Jochen Klemp and Jan Lubitzki more or less decided over a beer in their favourite pub to revive their legendary band Depressive Age! 26 years after their last studio visit and 28 years after they grazed our stages, we welcome the Berliners back to show everyone how it's done.
Get The Shot
What would our moshpit be without some real hardcore acts! Get the Shot are just the right soundtrack for blatant windmills. Traveling from far away Canada, they have their new album in their backpack, in which they test their limits in the direction of death and beatdown – but the values remain the same: authenticity, respect and integrity and a DIY attitude. We are looking forward to their baptism of fire!
Ghostkid
What happens when you leave Eskimo Callboy and set out to spread darkness into the world? Correct! You form a metal band inspired by acts like Fever333 and Bring me the Horizon and let your innermost self run free under the name "Sushi". At least that's what Sebastian Biesler did, the leader of the spooky troubadours, who will conquer the stage in Wacken for the first time in 2023. GHØSTKID are the perfect surround experience for all you dark metal souls.
Imminence
If these are no reasons to party: Just a few days ago, multi-talented Eddie Berg, frontman of Imminence, hit 30 and now he can announce that him and his band will finally celebrate their Wacken debut in 2023! Many have been following their crazy mixture of metalcore and symphonic elements already for a long time – if you still need some more convincing, you definitely should be a fan after watching them perform live.
Konvent
This convent is not a place where sisters get together and pray to God, that's for sure! Two years ago, Kovent's death doom deeply stirred up the primordial mud of the scene and indicated just how evil the ladies can really be. They'll show us that on their debut at Wacken 2023.
Takida
If you are a goose-bump addict, we recommend listening to these Swedish colleagues. While their motherland is already infected with Takida-Fever for years and the band is cracking all hit lists, fans of solid rock are starting to get excited here too. Sold out large halls paved their way in 2022, which is finally leading them to our tranquil little village.
Nestor
According to the myth, the five members of Nestor met a long, long time ago in sleepy Falköping but were too busy tinkering with their Volvos and styling their sexy mullets at the time. And thus the great career petered out in the eternal Swedish forests. Until now – because after 30 years Nestor are finally on stage and already the absolute insider tip to hug your neighbour during the show and merrily roar along to the perfect AOR. Nestor even recorded a song with legendary Samantha Fox. Maybe she will be doing a cameo?
===
"Scream for me, Wacken!"
Wacken Open Air 2023 will be a big one, no doubt. And a lot of it, because it will be a four-day-festival for the first time. While in 2022 fans needed an extra ticket for Wacken Wednesday, that day will be included for everybody in 2023 – the festivities will start officially on Wednesday, Aug 2. We all know it's true: Things have to get loud in the North during the first weekend of August. And we all missed it, that's for sure. Just have a look at the big metal party currently underway…
These are the first band announcements for 2023:
Iron Maiden
There is not a single metalhead that doesn't know them. And we can't think of a band that has defined classic heavy metal as much as they have. So consequently, there might very well be no band that is a better fit for the "holy ground of metal": British legends Iron Maiden will return to headline at the Wacken Open Air for the fourth time! So get ready for impressive production, a passionate performance, amazing music and of course Eddie! It has been seven long years since those iconic words have been heard: "Scream for me, Wacken!"
Megadeth
They rank among the legendary "Big 4" of thrash metal, after shaping the genre since the early eighties. Still offering some of the sharpest riffs in the business, Megadeth will return to Wacken for a third time in 2023.
Dropkick Murphys
We wanted to have the Dropkick Murphys for years. In 2020, in was going to happen, but, well, something else did. Then in 2022 the scheduling didn't work out. So in 2023 the time has finally come: These irish-american folk punks will grace our stage! Get ready to sing, get ready to dance.
Wardruna
It's the first time for Wardruna in Wacken, the band started by Ex-Gorgoroth drummer Einar Selvik. Their characteristic brand of nordic folk was even featured in the TV hit show "Vikings", giving the whole genre a massive push.
Beartooth
Their blend of metalcore, punk and rock has first and foremost one characteristic: it's bursting with energy. And this is exactly what we need, isn't it? We're very much looking forward to the first time these berserkers from the US play our festival.
Ensiferum
Unsheath your swords! There are not many bands that can pay musical tribute to viking culture as enthralling and powerful as Ensiferum from Finland.
Pentagram – 50th Anniversary Show
It has been more than five decades since Bobby Liebling started Pentagram – and gave Doom Metal in general a huge push. One could argue that these guys even shaped the genre and gave it its ominously pulsating life. So this is an anniversary worth celebrating – which Liebling will do with a special show in Wacken.
Jinjer
Jinjer, a four-piece hailing from the Ukraine, are one of the hottest bands in modern metal these days, is conquering country after country with relentless touring and placing their last album in the German Top 10. Their debut show at W:O:A 2019 made a lot of heads bang and people jump, so we asked them to return.
Nervosa
We wanted to have thrash/death masters Nervosa for W:O:A 2020, but it was not meant to be. So we're especially happy to have booked those four metal ladies from São Paulo for our 2023 edition.
Deicide – Special Legion Show
It's only 29 minutes long, but that was enough to turn it into a milestone for Death Metal. One could even argue that Deicide were ahead of the times with their sophomore album "Legion" in 1992. Let's celebrate it with a "Special Legion show", shall we?
Burning Witches
Traditional Heavy Metal from Switzerland: The Burning Witches have been playing Wacken in 2019, they return in 2023. So let's raise the horns!
Two Steps From Hell
This will be something out of the ordinary: Two Steps From Hell, a duo from Los Angeles, have amassed millions of followers with their brand of "Epic Music", used in thousands of movies, trailers, series, spots and games, turning them into the biggest in their field. At the W:O:A, their first festival ever and only festival in Europe in 2023, they will perform a special and unique Wacken set – epic music for an epic festival.
Next Event
Date

окт. 05 2023

Time

20:00 - 23:00