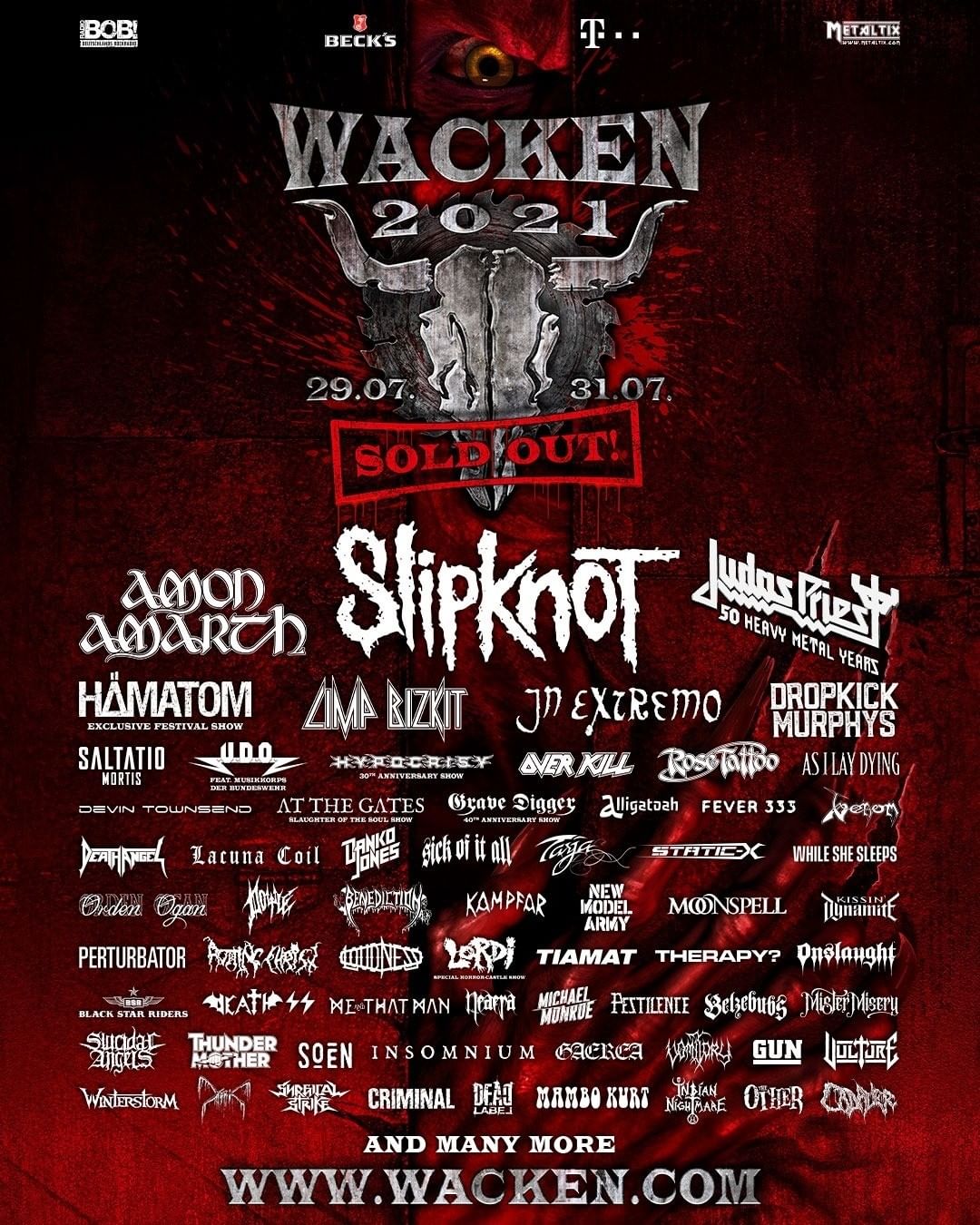 (CANCELLED) Wacken Open Air – 29-31 july 2021 – Wacken (DE)
Dear Metalheads,
we would like to thank you for your great patience during the last weeks and months.
It is with a heavy heart that we have decided that Wacken Open Air cannot take place at the end of July this year. We therefore postpone the festival to 04.08. – 06.08.2022.
This decision was anything but easy for us, also because we know that you are already in the middle of the preparations and planning. Like we are, too.
We would like to take this opportunity to specifically thank the state of Schleswig-Holstein, the authorities and politicians for an extremely constructive and trusting cooperation. The step-by-step plan presented is an important sign that gives hope to many companies in our industry. And of course we want to thank you for your ongoing support.
For Wacken Open Air, however, the planned openings unfortunately will not arrive in time and, as always, the safety and health of everyone involved in the festival – fans, crew, artists and all residents of Wacken and the region – has absolute priority.
But at the same time we are sure of one thing: In August 2022 we will all make the Holy Ground shake again and enjoy our common passion together.
Of course, you will be able to easily rebook your tickets for the coming year. This process will most likely be possible from the middle of June.
We will inform you in due time about the options and procedures and kindly ask for your understanding that we will not be able to process any requests until then. But we promise you that we will respect your various wishes again.
Additionally, we can now reveal that we are currently working with the authorities to explore an idea for a new event in September 2021, to help with the restart of live music. Keep your fingers crossed for both of us so that the development will continue to be positive – stay tuned for more information and further news!
Thank you again for your patience, your loyalty and your support! More details on the different topics will follow as soon as possible.See you in Wacken
Your W:O:A-Crew
===
The poster for the upcoming festival is growing and there is also an addition to the first row of the poster: we are happy to announce that Amon Amarth will be part of the festival in 2021! The band was, like so many others, already planned for this year's festival.
So the headline is complete and again on the same level as in spring 2020: Slipknot, Judas Priest and Amon Amarth are leading the lineup again!
Further additions come in the form of Lacuna Coil, Perturbator, Tiamat, Thundermother, Benediction, Neaera and Me And That Man. So again, we've managed to reconfirm several fan favorites from last year's lineup who otherwise would have already performed this year.
Many more bands are still finalizing their tour plans, so we can't announce them yet – among them are more bands that were planned for 2020 as well as exciting new names. So you have to stay tuned!
===
Christmas Eve is in 4 days and that means that our Advent Calendar is once again coming to an end. But it also means that there are new bands twice in short succession! And of course there are new winners of our big raffle!
Today we have an extra big prize for you: A 500€ voucher for EMP.de! Just go to https://xmas.wacken.com, fill out the form behind door 20 and you're in!
The bands:
Today we have an extra colorful mix across a variety of genres for you. We are looking forward to welcome Overkill, While She Sleeps, Danko Jones, Loudness, Kissin' Dynamite, Soen, Michael Monroe, Gun and last but not least the incomparable Mambo Kurt!
===
Another sunday, another wave of bands for W:O:A 2021! Additionally we have the winners of the last week for you. And last but not least: A fantastic prize for today's raffle! A foldable e-bike worth 800€ is waiting to be won by you.
Just go to https://xmas.wacken.com, fill out the form behind door 13 and you're in the lottery pot!
The new bands:
Today's wave of bands is led by two German bands with plenty of infield experience: Grave Digger and Saltatio Mortis are both Wacken veterans who have already played many intense concerts on the holy ground.
The remaining part of the wave is dedicated to our Wasted Wednesday, the now traditional demolition program on the Wasteland Stage. Joining us here in alphabetical order are Cadaver, Criminal, Dead Label, Indian Nightmare, Onslaught, Suicidal Angels, Surgical Strike and Vulture. We recommend to book an extensive neck training in advance!
===
There are many versatile musicians in Metal, but in the end there can be a maximum of three artists on the podium. And one of the three finalists is without any doubt Devin Townsend. He has also postponed his tour plans by one year and will be back at the W:O:A 2021!
And also Orden Ogan are joining in again! In this case the postponement means that we will be able to enjoy the upcoming new album "Final Days" at W:O:A 2021. The album was originally planned for the end of August this year.
The rest of the band announcements today will be about the Night To Dismember, our popular Black & Death Metal alternative program to the classic Night To Remember. We can confirm almost all bands of the brutal party in one go – we are happy to announce the booking of: Rotting Christ, Kampfar, Vomitory, Pestilence, Mork and Gaerea.
===
With our motto for next year being "Horror", we obviously want to hand out some tasty treats for Halloween – and we do so by announcing eleven band additions for W:O:A 2021! Those of you who celebrated Hälloween with us and our friends in Hämatom already know them, but here they are for all of you: Please welcome Limp Bizkit, Hypocrisy, Therapy?, Insomnium, Winterstorm, Doyle, The Other, Static-X, Mister Misery, Belzebubs and Alligatoah!
This year they celebrated 20 years of their nu metal milestone "Chocolate Starfish and the Hot Dog Flavored Water", next year they will play Wacken for the very first time: Ladies and gentlemen, get ready to break stuff with Limp Bizkit!
Speaking of anniversaries: Swedish death heads Hypocrisy will celebrate their 30 years of band history with a very special show on the Holy Ground in 2021.
Other fresh additions to the festival bill are: Finnish melodic death masters Insomnium and the German power metal force Winterstorm. Misfits co-founder Doyle, horror punk from The Other and Mister Misery combining horror as well as metal are all together perfectly matching W:O:A 2021's motto "horror"!
Statc-X join the nu metal ranks, while Belzebubs will reveal how a live show of a cartoon black metal band looks like! The new band additions are rounded off by Northern Irish alternative rockers Therapy? and the versatile rapper Alligatoah, whose wild show has convinced even skeptical headbangers at Wacken World Wide.
Of course there's more to come – stay tuned!
===
Dear Metalheads,
Wacken World Wide is coming to an end and we thank you from the bottom of our hearts for the many great moments you shared with us. All the insights into your very private mini-festivals entertained and moved us. We laughed and were amazed about your creativity. Thanks a lot!
As you know, traditionally on Saturday of the first weekend in August the first bands for the following year are announced – and even if the Wacken Open Air 2020 had to be cancelled, we don't want to break with this tradition.
The first wave of the band is colourful in the truest, best and most metal sense of the word – starting with the legendary Judas Priest and their "50 Heavy Metal Years" show, the folk punk crew Dropkick Murphys and the reunited As I Lay Dying.
In addition, the black metal pioneers Venom and vocal sensation Tarja will be part of the show. You probably have noticed it: All of these five bands were already scheduled for Wacken Open Air 2020.
But of course there are also new ones! Hämatom will play their only festival show exclusively at our festival in 2021 and Lordi will bring their horror castle to the festival. Occult and dark stuff will be coming from Moonspell and Death SS, while Rose Tattoo will represent bluesy hard rock.
===
there are nine more reasons to look forward to Wacken Open Air 2021! Some of you have joined us for our announcement stream on Full Metal Gaming yesterday, but of course we want to share these good news with all of you. So, please welcome: Slipknot, In Extremo, Sick Of It All, U.D.O., New Model Army, Fever 333, Death Angel, At The Gates and Black Star Riders!
As you can see, most of these acts had already been announced for Wacken Open Air 2020. Which is why we are all the more excited for these shows, among them the highly anticipated Wacken debut of the masked US giants Slipknot.
Medieval rockers In Extremo will take their acclaimed new record "Kompass zur Sonne" to the stage, while Sick Of It All will be a highlight for devotees of New York hardcore.
German metal veteran Udo Dirkschneider and his band U.D.O. team up with the music corps of the Bundeswehr for an epic show. Sweden's At The Gates also have prepared something special and will celebrate their melodic death milestone "Slaughter Of The Soul" live.
Legendary alternative rockers New Model Army, crossover sensation Fever 333 and Death Angel, masters of thrash, round up the package of returnees. In addition, Black Star Riders, official heirs to Thin Lizzy,are a completely new name in the billing.
Of course, there's more to come – stay tuned!
See you in Wacken – Rain or Shine!
And now quickly back to the stream at Wacken-World-Wide.com and Magenta-Musik-360.de!
===
Dear Metalheads,
first of all we would like to thank you for your patience and support during these times.
We have used the past weeks to analyze, sort and solve all questions, suggestions and possible problems regarding the W:O:A 2020 and W:O:A 2021 tickets.
You will find all information here: https://www.wacken.com/en/tickets-shop/ticket-faq/
WELCOME W:O:A 2021!
Today marks the end of our Mesoamerican theme, sadly earlier than we originally thought. Because from now on we are putting all our power into preparing Wacken Open Air 2021 which will take us into the world of horrors.
Like the Mesoamerican theme, our approach for the Wacken Open Air 2021 is not only an artwork for t-shirts, website and so on, but for the festival as a whole, creating a cosmos of contents and actions.
The classic horror movies of the old masters are a great inspiration to us – we will pay homage to them during the coming months amongst others
Metal and horror have always gone hand in hand – many metal bands transform the topics in music and artwork, create homages to movies and literature or go on stage as horror creatures. Artists like Rob Zombie are equally metal musicians and horror film directors. And it's no coincidence that you'll find many protagonists in horror movies wearing metal shirts.
Our first poster design for 2021 raises the mist just a little bit – quite intriguing, isn't it?
Stay heavy and stay healthy,
your W:O:A – Team
Next Event
Date

май 30 2023

Time

20:00 - 23:00