Организаторите на френския Hellfest обявиха, че 90% от групите са потвърдили участието си за следващата година.
За жалост, 13 групи от афиша за 2020-та отпадат от Hellfest 2021 : Incubus, Mastodon, Infectious Groove, Thy Art Is Murder, Alter Bridge, Baby Metal, Joyous Wolf, Unleashed, Meshuggah, The Black Dahlia Murder, Periphery, Body Count and August Burns Red. От друга страна, Puscifer, Dropkick Murphys и Northlane са нови имена, a организаторите обещават още 10 групи, които да попълнят програмата.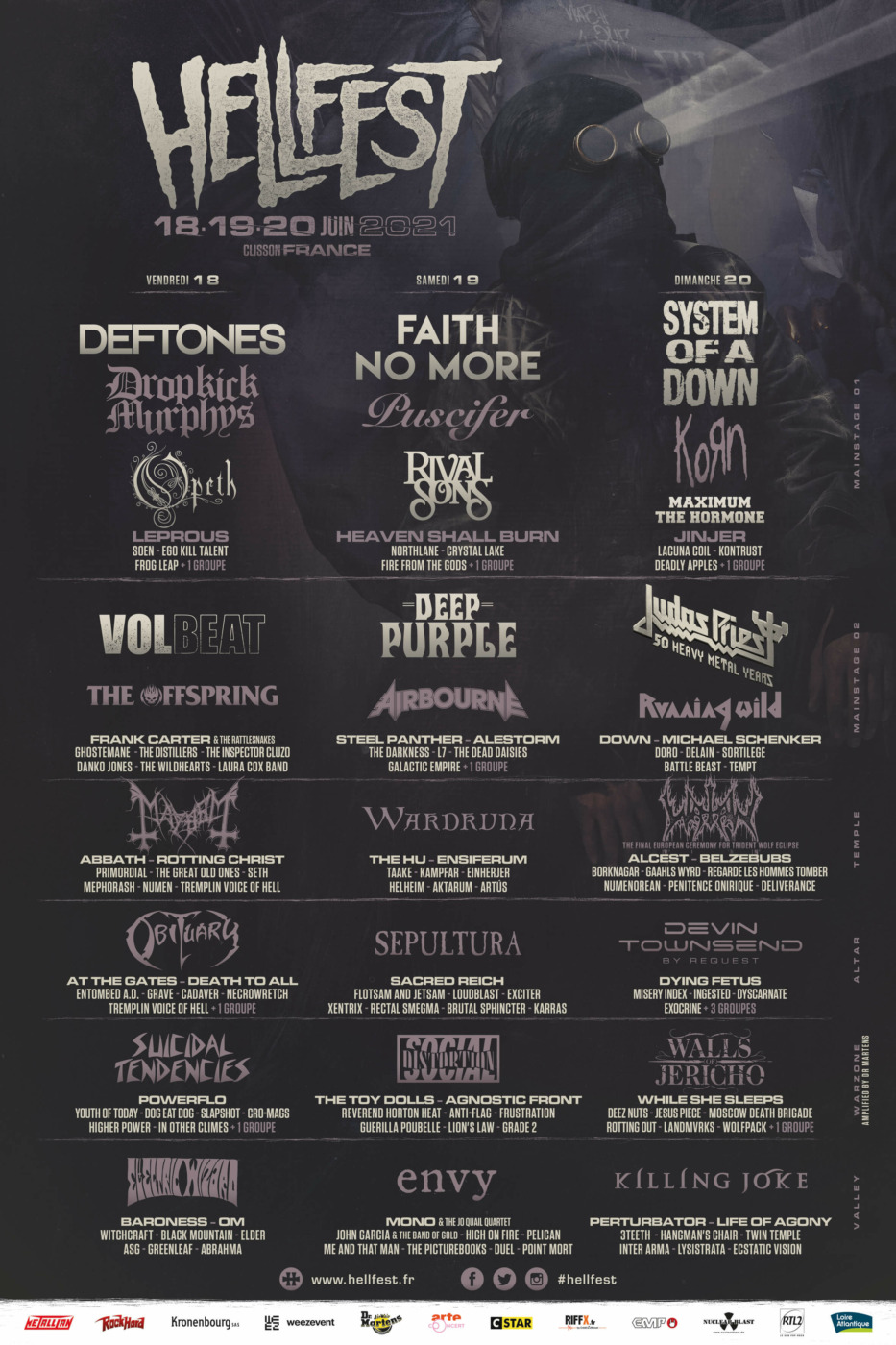 Ето и програмата по дни и сцени:
Friday, June 18th:
Mainstage 01: Deftones, Dropkick Murphys, Opeth, Leprous, Soen, Ego Kill Talent, Frog Leap
Mainstage 02: Volbeat, The Offspring, Frank Carter & The Rattlesnakes, Ghostemane, The Distillers, The Inspector Cluzo, Danko Jones, The Wildhearts, Laura Cox
Temple Stage: Mayhem, Abbath, Rotting Christ, Primordial, The Great Old Ones, Seth, Mephorash, Numen, Tremplin Voice Of Hell
Altar Stage: Obituary, At The Gates, Death DTA, Entombed A.D., Grave, Cadaver, Necrowretch, Tremplin Voice Of Hell
Warzone Stage: Suicidal Tendencies, Powerflo, Youth Of Today, Dog Eat Dog, Slapshot, Cro-Mags, Higher Power, In Other Climes
Valley Stage: Electric Wizard, Baroness, OM, Witchcraft, Black Mountain, Elder, ASG, Greenleaf, Abrahma
Saturday, June 19th:
Mainstage 01: Faith No More, Puscifer, Rival Sons, Heaven Shall Burn, Thy Art Is Murder, Crystal Lake, Fire From The Gods
Mainstage 02: Deep Purple, Airbourne, Steel Panther, Alestorm, The Darkness, L7, The Dead Daisies, Galactic Empire
Temple Stage: Wardruna, The Hu, Ensiferum, Taake, Kampfar, Einjerjer, Helheim, Aktarium, Artus
Altar Stage: Sepultura, Sacred Reich, Flotsam And Jetsam, Loudblast, Exciter, Xentrix, Rectal Smegma, Brutal Sphincter, Karras
Warzone Stage: Social Distortion, The Toy Dolls, Agnostic Front, Reverent Horton Heat, Anti-Flag, Frustration, Guerilla Poubelle, Lion's Law, Grade 2
Valley Stage: Envy, Mono & The Jo Quail Quartet, John Garcia & The Band Of Gold, High On Fire, Pelican, Me And That Man, The Picturebooks, Duel, Point Mort
Sunday, June 20th:
Mainstage 01: System Of A Down, Korn, Maximum The Hormone, Jinjer, Lacuna Coil, Kontrust, Deadly Apples
Mainstage 02: Judas Priest, Running Wild, Down, Michael Schenker, Doro, Delain, Sortilege, Battle Beast, Tempt
Temple Stage: Watain, Alcest, Belzebubs, Borknagar, Gaahls Wyrd, Regarde Les Hommes Tomber, Numenorean, Penitence Onirique, Deliverance
Altar Stage: Devin Townsend (by request set), Dying Fetus, Misery Index, Ingested, Dyscarnate, Exocrine
Warzone Stage: Walls Of Jericho, While She Sleeps, Deez Nuts, Jesus Piece, Moscow Death Brigade, Rotting Out, Landmvrks, Wolfpack
Valley Stage: Killing Joke, Perturbator, Life Of Agony, 3TEETH, Hangman's Chair, Twin Temple, Inter Arma, Lysistrata, Ecstatic Vision
Hellfest e най-големият френски рок фестивал, който се провежда в Clisson, Франция. Сред участниците в предишните издания на фестивала виждаме Rammstein, Linkin Park, Aerosmith, Black Sabbath, Slipknot, Tool, Faith No More, Iron Maiden, Deep Purple, Avenged Sevenfold, Deftones, ZZ Top, Motörhead, KISS, Slayer, Megadeth, Korn, Dream Theater, Sepultura, Anthrax, Judas Priest…
Той е наследник на Fury Fest, провеждан между 2002-ра и 2005-та в. През 2002-ра продадените билети са едва 400, а през 2016-та са 159 000! На двете основни сцени се представят основно хард рок и метъл банди, а на четирите по-малки сцени може да видите банди от други тежки стилове: black metal, death metal, punk, alternative, doom metal, stoner и т.н.