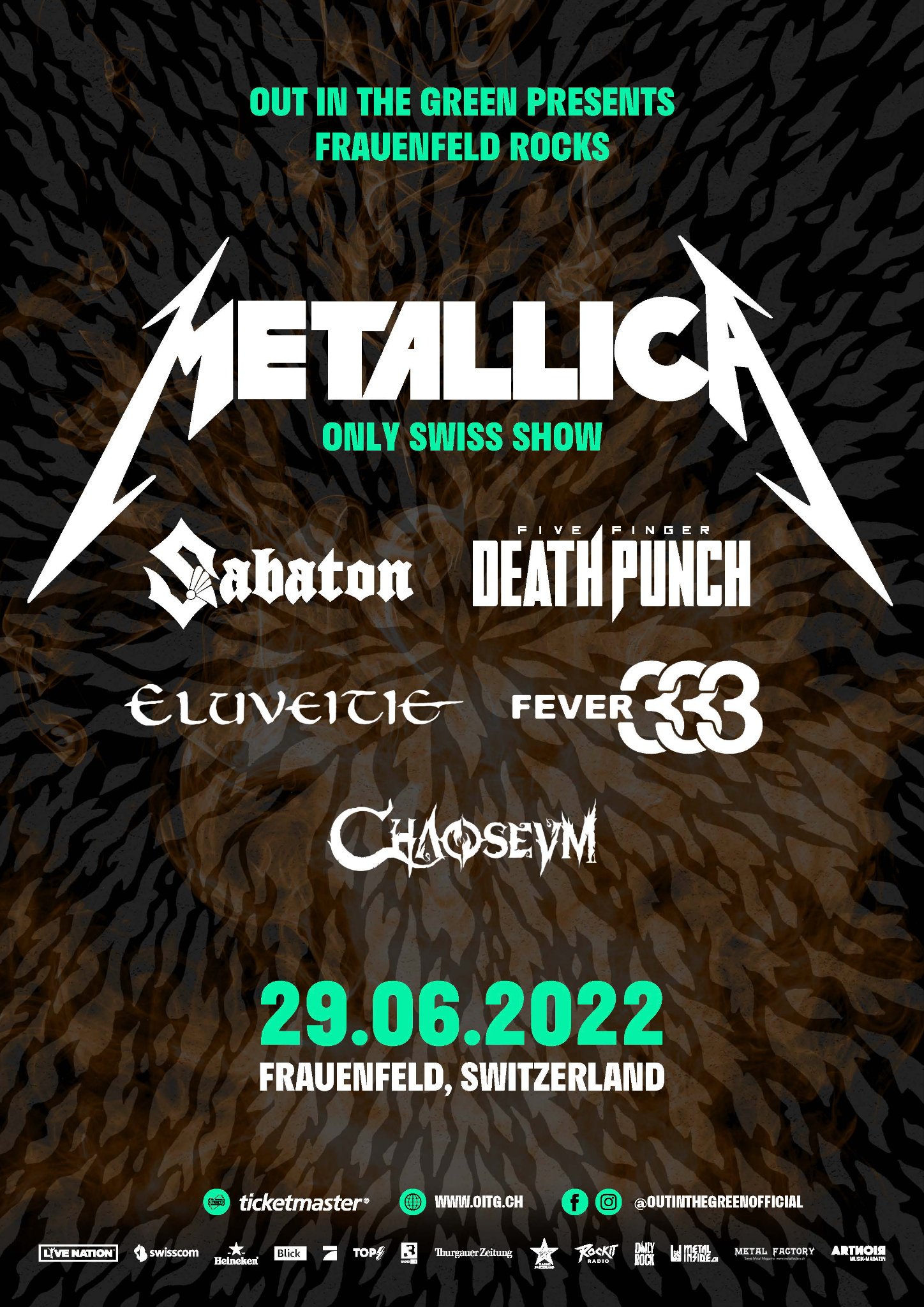 Frauenfeld Rocks (w/ Metallica, Five Finger Death Punch, etc) – 29 June 2022 – Frauenfeld (CH)
FRAUENFELD ROCKS CANCELLATION
Metallica : It is with a very heavy heart that we are announcing that we will not be appearing at Frauenfeld Rocks in Switzerland today, as unfortunately, a member of the Metallica family has tested positive for Covid. We are beyond sorry to disappoint those of you planning to attend this show.
It was our intention to reschedule a show in Switzerland as soon as possible, however in overnight discussions with the local promoters, sadly it became apparent that schedules and venues do not line up for the remainder of this year or next.
If you have a ticket and would still like to attend Out in the Green, you will receive a refund of 50 Swiss francs. Should you decide not to attend the festival altogether, you will be refunded the ticket price by the respective ticket agencies; you may request a refund for your ticket at Ticketmaster.ch.
Bands appearing today at Out in the Green include Five Finger Death Punch, Sabaton, Eluveitie, Fever 333, and Chaoseum.
===
Out in the Green presents Frauenfeld Rocks
The legend is back! Out in the green returns after 20 years with metallica
In the 80s and 90s, a legendary festival drew the crowds to the Frauenfeld racecourse: Back then, Out In The Green had everything that dominated the charts on stage. All the more surprising was the end – the Rolling Stones closed the festival (for the time being). After about 20 years off the air, it's back on again: Metallica will be on stage as headliners.
Metallica, Sabaton, Five Finger Death Punch and three other bands: Rock music gets a new (old) home. And it will be on Wednesday, June 29, 2022, at the Frauenfeld racecourse, just under a week before the Openair Frauenfeld. Next year, Out In The Green 2.0 will celebrate its comeback there. Not as a three-day festival with camping as in the past, but as a condensed one-day event with six bands, a wide range of culinary delights and two huge panorama stages. Switzerland finally gets the rock festival it deserves!
Tickets
Tickets are available from September 17, 2021 exclusively online and only at Ticketmaster.CH.
That means the final death for Corona in Switzerland – none other than Metallica will rock the Frauenfeld Allmend. This is reminiscent of a time before the biggest rap and hip-hop festival, when Out In The Green still stood for rock.
Now those times are coming back; Mainland Music has just informed us that on June 29, 2022, not only the heroes of thrash metal will make the Allmend the Holy Ground of metal in Switzerland. And it gets even better; Metallica won't be alone there; so far Five Finger Death Punch and Sabaton are confirmed as supporters – and another three bands are in the starting blocks and will make this event a real festival – even if it will only last one day.
And one thing should be clear – the tickets won't be available forever, so get ready and queue up from 12:00!
In contrast to the Openair Frauenfeld, the Out In The Green is not celebrated over several days. "Not as a three-day festival with camping like it used to be, but as a compact one-day event with six outstanding bands, a wide range of cuisine and two huge panorama stages," the organizers say. 50,000 fans are said to be there.
"Turning away from rock was the right decision 20 years ago," explains the Chairman of the Board of Directors and founder of First Event AG, Wolfgang Sahli, adding: "But now it's time to return to our roots".
===
Das bedeutet dann den endgültigen Tod für Corona in der Schweiz – niemand Geringeres als Metallica werden die Frauenfelder Allmend rocken. Das erinnert an eine Zeit vor dem grössten Rap- und HipHop-Festival, als das Out In The Green noch für Rock stand.
Jetzt kommen diese Zeiten zurück; MAINLAND MUSIC hat uns soeben informiert, dass am 29. Juni 2022 nicht nur die Helden des Thrash-Metal die Allmend zum Holy Ground des Metal in der Schweiz machen. Und es wird noch besser; Metallica werden nicht alleine vor Ort sein; bisher stehen FIVE FINGER DEATH PUNCH und SABATON als Supporter fest – und weitere drei Bands stehen in den Startlöchern und machen aus diesem Event ein richtiges Festival – auch wenn es nur einen Tag dauern wird.
Und eines dürfte klar sein – die Tickets werden nicht ewig verfügbar sein, also macht euch startbereit und steht ab 12:00 Uhr an!
Im Gegensatz zum Openair Frauenfeld wird das Out In The Green nicht mehrere Tage gefeiert. «Nicht als dreitägiges Festival mit Camping wie einst, sondern als komprimierter Eintäger mit sechs überragenden Bands, breit gefächerter Kulinarik und zwei riesigen Panoramabühnen», lassen die Veranstalter mitteilen. Mit dabei sollen 50'000 Fans sein.
«Die Abkehr vom Rock war die richtige Entscheidung vor 20 Jahren», erklärt der Verwaltungsratspräsident und Gründer der First Event AG, Wolfgang Sahli und fügt hinzu: «Aber jetzt ist es Zeit, wieder zu unseren Wurzeln zurückzukehren».
Next Event
Date

май 30 2023

Time

20:00 - 23:00