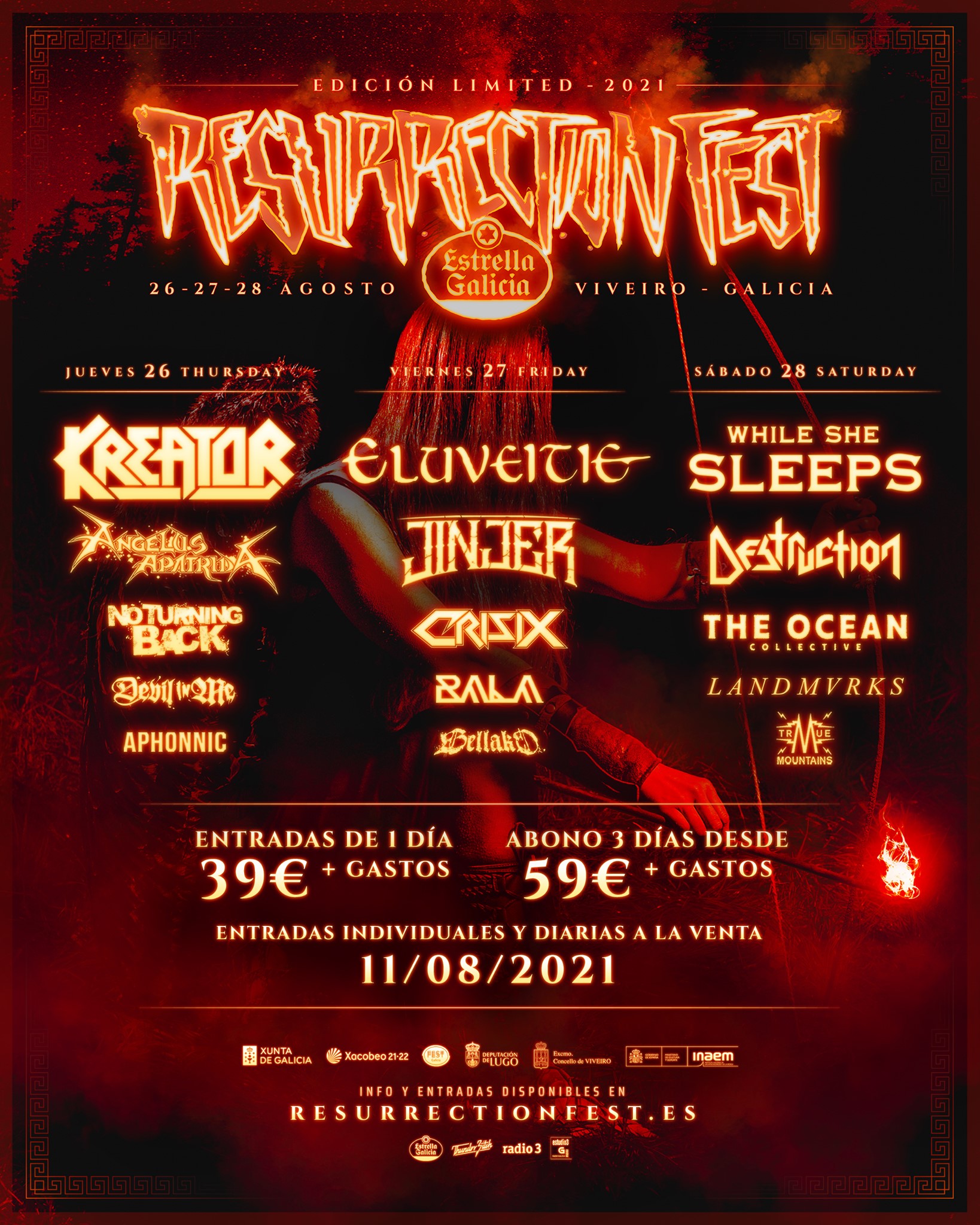 Resurrection Fest Limited – 26-28 August 2021 – Vivero (ES)
Resurrection Fest Star Galicia Limited 2021 will be held in reduced format from 26 to 28 August.
First of all, thank you for all your support throughout these last two years for music and culture in general. You've always helped us, and what better show of it that you've sold out of fertilizers again for the 2022. edition. You are and always will be the best audience in the world!
Little by little we see the light at the end of the tunnel, and this summer, despite the situation in which we live, culture has been shown to be safe with hundreds of concerts held across the country and without incident. Therefore, thanks to the Xacobeo 2021-22, the Deputation of Lugo and Concello de Viveiro, we will bring the first international metal artists to Spain after the pandemic.
In collaboration with the authorities, we have decided to organize a small Resurrection Fest Star Galicia this summer called Limited and very reduced capacity (compared to what we are habituad@s) so that we can live again concerts in a safe way after these years of drought. Thus, this event will serve as an encouragement to the local economy that they have suffered so much during these past few months, being a much needed reinforcement for our town, Viveiro, and its people, who give us so much each year, and also for all staff, autonomous and other small and medium-sized businesses that make the festival possible.
It will be three days of concerts, August 26th-28th, on the usual compound, the Celeiro Football Camp. Under the Xacobeo 2021-22 fan, you will have all possible safety and prevention measures following current legislation and always addressing the epidemiological situation we are in at that time. Those measures will be public seated, reduced capacity, social distancing, masks, disinfection and of course, with the encouragement of the good making of our audience, always respectful at all times. We trust vosotr@s!
We will have great international artists of different styles and you ask us a lot every year, and also, very beloved national bands and galicians who have not hesitated to come to Viveiro once again. See the listing here:
Resurrection Fest
Estrella Galicia
Limited 2021
Kreator
While She Sleeps (only concert in Spain)
Eluveitie
Jinjer
Destruction
The Ocean
Angelus Apatrida
Crisix
No Turning Back
Landmvrks
Bullet
Devil In Me
Aphonnic
True Mountains
Bellako
3-day fertilizers will be purchased this Friday, August 6 at a special offer price that we will indicate in the next few days and will respond to all your questions on both our website and on social media.
In turn, for those who can't attend and following the success of the previous edition, we will hold a Resurrection Fest Online in future dates to the festival which we will report later. That way, both attendees and non-attendees will be able to enjoy it.
We would like to repeat thanks to the Concello de Viveiro and the neighbors of Viveiro for making this possible, and in the meantime, remember that this will be an exclusive event for very few people. Mark these three days strongly on the agenda and let's show that live music can be made and it's safe. See you there!
Info + tickets:
===
Resurrection Fest Estrella Galicia Limited 2021 se celebrará con formato reducido del 26 al 28 de agosto. 🔥
Hola a todo el mundo,
Lo primero, gracias por todo vuestro apoyo a lo largo de estos dos años durísimos para la música y la cultura en general. Nos habéis ayudado siempre, y qué mejor muestra de ello que habéis agotado de nuevo los abonos para la edición del 2022. ¡Sois y siempre seréis el mejor público del mundo!
Poco a poco vemos la luz al final del túnel, y este verano, pese a la situación en la que vivimos, se ha demostrado que la cultura es segura con cientos de conciertos celebrados por todo el país y sin incidencias. Por eso, gracias al Xacobeo 2021-22, a la Deputación de Lugo y al Concello de Viveiro, traeremos los primeros artistas internacionales del metal a España tras la pandemia.
En colaboración con las autoridades, hemos decidido organizar un pequeño Resurrection Fest Estrella Galicia este verano llamado Limited y de aforo muy reducido (en comparación a lo que estamos habituad@s) para que podamos vivir de nuevo conciertos de una manera segura tras estos años de sequía. Así, este evento servirá como estímulo para la economía local que tanto han sufrido durante todos estos últimos meses, siendo un refuerzo muy necesario para nuestra localidad, Viveiro, y su gente, que tanto nos da cada año, y también para todo el personal, autónomos y otras pequeñas y medianas empresas que hacen posible el festival.
Serán tres días de conciertos, del 26 al 28 de agosto, en el recinto de siempre, el Campo de fútbol de Celeiro. Bajo el abanico del Xacobeo 2021-22, contará con todas las medidas de seguridad y prevención posibles siguiendo la legislación vigente actual y siempre atendiendo a la situación epidemiológica en la que nos encontremos en ese momento. Esas medidas serán público sentado, aforo reducido, distancia social, mascarillas, desinfección y, por supuesto, con el aliciente del buen hacer de nuestro público, siempre respetuoso en todo momento. ¡Confiamos en vosotr@s!
Tendremos grandes artistas internacionales de diferentes estilos y que nos pedís mucho cada año, y además, bandas nacionales y gallegas muy queridas que no han dudado en venirse a Viveiro una vez más. Podéis ver el listado aquí:
🔥 Resurrection Fest Estrella Galicia Limited 2021 🔥
Kreator
While She Sleeps (único concierto en España)
Eluveitie
Jinjer
Destruction
The Ocean
Angelus Apatrida
Crisix
No Turning Back
Landmvrks
Bala
Devil In Me
Aphonnic
True Mountains
Bellako
Los abonos de 3 días podrán comprarse este viernes 6 de agosto a un precio especial de oferta que indicaremos en los próximos días e iremos respondiendo a todas vuestras dudas tanto en nuestra web como en las redes sociales.
A su vez, para quien no pueda asistir y tras el éxito de la anterior edición, realizaremos un Resurrection Fest Online en fechas futuras al festival del cual informaremos más adelante. De esa manera, tanto los asistentes como los no asistentes podrán disfrutar del mismo.
Nos gustaría reiterar las gracias al Concello de Viveiro y a los vecinos de Viveiro por hacer esto posible, y mientras, recordad que esto será un evento exclusivo para muy poca gente. Marcad estos tres días fuertemente en la agenda y demostremos que la música en directo se puede hacer y que es segura. ¡Nos vemos allí! 😄
🎫 Info + tickets:
https://www.resurrectionfest.es/limited/
Next Event
Date

сеп. 24 2023

Time

19:00 - 22:00
Weather
Дъждове на отделни места в околността
20 °C