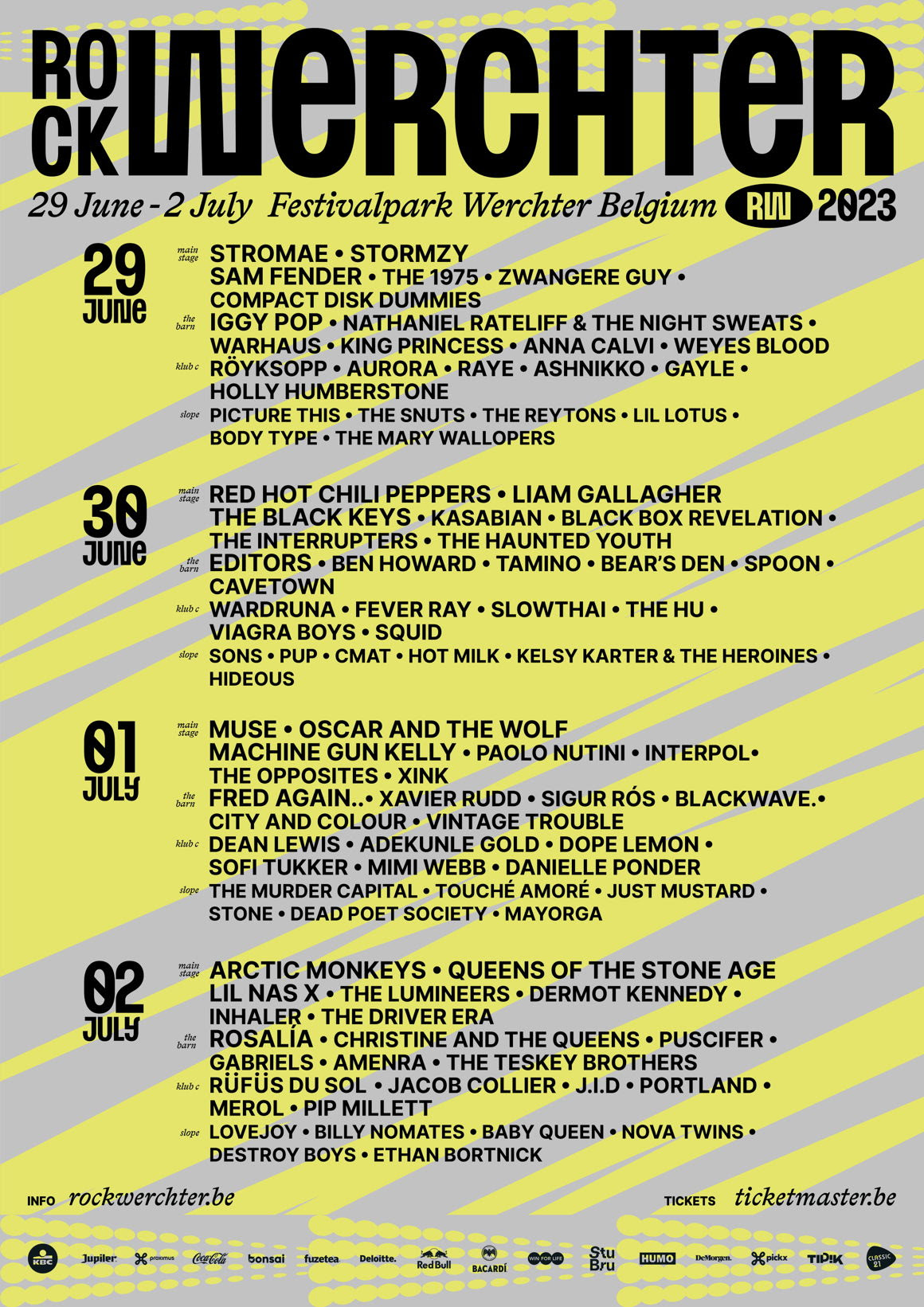 Rock Werchter – 29 June – 2 July 2023 – Werchter (BE)
Inhaler, Dermot Kennedy, King Princess, Weyes Blood, Kasabian and others join the bill
This year's top acts include Muse, Arctic Monkeys, Stromae, Red Hot Chili Peppers, Stormzy, Liam Gallagher, Oscar and The Wolf, Queens of the Stone Age, Fred again.., Rosalía, Iggy Pop, Editors and more
Werchter, Friday 3 March – The line-up of Rock Werchter 2023 is out. Today a further 34 acts are added to the bill. Once again in 2023 the Belgian festival Rock Werchter brings the most thrilling mix of the best of current music. There is rock, indie, pop, soul, metal, hip-hop and so much more. Exactly 99 acts adorn the bill. The final round of names brings plenty of musical adventure to the Festivalpark in Werchter, Belgium.
New for Thursday 29 June: Zwangere Guy, King Princess, Raye, Weyes Blood, Ashnikko, Holly Humberstone, The Snuts, The Reytons, Lil Lotus, Body Type and The Mary Wallopers. Kasabian, Black Box Revelation, Bear's Den, Viagra Boys, SONS, CMAT and Hideous will hit the Festivalpark on Friday 30 June. XINK, blackwave., Vintage Trouble, Sofi Tukker, Danielle Ponder, The Murder Capital, Just Mustard, STONE, Dead Poet Society and Mayorga are booked for Saturday 1 July while Sunday 2 July features Dermot Kennedy, Inhaler, The Teskey Brothers, Portland, Billy Nomates and Destroy Boys. And finally, there's a change to the programme: MEROL is coming to the festival on Sunday instead of Thursday.
Festival promoter Herman Schueremans: "The puzzle is complete. This is an exciting moment every year. Our team has put together a strong line-up in keeping with Rock Werchter tradition. We have the big headliners but there's also room for new discoveries, the stars of tomorrow. Rock forms the solid base for an eclectic programme that doesn't let itself be put in boxes. Hip-hop fits in alongside folk metal, alternative pop next to pulverising rock. That's what makes Rock Werchter so exciting."
Rock Werchter 2023 takes place in the Festivalpark in Werchter (Belgium) from Thursday 29 June to Sunday 2 July. This year's top acts include Muse, Arctic Monkeys, Stromae, Red Hot Chili Peppers, Stormzy, Liam Gallagher, Oscar and The Wolf, Queens of the Stone Age, Fred again.., Rosalía, Iggy Pop, Editors and more. Tickets are on sale at ticketmaster.be. One-day tickets for Saturday 1 July are sold out. 
All of the names for Rock Werchter 2023 from A to Z: ​ The 1975, Amenra, Arctic Monkeys, Ashnikko, Aurora, Baby Queen, Bear's Den, Billy Nomates, Black Box Revelation, The Black Keys, blackwave., Body Type, Ethan Bortnick, Anna Calvi, Cavetown, Christine and the Queens, City And Colour, CMAT, Jacob Collier, Compact Disk Dummies, Dead Poet Society, Dermot Kennedy, Destroy Boys, Dope Lemon, The Driver Era, Editors, Sam Fender, Fever Ray, Fred again.., Gabriels, Liam Gallagher, GAYLE, Adekunle Gold, The Haunted Youth, Hideous, Hot Milk, Ben Howard, The HU, Holly Humberstone, Inhaler, Interpol, The Interrupters, J.I.D, Just Mustard, Kelsy Karter & The Heroines, Kasabian, King Princess, Dean Lewis, Lil Lotus, Lil Nas X, Lovejoy, The Lumineers, Machine Gun Kelly, The Mary Wallopers, Mayorga, MEROL, Pip Millett, The Murder Capital, Muse, Nova Twins, The Opposites, Oscar and The Wolf, Paolo Nutini, Picture This, Danielle Ponder, Iggy Pop, Portland, PUP, Puscifer, Queens of the Stone Age, Nathaniel Rateliff & The Night Sweats, Raye, Red Hot Chili Peppers, The Reytons, Röyksopp, Xavier Rudd, RÜFÜS DU SOL, Sigur Rós, slowthai, The Snuts, Sofi Tukker, SONS, Spoon, Squid, STONE, Stormzy, Stromae, Tamino, The Teskey Brothers, The Murder Capital, Touché Amoré, Viagra Boys, Vintage Trouble, Wardruna, Warhaus, Mimi Webb, Weyes Blood, XINK and Zwangere Guy. The timetable for the shows will be made available soon.
About Rock Werchter: Rock Werchter is Belgium's biggest music festival. Four days and four stages, with the biggest headliners, young talents, raging rockers, incredible singer-songwriters, new names, and the coolest beats around. Rock Werchter deliberately builds its line-up across all genres. In 2023, Rock Werchter will take place from Thursday 29 June to Sunday 2 July. Rock Werchter is a unique experience. The line-up of artists is always world-class, the conditions exceptional, and that unique festival feeling omnipresent. Rock Werchter is a multi-awardwinning international hit and a regular fixture in every music lover's diary. Find out more at rockwerchter.be.
Next Event
Date

окт. 05 2023

Time

20:00 - 23:00