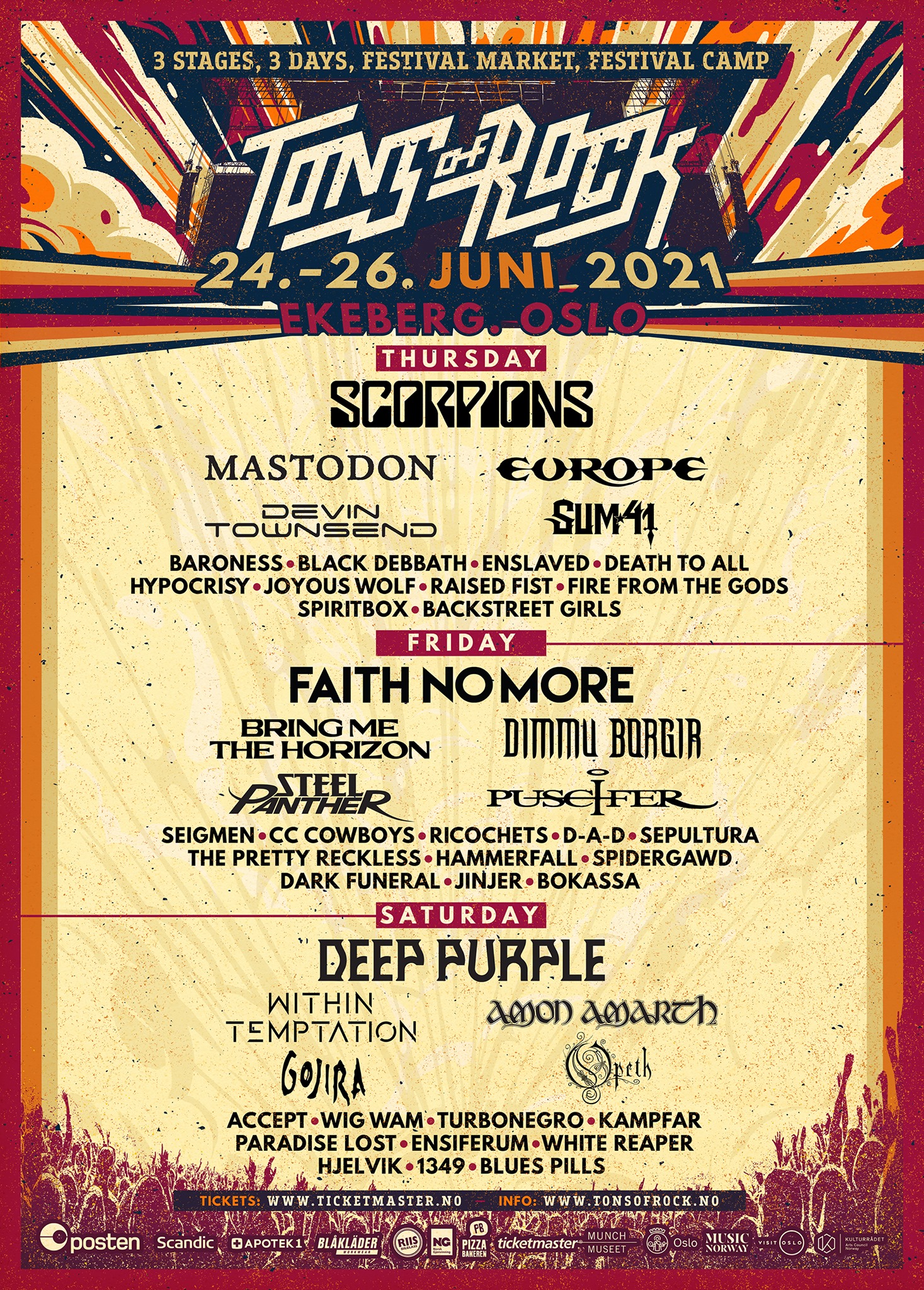 (CANCELLED) Tons of Rock – 24-26 June 2021 – Oslo (NOR)
This year's festival cannot be conducted-2022 to Tons of Rock 2022
Unfortunately, there will be no Tons of Rock festival in June 2021 at Ekebergsletta, but we have fantastic news for 2022!
Since the summer of 2020 we have been working on blast with all possible scenarios and alternatives so that it could be possible to complete the festival on wonderful summer days this year, while at the same time scenarios that this would not be possible. It has been and is a strabasious and demanding time, and it is now clear that it is not possible to hold Tons of Rock in 2021. This is very sad and frustrating for all of us in Tons of Rock, for the artists, suppliers, collaborators and most importantly for our fantastic audience from all over Norway and more than 50 nations.
IRON MAIDEN TIL TONS OF ROCK 2022
The more joyful it is to confirm that June 23th and 25. th will be Tons of Rock 2022. Then we will have the biggest festival in Norway ever, and we are very proud to announce our first headliner for next year. Thursday, June 23., 2022, the world's largest hard rock band IRON MAIDEN will come to Tons of Rock at Ekebergsletta in Oslo. It's going to be a night for the history books!
If you have bought tickets for the 2020-or 2021-festival, these are obviously valid for the 2022-festival. This applies to all ticket categories, including the sold out festival camp. If you want, you can also refund your ticket. You will receive your own mail on this from Ticketmaster. Ticket sale for the 2022 festival starts on Friday April 16. th at. 10.00. More categories are sold out or have few tickets.
There will obviously be lots of news about further programs and other relevant information about Tons of Rock 2022. We can promise you that there is a lot to look forward to. We are in good dialogue with artists from 2021, and will bring more exciting news in the weeks ahead. We would like to thank everyone for the amazing support during this challenging time. Take care of each other in the future, and we're looking forward to seeing you at the festival of all time at Ekebergsletta next summer!
===
Tons of Rock 2021 arrangeres på Ekebergsletta i Oslo 24.-26. juni.
1349, Accept, Amon Amarth, Backstreet Girls, Baroness, Black Debbath, Blues Pills, Bokassa, Bring Me The Horizon, CC Cowboys, D-A-D, Dark Funeral, Death To All, Deep Purple, Devin Townsend, Dimmu Borgir, Ensiferum, Enslaved, Europe, Faith No More, Fire From The Gods, Gojira, Hammerfall, Hjelvik, Hypocrisy, Jinjer, Joyous Wolf, Kampfar, Mastodon, Opeth, Paradise Lost, Puscifer, Raised Fist, Ricochets, Scorpions, Seigmen, Sepultura, Spidergawd, Spiritbox, Steel Panther, Sum 41, The Pretty Reckless, Turbonegro, White Reaper, Wig Wam og Within Temptation.
Next Event
Date

юни 02 - 03 2023

Time

17:00 - 23:55