Mad Cool Festival е културно изживяване, което не се изчерпва само с музиката. Изкуство, мода, гастрономия и туризъм са преплетени още от зараждането на идеята за създаване на фестивал в Мадрид през 2015 г.
Тази година, групата от Калифорния Red Hot Chili Peppers е една от първите потвърдили участието си, отбелязвайки своята 40-годишнина като банда. Музикантите Dan Auerbach, Patrick Carney и техният проект The Black Keys са още едно прекрасно попълнение в тазгодишното издание. Друга изненада ще бъде шоуто на британския поп-рок певец Robbie Williams, който ще гостува на фестивала като част от последното си турне "XXV". Liam Gallagher, вокалист на Oasis и Beady Eye ще бъде отговорен за внасянето на атмосферата от 90-те години на миналия век, а The Prodigy ще накарат публиката да танцува със страхотните си електронни парчета.
В изминали издания Mad Cool Festival може да се похвали с велики международни изпълнители като Neil Young, Garbage, Foo Fighters, M.I.A, The Who, Editors, Arctic Monkeys, Nine Inch Nails и Kings Of Leon. Абсолютното му разпродаване, още с второто си издание (135 000 души), превърна Mad Cool в успешен фестивал, който възнамерява да се разрасне и отвъд границите на Испания.
Само няколко месеца ни делят от шестото издание на Mad Cool, а ето и какво може да очаквате:
Кога: 6 до 8-ми юли 2023
Къде: Мадрид, Испания
Кой:
6 юли: Robbie Williams, Lizzo, Lil Nas X, Machine Gun Kelly, Sigur Rós, The 1975, The Offspring, Franz Ferdinand, Rina Sawayama, Paolo Nutini, King Princess, Nathaniel Rateliff & The Night Sweats, City and Colour, Genesis Owusu, Mimi Webb, Nova Twins, Stacey Ryan, Emotional Oranges, Yellow Days, The Amazons, Selah Sue, Girli, Insincere, Walls, Ghouljaboy, Cold Years, Zetak, DJ Trapella, Mobox, Chalkyninenine, Honey Dijon, Purple Disco Machine, Gerd Janson, Two Ex
7 юли: Mumford & Sons, Queens of the Stone Age, The Black Keys, Sam Smith, Rüfüs Du Sol, Tash Sultana, Kaleo, Jacob Collier, Puscifer, Angel Olsen, Bombay Bicycle Club, The Driver Era, Raye, Men I Trust, Kevin Morby, Delaporte, Pixey, Hannah Grae, Hotwax, Spoon, Stone, Night Club, Ralphie Choo, Peje, Choclock, Himalayas, Victor Carré B2B Body-O, Miss Deep'in, Loopi.ta, The Blessed Madonna, Polo & Pan [DJ set], DJ Gigola, Helena Gallardo
8 юли: Red Hot Chili Peppers, Liam Gallagher, Janelle Monáe, The Prodigy, Jamie xx, Years & Years, Ava Max, Primal Scream, The Rose, Sylvan Esso, Kurt Vile & the Violators, Cupido, The Hu, Shinova, Morgan, Touché Amoré, Belako, Picture This, Ethan Bortnick, Elyella, Thumper, Maika Makovski, Dora, Sila Lua, Boy Bleach, AR/CO, Petti, Armis, Alvaro Valedo, L.A.S. DJs, Anfisa Letyago, Christian Löffler, Denis Sulta, Mendi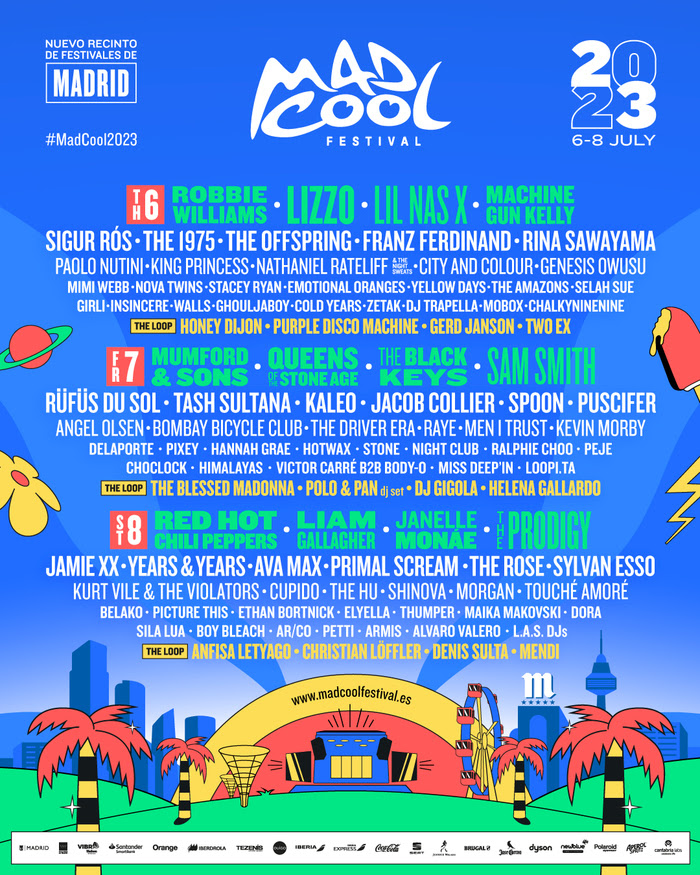 Билети: Тридневни билети за фестивала все още има и те са на цена от €195, а еднодневните са € 85. За най-големите ентусиасти съществува и опцията за VIP билет, на цената от €480 (три дни) или € 185 (един ден).
Връзки: https://madcoolfestival.es; https://www.facebook.com/madcoolfestival/
MadCool 2022 Aftermovie: