MetalDays се провежда от 2004-та година, като до 2013-та се е наричал MetalCamp и е бил с друг организатор. Както вероятно се досещате от името на фестивала, музиката е насочена към метъл феновете.
Провежда се в словенското градче Толмин, на живописно място, където се събират реките Soča и Tolminka. Студените води на реките са основното място за забавления през топлите юлски следобеди. Съвет: посетете известното езеро Блед, то се намира не много далеч, но пътя до него е тесен и криволичещ и ще трябва да си оставите достатчъно време за прибиране.
През годините фестивалът е посрещал имена като Judas Priest, Slayer, Danzig, Apocalyptica, Children Of Bodom, HammerFall, Hatebreed, Epica, Opeth, Amon Amarth, Motörhead, Marilyn Manson, Blind Guardian, Accept, Behemoth и много други. През 2018-та голямото име в афиша ще бъдат Judas Priest.
Кога: 21-27 юли 2019
Къде: Tolmin, Словения
Кой: Akercoke, Alien Weaponry, Alkaloid, Altair, Animae Silentes, Animals as Leaders, Philip H. Anselmo & The Illegals, Arcanus, Arch Enemy, Athiria, Atrexial, Architects, Autopsy Night, The Bearded Bastards, Bel O Kan, Big Bad Wolf, Bloodshot Dawn, Captain Morgan´s Revenge, Circle of Execution, Cliteater, Coexistence, Convictive, Countless Skies, Critical Mess, Dead Label, Dead Season, Decapitated, Decaying Days, Demons & Wizards, Desdemonia, Distruzione, Dimmu Borgir, Doctor Cyclops, Dopelord, Dornenreich, Dream Theater, Esodic, Fallen Arise, Fearancy, Finntroll, Fleshless, Gaahls Wyrd, Glista, God Is an Astronaut, Heart of a Coward, Heathenspawn, Hellavista, Helstar, Hexa Mera, Hour of Penance, Hydra, Hypocrisy, Immortal Shadow, Impaled Nazarene, In the Woods…, Incursed, Infected Rain, Infinitas, Intervals, Islay, Kairos, Kalmah, Klynt, Korpiklaani, Kvelertak, Leave Scars, Leeched, Liquid Graveyard, Lucifer, Lurking, Molybaron, Moonskin, Morost, Necrophonic, Neurosis, Noctiferia, Nox Vorago, Obsolete Incarnation, October Tide, Orcus O Dis, The Privateer, Procreation, Pyroxene, Reject the Sickness, Richthammer, Rise of the Northstar, Rolo Tomassi, The Ruins of Beverast, Saturnus, Scardust, Shade of Hatred, Signs of Algorithm, Siska, Skeletal Remains, Slave Pit, Soilwork, Stoned Jesus, Supreme Carnage, Svart Crown, Swarm of Serpents, Tarja, Teleport, Ten Ton Slug, Theory, Tiamat, Tribulation, Une Misere, Unhuman Insurrection, The Vintage Caravan, Voice of Ruin, W.E.B., While She Sleeps, Winterhorde
Цена: 65€ за еднодневен билет, 175€ за целия фестивал тук.
Връзки: http://www.metaldays.net/, https://www.facebook.com/MetalDaysFestival/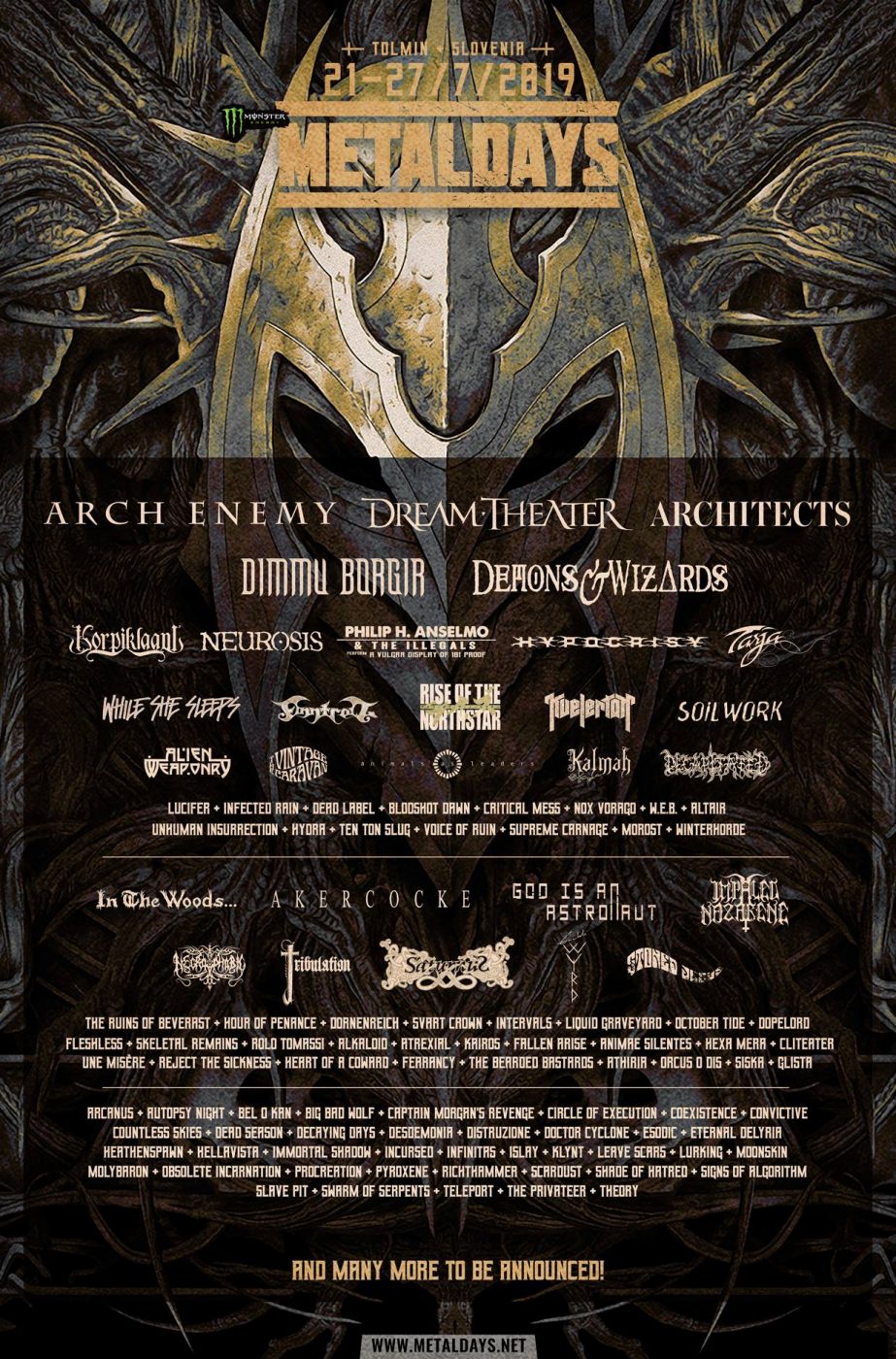 2018 Aftermovie: